Event Information
Refund policy
Contact the organizer to request a refund.
Eventbrite's fee is nonrefundable.
A Psychiatric Refugee: Riveting Story of Woman in Jamaica Fleeing Domestic and Psychiatric Abuse Seeking Protection in Canada under CRPD
About this event
We invite you to watch this inspiring movie about an incredible woman who risked everything to find freedom from psychiatric abuse. This screening is followed by a panel discussion with the movie's producer--Roxanne Stewart-Johnson --and a panel of experts in advocacy and protection for people labeled with psychiatric disabilities.
Many psychiatric survivors are hampered in documenting their negative experiences in the mental health system by the cloak of secrecy and stigma surrounding forced psychiatry. Survivors are rarely able to smuggle footage out of psychiatric wards or film the traumatizing courtroom proceedings to which they are subjected.
Roxanne makes up for this by weaving in brilliant animation clips which she creates from scratch based on her vivid memories and supplements this with documentary -style footage. She also weaves in her meticulously kept notes and audio clips, as well as interviews with other psychiatric survivors, balancing the personal as well as the universal issues raised by forced psychiatry/domestic abuse.
Skillfully edited and narrated throughout, this movie will leave you periodically hanging by the edge of your seat and rising to your feet to cheer for Roxanne, a pregnant woman, as she makes a dramatic escape from psychiatric abuse in Jamaica with her small child in tow, followed by several years harrowing, legal wrangling with Canadian's cumbersome immigration asylum process.
This film is a must see for all people who have ever considered using the Convention on the Rights of People with Disabilities (CRPD) as a means to reject forced psychiatric treatment!
Presenters:
Roxanne Stewart-Johnson is an emergent filmmaker and motion graphic artist from Jamaica. After being granted refugee protection in Canada from domestic violence and an abusive psychiatric system, she has endeavored to tell the story of her ordeal and the human rights abuses perpetrated against the mentally ill in Jamaica. Since coming to Canada she completed a masters in journalism at Ryerson University in Toronto and hopes to pursue human rights advocacy through media.
Chuck Ruby is the Executive Director at International Society for Ethical Psychology & Psychiatry (ISEPP) a volunteer, non-profit organization of mental health professionals, physicians, educators, consumers of mental health treatment, and their families. ISEPP is not affiliated with any political or religious group.
Dr. Peter Stastny is a New York based psychiatrist, documentary film-maker and a founder of the International Network toward Alternatives and Recovery (INTAR). He is a Lecturer at the Global Mental Health Program of Columbia University, and a participant in RedeAmericas, a federally funded program of hubs to advance community mental health programs, research and education in Latin America. Recently, he has become consultant to the New York City Department of Mental Hygiene in connection with the New York City Parachute Project, funded by the federal Center for Medicaid and Medicare Innovation to redesign crisis responses for individuals experiencing acute psychosis and their support networks. He is also a co-founder for the Institute for the Development of Human Arts (IDHA).
Celia Brown is a psychiatric survivor and long time advocate for people with psychiatric disabilities. Celia is the President of MindFreedom International. She is co-founder of Surviving Race: The Intersection of Race, Disability and Human Rights Coalition. She currently works in the position of Regional Advocacy Specialist for the Bureau of Recipient Affairs at the NYC Field Office, New York State Office of Mental Health. Celia facilitates training on peer supervision, wellness and recovery approaches in community mental health agencies. She was one of the first Peer Specialists in New York, and was instrumental in developing and implementing the Peer Specialist Civil Service title for the NYS Office of Mental Health.
Believe me, if you only see one movie made by a psychiatric survivor this year, let this be the one!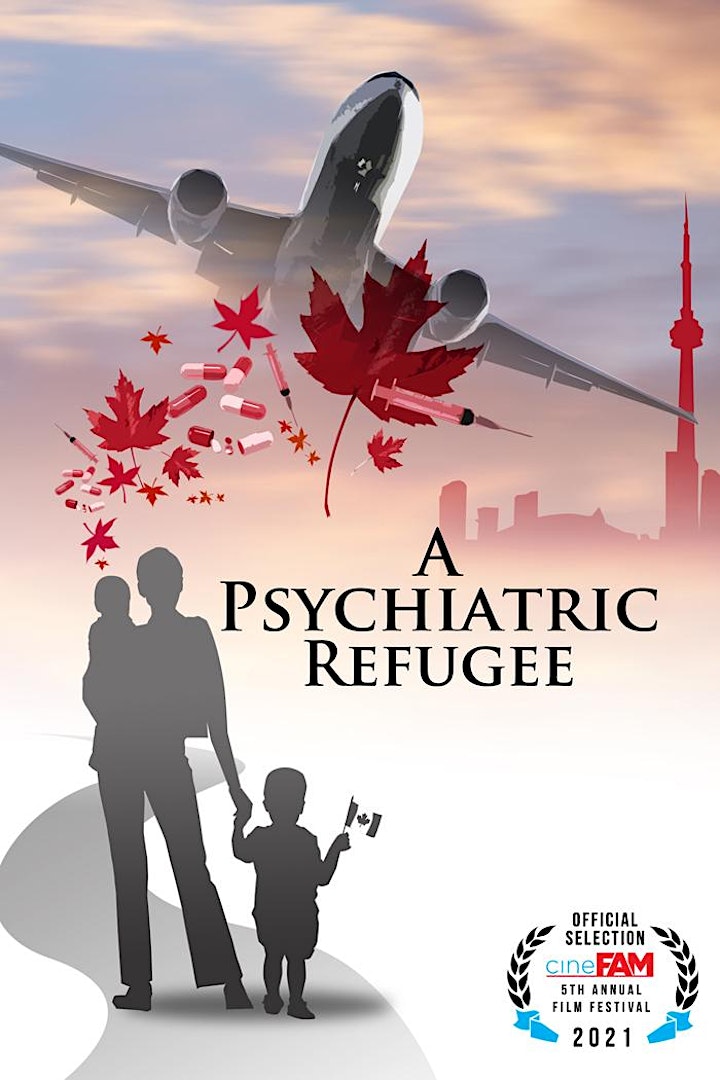 Date and time
Location
Refund policy
Contact the organizer to request a refund.
Eventbrite's fee is nonrefundable.
Organizer of A Psychiatric Refugee: Screening of a Movie by Roxanne Stewart-Johnson