Location
The Old School Community Gathering Place
7962 Hwy#7
Musquodoboit Harbour, Nova Scotia B0J 2L0
Canada
Sales Have Ended
Registrations are closed
It looks like our space has been all filled up for the workshop/s that you wanted to register for. That's good news for the future because it means we'll do this again. If you'd like to be informed of future events, please send an email to delphine.mediator@gmail.com - we'll be working with a waiting list and looking for follow up dates in the spring.
Description
Get those difficult things done that keep nagging at your conscience and take away from the enjoyment of the pleasures of life at 60ish and beyond.
For example:
Preparing and finalizing a will.
Having certain conversations with certain people before it is too late.
What is the heritage you want to leave:

The young don't seem to care about family heritage until it's too late to ask. Help them by crafting the story of your life and the heritage of your family.
Who should receive which heirlooms and memorabilia?
If you love them don't leave them unwanted 'stuff' to dispose of when you're gone
Make sure that important documents and precious pictures survive in good condition.

Give your loved ones clarity in case they have to make decisions on your behalf: Who should manage your affairs when you no longer cannot? What end-of-life care would you prefer? What funeral/memorial would you want?
How can you talk about all this so that you are heard and understood? So that relationships are strengthened, for everyone's benefit and your enjoyment?
We offer a great selection of speakers/workshop facilitators who are going help you get organized around those difficult things that sit there, waiting. AND we are going to help you do it in a way that is pleasurable and helps to take your life to where you want to take it.
We will meet one day a week, for 5 weeks, as follows: (you can sign up for all 5 workshops or for just as many as you like)
Monday Nov 7 10.00am - 3.00pm Myra Jerome on Wills and Powers of Attorney, Marie-Claire Chartrand on Personal Advance Directives. Delphine du Toit and Claudine Lowry facilitate discussion.
Wednesday Nov 16 10.00am - 3.30pm Colette Robicheau on Downsizing/Decluttering, Julia Landry on conservation of precious documents and pictures. Delphine du Toit and Claudine Lowry facilitate discussion.
Wednesday Nov 23 10.00am - 3.30pm Delphine du Toit on Having those difficult conversations that must take place. Claudine Lowry co-facilitates discussion on tapping into your inner strengths.
Wednesday Nov 30 10.00am - 4.00pm Roxanne Walsh on planning how to mark our passage out of this life. Claudine Lowry on how our stories and memories shape the present. Delphine du Toit facilitates discussion on 'whereto from here?"
Wednesday Dec 7 10.00am - 4.30pm Betty Dobson on geneology: find ways to explore the roots and branches of the family tree. Dianne Gaudet on Grey Power - Thriving in the Second Act - retirement is so much more. Delphine du Toit facilitates a process of tying the 5 weeks together.
Come and make great choices about your heritage and the adventures that await you in your last lively years.
Come and socialize with old and new friends.
You are encouraged to register for all five workshops - there's a continuity to the program that you will find interesting, helpful and enjoyable.
For details of the full program, please CLICK HERE.


REGISTRATION AND FEES
This is a free program.
The venue is available with the compliments of The Old School Community Gathering Place in Musquodoboit Harbour, with the funding support of the United Way.
The speakers/presenters are all contributing their time in the interest of making their knowledge and skills available to you so that you can make great choices.
There is a basic charge of $10 per day, payable at the workshop, which covers refreshments and lunch.
To register, select one of the following options:
Click on the REGISTER button at the top of this page or on the website containing program details
By phone, with Leslie, at 902-889-2735
By email to OldSchoolMH@outlook.ca
Drop by the Old School Community Gathering Place, 7962 Nova Scotia Trunk 7, Musquodoboit Harbour, NS B0J 2L0
---
Our question is:
"WHAT HERITAGE ARE YOU CREATING?"
Our offer is:
"HAVE FUN GETTING IT DONE"
---
IS THIS FOR YOU (OR SOMEONE YOU KNOW)?
Our process is informative and enjoyable: Our coaching approach in this program will provide you with the chance to think, explore and decide. Your heritage includes how well organized you are in terms of the formal paper work; which heirlooms and precious documents you have saved, protected and passed on; and how well you live your life after retirement, AND, the clarity you provide regarding the end of your life.
By the end of the 5 weeks you will have renewed energy for the possibilities that life offers to those of us who've made it beyond 60. AND the paper work and clutter will have been dealt with.
THE PROGRAM INCLUDES
Heritage decisions: from having an updated will prepared; to making sure the family know what your wishes are related to your end of life; to telling your family's (and your) story.

Having those difficult conversations with family and others so that relationships come out stronger

Sorting, choosing and decluttering to live large even in a smaller space.

Selecting, protecting and securing precious memorabilia and important papers.

Explore how the story of your life – your forgotten and completed dreams, your hidden talents and passions shape who you are becoming.

Being in a place of transition: Retirement looks different from this side – create new meaning for the life you live.




OUR PRESENTERS & FACILITATORS
"In my work as an elder mediator I see the downside of what happens when someone has left it too late in dealing with essentials. I therefore invited a group of my friends and associates to offer a pro-active program of information and action that will help seniors and their families avoid some of the issues that give the most trouble. In the process we created a program that links it all together and helps you to develop a fresh perspective on life in the Second Act. " - Delphine du Toit
"This program is a labour of love for all of us - the speakers are donating their skills, experience and time because these matters are important."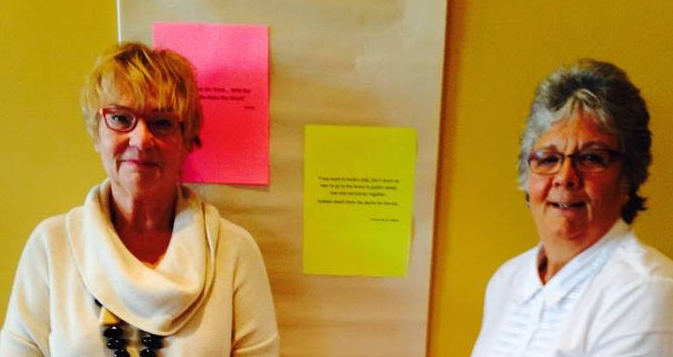 Claudine and Delphine will accompany you throughout the 5 weeks of this program.
---
PLEASE VISIT US AT OUR VARIOUS SOCIAL MEDIA SITES - WE'D LOVE IT IF YOU'D 'LIKE' US
Betty Dobson has been an active genealogist since 1990. Working hand in hand with numerous other researchers, she has grown her family tree from a few generations to a database containing information on more than 100,000 individuals. She has also helped people build their family trees from scratch and conducted research on behalf of local law firms. Through it all, she has learned that her passion for genealogical research extends far beyond her own family interests. http://www.heritagewriter.ca/ email: owner@heritagewriter.ca
---
Claudine Lowry - Leadership Matters!: Learning, Coaching, Leading.
After a highly successful and loved career in higher education Claudine decided to put her experience, skills and accomplishments together to create a new career focusing on coaching and facilitating through life and work transitions. One of her areas of interest is the transition from workplace employment to retirement from the workplace and how we create the next part of our lives with meaning and purpose. She is actively engaged in research on retirement and coaches and facilitates interactive group sessions designed to celebrate the best of who we are and what we care about and what is meaningful to us as we link our past to our present and to our future. Whether we are in places of transition, seeking clarity or ready for a life change – there is "magic" in the stories of our lives. https://ca.linkedin.com/in/claudine-lowry-7841169b | email: clowry@eastlink.ca
---
Colette Robicheau is the first certified professional organizer in Canada, understands that moving to a new home is about more than just boxes and moving trucks. As a trained life coach, she has worked with hundreds of clients assisting them with the many challenges life has to offer. Her advanced communication skills provide valuable insight to both clients and their families to ensure a smooth transition to the new home and lifestyle. She is a longstanding member of the Serving Seniors Alliance and works tirelessly to stay educated on all aspects of working with seniors and their unique needs. www.organizeanything.com | www.coletterobicheau.com Cell 902.478.2280 email colette@organizeanything.com Check out my LinkedIn Means Business Public Workshop Dates
---
Delphine du Toit is a conflict resolution specialist engaged in coaching, mediation, group facilitation and training. She has a Master's degree in social work from Dalhousie University. She has over 40 years of experience in the areas of leadership development; culture change; workplace skills development; conflict resolution; labour relations, employee engagement and collaborative process facilitation. Delphine left the corporate environment for her career as an entrepreneur in 2003. She has consulting businesses in Nova Scotia, Tanzania and South Africa. www.delphinedutoit.ca https://ca.linkedin.com/in/delphinedutoit (902) 789-3953 https://www.facebook.com/eldermediation/ | email delphine.mediator@gmail.com
---
Dianne Gaudet: Helping Boomers create rich and inspired retirement lifestyle plans is one of Dianne's greatest joys. Driven by a passion for lifelong learning, she has dedicated her career to helping individuals create possibilities that mold and shape the passions that beg their attention so they can purposefully direct meaningful change in their lives. Dianne is the author of a new book: "If There Are No Limits… A Guide to Living with Passion, Purpose and Possibilities." She is a certified, bilingual coach with degrees in Psychology and Business. www.inkiesta.com | email diannegaudet@inkiesta.com https://ca.linkedin.com/in/diannegaudetcoach
---
Julia Landry, The Paper Lady. Julia is a paper conservator who has been in private practice for 19 years. After 11 years at Dalhousie University Library, Julia obtained a Masters in Conservation from Camberwell College of Art in London, England. Specializing in library and archival materials, Julia was accredited by the Canadian Assoc. of Professional Conservators (CAPC) in 2001. Her studio is located near Musquodoboit Harbour on the Eastern Shore. https://ca.linkedin.com/in/julia-m-landry-4642aa30 email paperlady@arcanaartandpaper.ca
---
Myra Jerome is a lawyer with 25+ years' experience of practice. Her emphasis in recent years has been on Wills, Estates and Real Estate matters. As well, having served as a Small Claims Court and Property Assessment Appeals Court adjudicator, Myra is in a unique position to listen to and answer your questions. Appointments are available at her office in Musquodoboit Harbour or at your home or hospital room when necessary. Please call 902-889-2860 to speak privately with her. easternshorelaw@aol.com http://easternshorelawcentre.ca
---
Marie-Claire Chartrand is the owner and lead Senior Care Consultant with Greywave Senior Care Consulting. She uses her 25 + years of experience with Nova Scotia's Continuing Care to develop solutions customized to the personal needs of clients and families. She has extensive expertise in helping clients navigate the private and public health care systems. Marie-Claire has worked across the health care spectrum, in hospitals and the community, with both palliative, geriatric and dementia clients and their family. She holds a Masters of Theological Studies, is the first Certified Elder Mediator in Nova Scotia and is a Registered Social Worker with the NS Association of Social Workers. http://www.greywave.ca/ mcc@greywave.ca https://www.facebook.com/greywaveseniorcareconsulting https://www.linkedin.com/in/marie-claire-chartrand-367982106?trk=nav_responsive_tab_profile
---
Roxanne Walsh From brokenness to healing, Roxanne was destined to navigate an interesting life, always landing on her feet. She has journeyed to the depths to find her Big Heart. Her extensive background in personal growth work, and past career as a practitioner in the healing arts, has provided the foundation for her to create safe, compassionate space for the deep work of transformation during Life's transitions.
Now a Certified Funeral Celebrant and Ceremonialist, Roxanne offers alternatives to religious services. As a Death Educator, she assists families to act as their own Funeral Director, which is legal in Nova Scotia. She runs workshops and consults with people who want to take responsibility for planning their final event in advance, so at the time of need, family and friends can focus on their grieving and healing.
www.RoxanneWalsh.ca https://ca.linkedin.com/in/roxannewalsh https://www.facebook.com/RoxanneWalshCeremonialist