Location
The River Place
453 Convention Drive
Fort Mill, SC 29715
A Pretty Kick Celebration: Sneaker Ball
About this event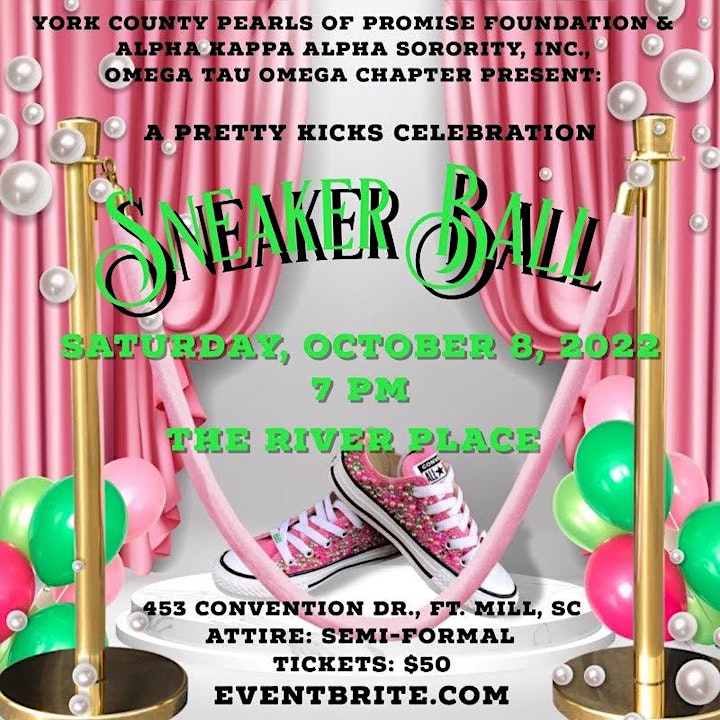 York County Pearls of Promise Foundation & Alpha Kappa Alpha Sorority, Inc., Omega Tau Omega Chapter present:
A Pretty Kicks Celebration: Sneaker Ball
Join us as we celebrate five years of service in Upper York County, South Carolina with this inaugural event. Festivities will include DJ Double D, Light it Up 360 Photo Booth, recognition of community partners and featured sponsors, door prizes, hors d'oeuvres, drinks and MORE!
Don't miss your opportunity to walk the PINK carpet in your kicks and semi-formal attire, pose for the Pink Paparazzi and party with a purpose. Proceeds will fund community programs and scholarships.
Click the ticket link or go to Eventbrite.com to purchase tickets by September 23, 2022. Discounted early bird ticket sales end August 14th.
For tax-deductible donations and sponsorship information, contact Wakita Barksdale, Executive Director, York County Pearls of Promise Foundation, Inc., at ycpopdirector@gmail.com or donations may also be made via Eventbrite.com