Description

The Great God of Depression is a new five-part narrative podcast from Radiotopia's Showcase, and co-produced by NEPR senior reporter Karen Brown and New York Times journalist Pagan Kennedy. It tells the true story of literary genius William Styron, brilliant brain scientist Alice Flaherty, and their shared quest to understand the secrets of madness and creativity. The series also explores how Styron's groundbreaking memoir Darkness Visible changed the conversation around mental illness.
Join us as we listen together to Episode 1, The Night Kingdom, followed by a discussion of themes brought up by the series: stigma, depression, creativity, literature, and other related topics. The panel will include people involved in the series production and content:
Pagan Kennedy, podcast host and co-producer
Ian Coss, musician and sound designer
Julie Shapiro, executive producer of Radiotopia
and Alice Flaherty, a Boston neurologist and subject of the story
The conversation will be moderated by co-producer Karen Brown, who covers health and mental health for NEPR.
Bring your questions and share your experiences. Stick around after the discussion for a casual reception with the panelists. Cash bar.
Come early and enjoy dinner at the Bistro at Gateway!
Bonus! Hang out after the reception with Karen and hear the special bonus episode she produced with actor Tony Shalhoub. Shalhoub is well-known for his role as one of the few openly mentally ill characters on television — an obsessive-compulsive detective on the long-running series Monk. In this episode, Shalhoub sits down with Karen to read passages from William Styron's work and share his perspective on mental illness and creativity.
Listen to the podcast
You can hear the whole series at radiotopia.fm/showcase or nepr.net/greatgodofdepression
More about The Great God of Depression:
In 1998, a brain scientist named Alice Flaherty developed a rare form of madness. She felt so compelled to write that she scrawled sentences across the walls of her house and her own skin. Alice's quest to understand her own bizarre behavior led her to William Styron, one of the most celebrated authors of the 20th century. Styron had documented his own suicidal depression in a memoir that transformed modern psychiatry. Styron seemed like a remote genius — until one day, he showed up in Alice's office, begging for help. Could Alice save Styron from a depressive relapse and the pathological writers block that had silenced him?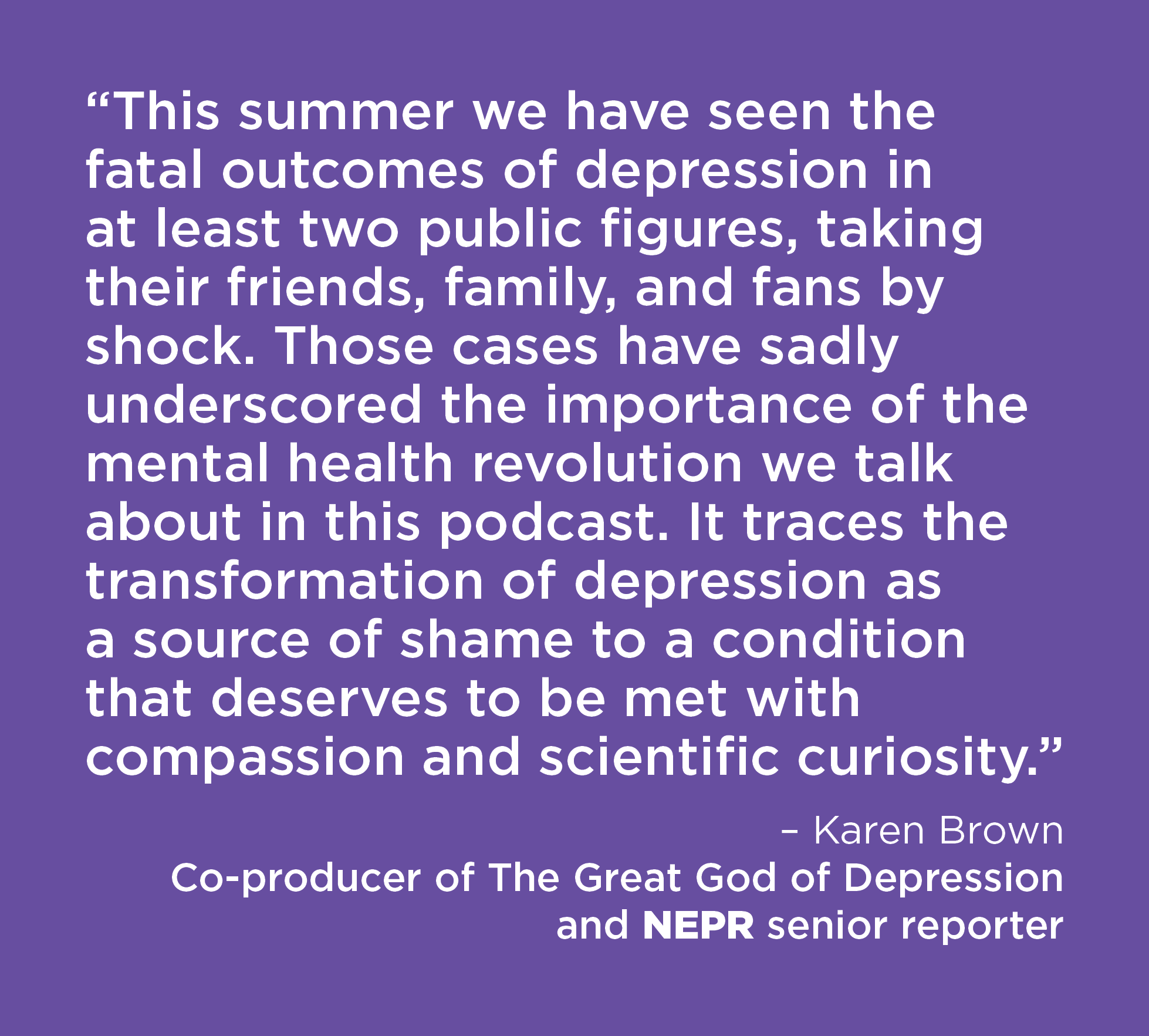 Meet the Team
The Great God of Depression is produced by Karen Brown and Pagan Kennedy, with support from New England Public Radio. Music and sound design by Ian Coss. Julie Shapiro is the executive producer.

Pagan Kennedy (Host) is a contributing writer at The New York Times and the author of eleven books. She has been a columnist for The New York Times Magazine, The Boston Globe, and The Village Voice. In the '90s, she published a 'zine called Pagan's Head and was named the Queen of 'Zines by Wired Magazine. She has won numerous awards including an NEA fellowship, a Smithsonian fellowship, and two Massachusetts Cultural Council fellowships.

Karen Brown (Co-producer) is a longtime public radio reporter, print journalist, essayist, and audio documentarian, with a special focus on mental health issues. In addition to two decades at New England Public Radio, Karen has contributed to NPR, The New York Times, American Radioworks and many other national outlets. Her awards include the National Edward R. Murrow Award, The Daniel Schorr Journalism Prize, and Third Coast Audio Festival Award. For a selection of stories, visit karenbrownreports.org.

Ian Coss (Sound Designer) is an audio producer and sound designer whose work has been featured on The World, Studio 360, Life of the Law, Afropop Worldwide, Al Jazeera, and the BBC. He has produced several podcasts, including "Ways of Hearing" from Radiotopia's Showcase and "The New American Songbook" from The GroundTruth Project. More on all these projects at iancoss.com.