Description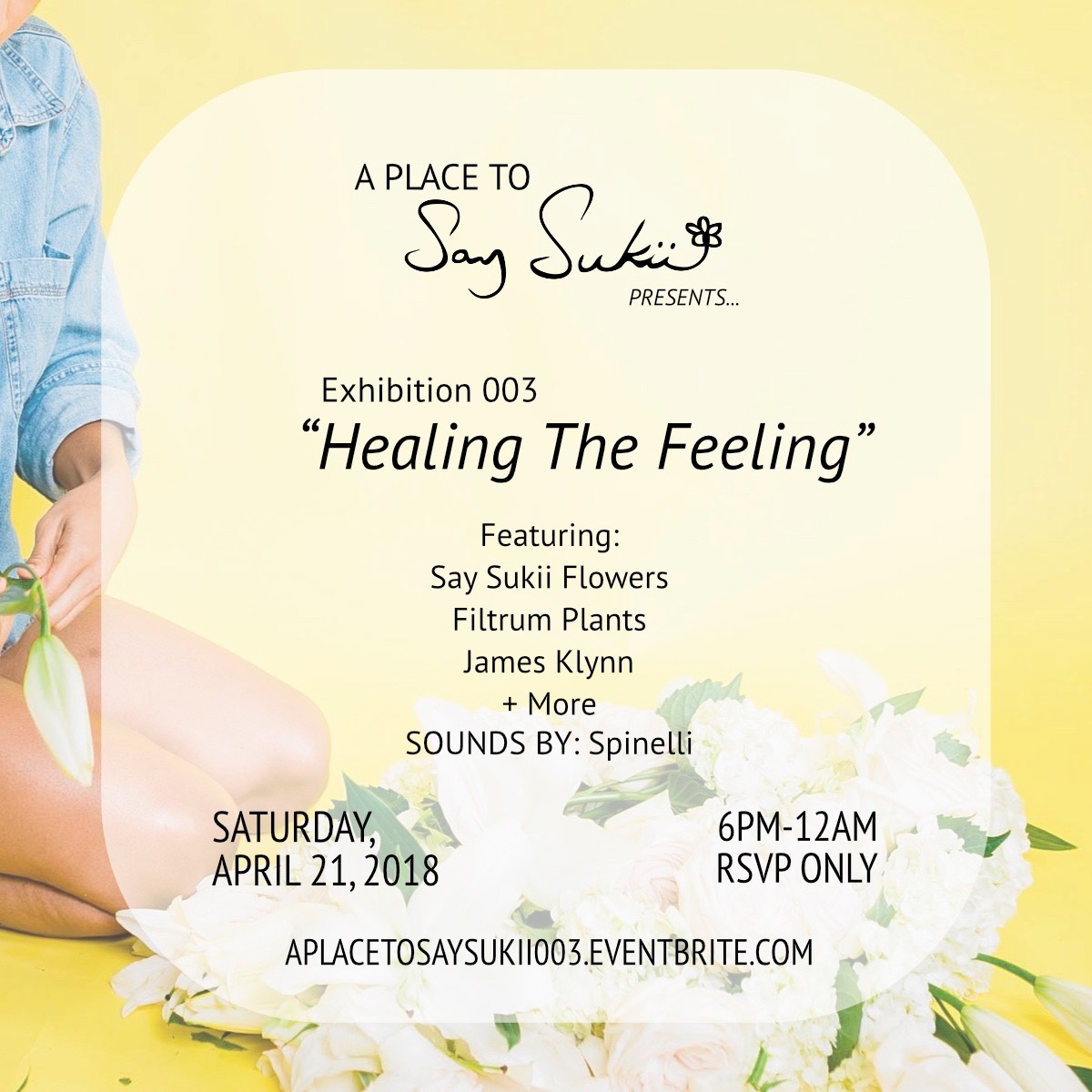 RSVP Required For Entry
A PLACE TO SAY SUKII is an ongoing exhibition series that seeks to encourage the audience to utilize the present moment to express positivity through their personal feelings - with regard to people, places, things and experiences. The goal is for individuals to simply spread love, which ultimately increases the positive vibration of Earth's human collective. A PLACE TO SAY SUKII achieves this through a series of publicly accessible events that exhibit flower inspired installations and sensory activations.
The 3rd installation entitled "Healing The Feeling" of the A PLACE TO SAY SUKII exhibition series pays homage to 3 different celebrations:
"Four Twenty" (420) celebrated internationally on April 20th,
"Earth Day" celebrated internationally on April 22,
& the birthday of the ascended Artist and Sukii's younger brother, Nxko - born 4.22.1993
For this particular installation, A PLACE TO SAY SUKII promotes the concept that as beings having a human experience, we are here to feel through our physical, mental, spiritual, and emotonal bodies. In a world where the only thing constant is change, it is important for us to master coping mechanisms (both on the indivudal level and the collective level) and the art of healing.
420 celebrates the positive use of the marijuana plant & ultimately the "healing of a nation".
422 celebrates environmental protection & our Mother Earth in all her glory.
422 celebrates the birth of a legend, Nxko Laurant who lived a very full life of 21 years with the ultimate goal "to heal people through music". Nxko would have been 25 years old this year and we keep him alive through his art.
---
"Healing The Feeling" will also highlight collaborations between Say Sukii Flowers & a few very special local creatives in the South Florida area. Feature announcements on the way!
We have so much in store for you and are very excited to share this experience with you!