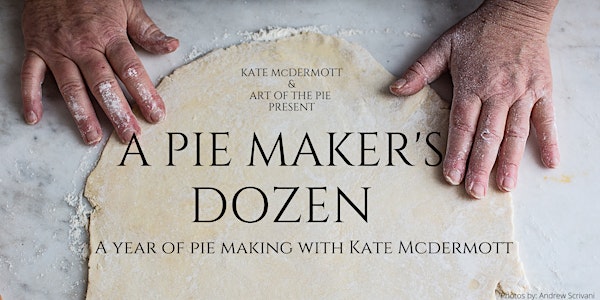 A Pie Maker's Dozen: A Year of Pie Making with Kate McDermott
12 pie making sessions + FREE Bonus class when you register for the Pie Makers Dozen Full Course. OR take just the sessions you want!
About this event
Enjoy a year of virtual pie-making with Kate McDermotti in your own kitchen. On the 2nd Sunday* of each month at 2 pm Eastern (11 am Western) join Kate for 90 to 120 minutes of homemade pie making. Kate makes pie making easy for everyone and she's looking forward to sharing with you some of her favorite recipes for sweet pies, savory pies, and a few very special "pie cousins," too!
The Whole Pie! Sign up for the FULL 12-session course to receive a FREE Bonus Surprise Pie session. This truly is a pie makers dream come true! (See details below.)
Just a Slice, Please! Tickets for individual sessions will go on sale one month in advance of the date of each session. (See details below.)
Here's the Pie Menu for 2022
January 9: Lemon Chiffon Pie
February 13: Chocolate Coffee Toffee Pie
March 13: Potato, Leek & Chicken Pot Pie
April 10: Butter Tarts
May 15: Slab Pies (*May Session will be held on 3rd Sunday.)
June 12: Rhubarb Banana Crisp
July 10: Key Lime Pie
August 14: Cherry Peach Crumble Pie
September 11: Pear Berry Pie
October 9: The Quintessential Apple Pie
November 13: Orange Cranberry Pie
December 11: Tarte Tatin
December 18: Bonus Session: Surprise Pie
Bakers Dozen Full Course 12 Sessions: $585 ($48 per class which includes the Eventbrite service fee and a Free 13th Bonus Session. You save $115!)
Individual Sessions: $55 per class (Price does not include Eventbrite service fee.) Tickets will go on sale one month before the date of each class.
Can't make a session? No worries! Each session will be recorded and you will have lifetime viewing access.
Fine Print: No later than one week before each month's session, you will receive an email directly from Kate with the recipe for the month, a list of ingredients, equipment needed, and the Zoom link to enter that month's virtual session.