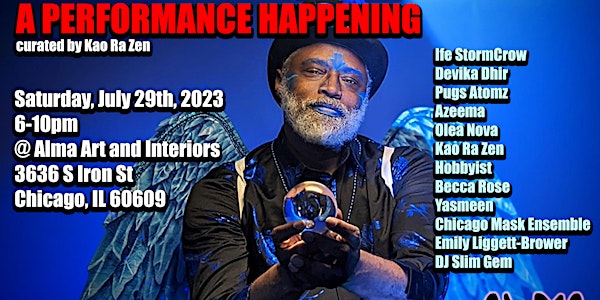 A PERFORMANCE HAPPENING curated by Kao Ra Zen @ Alma Art and Interiors
Join us on July 29th at Alma Art and Interiors gallery for a special Summer performance happening featuring an all-star lineup!!!
Date and time
Saturday, July 29 · 6 - 10pm CDT
Location
Alma Art and Interiors 3636 South Iron Street Chicago, IL 60609
About this event
Join us on July 29th at Alma Art and Interiors Gallery for a special Summer performance happening featuring an all-star lineup of dancers and musicians!!! Enjoy a unique performance experience surrounded by wonderful art in a great gallery space with food and refreshments!
Special thanks to Marianna Buchwald and Kimberly Oliva
Featured performers:
DEVIKA DHIR ✶ Devika Dhir trains in the patiala gharana of kathak as a disciple of Ustad Dilshad Khan. She also trains in bharatanatyam, completing her arangetram in 2017 under her guru, Priya Narayan. Devika has also studied other South Asian folk-dance styles, from Malaysia, Tamilnadu, and Kerala. Today, she also studies flamenco with Olivia Serrano of Ensemble Espanol, and raqs sharqi, with Phaedra Darwish. Devika looks to classical Indian dance forms as the most gratifying way to connect to her culture. Devika finds dance a powerful medium for expression and connection. For her, dance is a mirror for life, a joyful manifestation of humanity, and a perfect combination of uninhibited creativity and disciplined adherence to tradition.
YASMEEN ✶
EMILY LIGGETT-BROWER ✶ Emily has been studying Raqs Sharqi since 2014 and has been fortunate to continue her dance journey here in Chicago since moving from Pittsburgh last year. Her love of music and movement has also led her to other dance styles, including her current studies in Polynesian dance. Whether it is in class or on stage, Emily is dedicated to positively representing these culturally rich art forms and sharing dance with others.
BECCA ROSE ✶ Becca Rose has studied bellydancing with Phaedra Darwish for the past 6 years. She was drawn to different forms of dance from a young age, and has done jazz, modern, swing, salsa, Irish, and Balkan folk dance. Becca Rose is excited to share the joy bellydancing brings her with the world.
WOROOD IL BELEDI ✶ Worood il Beledi means "Flowers or Roses of the Homeland/Country". Yasmeen, Emily, Becca Rose, and Devika will be performing all over Chicago and the suburbs this year in cultural festivals and events. Please check BellydanceByPhaedra.com for their upcoming adventures.
PUGS ATOMZ ✶ The Hip-Hop renaissance man, his Art and Music has been featured in TV Shows, movies, commercials, sporting events, and video games. He has been able to tour the world performing his deep catalog solo and with frequent collaborator DJ Vadim (The Electric, UK). His inspiration for all this stems from his family growing up in Englewood seeing the performers on the Green line train, and murals and Graffiti art in his neighborhood. Catch him live at A PERFORMANCE HAPPENING for a hi-energy sophisticated Hip-Hop /Art experience. www.PugsAtomz.com
OLEA NOVA ✶ www.oleanova.art
KAO RA ZEN ✶ A multidisciplinary artist, Kao Ra Zen has made a name for himself as an accomplished spoken-word poet, battle-rapper, multimedia performance artist, painter, director, and curator. For a number of years, Kao has been performing and organizing concerts, parties, film screenings, and art happenings throughout Chicago, as well as throughout Germany during a 2014 residency. Kao has rocked open MICs in Guatemala, was a feature performer during the first annual Afro Utah Festival in 2021, and the recent Chicago Hip-Hop Theater Fest and TEDx Showtime ChiTime events. A young at heart old school MC who spits rhymes for the brave new world, Kao Ra Zen will be sharing his brand of socially conscious lyrical musings on life, the universe, and everything. www.KaoRaZen.com
AZEEMA ✶ Azeema is Chicago's Bollywood Bellydancer! She performs a variety of modern, folkloric, and classical dance styles from the Middle East and South Asia. Azeema is a lawyer by day and is active in Chicago's disability community, being partially deaf herself. Azeema has taught inclusive dance classes – if you have a body, you can dance! Her love of the arts started early when she became a musician (percussion) growing up in Kansas City, Missouri. She serves as the Board Secretary for Red Clay Dance Company. Azeema loves connecting with people from all walks of life by sharing culture through dance!
IFE STORMCROW ✶ Ife StormCrow is an experienced designer, play maker, storyteller, artist, author, and performer who has been involved in storytelling, movement, and education most of his adult life. He believes in the power of play and story as fundamental, powerful medicines which shape our sense of self, relationships, and our connection to the cosmos. As a performer he enjoys exploring the narrative power of dance as a space of personal ritual and transformation via various forms of folkloric dance. His motions celebrate all of his heritages and experiences with various teaches becoming a fluid blend of Raqs Sharqi, Butoh, West African dance, and North American Men's Traditional and Omaha (Grass) dances.
HOBBYIST ✶ The post-punk duo Hobbyist, composed of Marc Mozga and Holly Prindle, chant and rant about people and their problems over pre computer beat machines and guitars. www.HobbyistBand.com
CHICAGO MASK ENSEMBLE ✶
DJ SLIM GEM ✶
This event is part of 'Culture Flow - THE OCEAN BETWEEN VI, an International Art Symposium':
https://www.chicagogallerynews.com/events/culture-flow-the-ocean-between-vi-an-international-art-symposium
Stay tuned, more details to come!!!
This event is free and open to the public. 🙏🏾
https://www.almaartandinteriors.com/
https://www.kaorazen.com