Description
A Peek Into Your Child's Mind Family Workshop Series
The modern, urban family today face a different set of problems. Though privileged, many are disconnected because of different factors or values that have been lost or forgotten over time. Me Books Asia in collaboration with SUKA aim to make a change in families today with a series of workshops, in conjunction with the launch of SUKA's Parenting Booklets:
Workshop #1 : It is Okay to ask for Help!- Helping Your Child Build a Support System

Workshop #2 : Speaking your Child's Love Language: Spending Quality time with your Child

Workshop #3 : When Parents Fight, Children Suffer: Protecting Children from Conflict at Home
---


About Workshop #1: It is Okay to ask for Help!
Growing up may be one of the most difficult experiences that our children have to navigate in life. Our children need a strong support system – made up of parents, family members, friends and other important people in their lives – who can guide them in this journey and pick them up when they fall. A support system is not just about having people around – it is about letting the child know that it is OK to reach out for help. Children are learning to survive in this difficult world, preparing themselves for the day when they have to step away from their parents and families. Can we help our children build relationships that matter and help them to be more resilient?
SPEAKERS
Alex Lui An Lieh from Head of Psychology Department at HELP University Mr. Alex is a member of the Malaysian Society of Clinical Psychology. He had also been the Head of the Department of Psychology in HELP University for three years before stepping down to pursue his PhD. Prior to lecturing, he had been involved in child welfare services for more than 12 years working with children who have been abused, abandoned and neglected. He specialises in providing counsel to parents with troubled teens and equipping them with skills to relate and manage their own children. His interests are in brain research, youth development, child protection and the juvenile justice system.
Tan Ah Eng, a volunteer counselor in Focus on the Family Mrs. Tan Ah Eng graduated from University of Malaya with a degree in English and a diploma in education. She started teaching from 1977 and was a teacher for a number of years. She taught in a rural school in Kuantan for 4 years before returning to teach in Petaling Jaya urban school for 25 years. She served as the afternoon supervisor and student affair teacher in SMK Taman Sea for 10 years. She has counseled many students and parents in her field of work. Mrs. Tan Ah Eng decided to retire at the age of 55 to pursue her passion for young people. After her retirement, she did her Masters in Counselling and currently volunteers as a counsellor in Focus on the Family.


EVENT HIGHLIGHTS
Storytelling for Children: Let your child embark on a journey of friendship and love via story telling.
Children Arts & Craft Activity: Let your child's imagination run wild with storytelling props themed arts and craft activity.
Parenting Forum by Mr Alex Lui and Mrs. Tan Ah Heng- "Helping Your Child Build a Support System": Let the experts guide you on how to build a healthy support system for your child. Connect with them better, understand them and most importantly, improve their lives.
Parent & Child Activity by SUKA Society - Do You Know Who is in Your Child's Trust Circles?" : Connect with your child in this session and find out who is in your child's trust circle with guidance from our friends at SUKA society.
EVENT AGENDA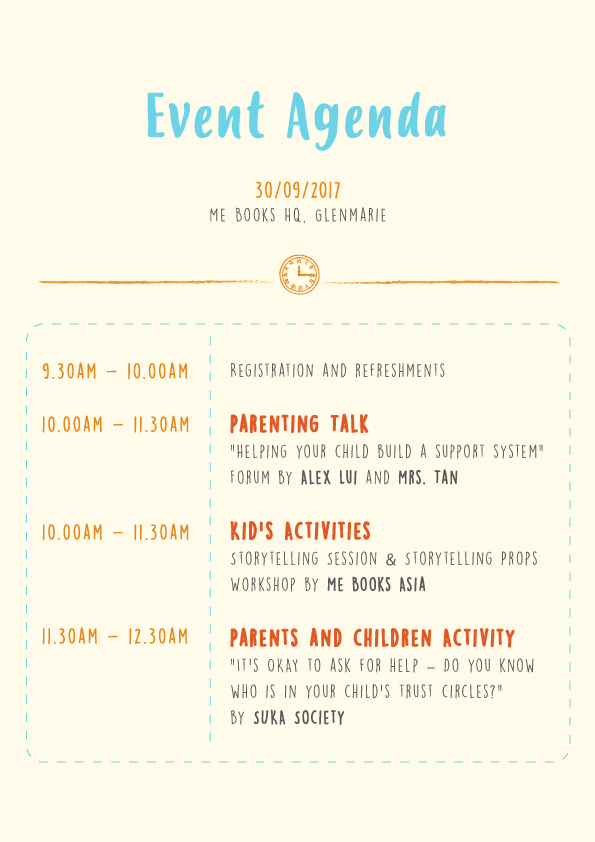 TICKETING INFORMATION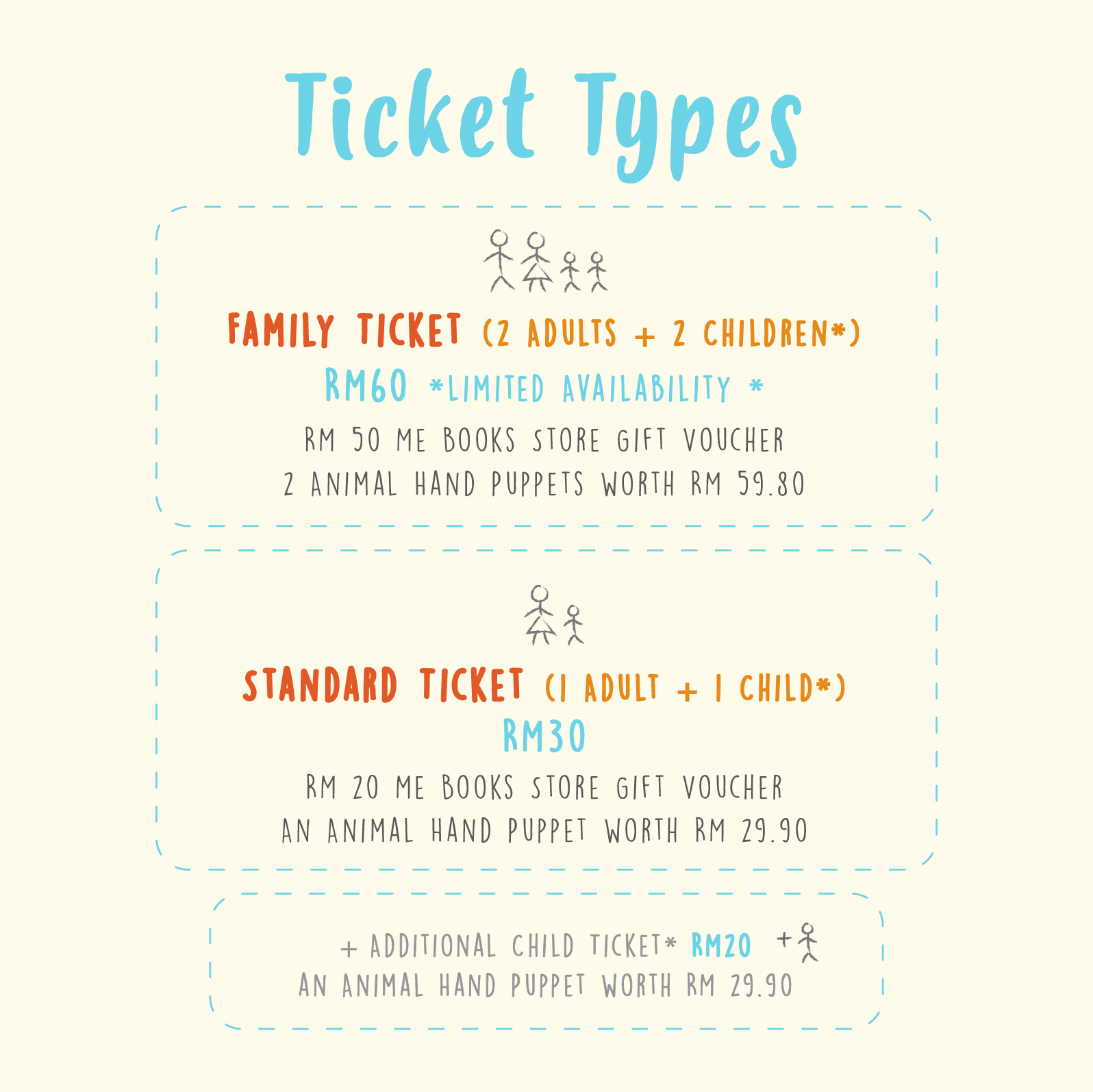 TERMS & CONDITIONS
Every adult and child (between the ages of 3 to 12) will require a ticket.
Additional Child ticket participant must be accompanied by an attending adult.
All registered attendees will automatically receive future communications from Me Books Asia
FAQs
What are my transportation/parking options for getting to and from the event?
There is ample parking available at UOA Business Park, Glenmarie. Alternatively, for a little bit of family adventure, it is a comfortable 5 to 10 minute walk from the Subang Jaya LRT or KTM station.
When will I receive my event goodie bag?
Goodie bag will be given to attendees at the event.
Is the Me Books Store gift voucher available for all products?
Yes! It sure is.
How can I contact the organizer with any questions?
Do drop us an email at hello@mebooks.asia or alternatively, we can be reached at +603 5569 3159 (Monday to Friday, 9.30am to 6pm)
I have children younger than 3 years of age. Can I bring my child along?
Yes, you're welcome to bring your little one. However, please note that the children workshops are designed for children between the ages of 3 to 12 years old. Hence, your child would likely need to be with you during the parent session.

I am attending the workshop alone. Is there an adult only ticket?
You're more than welcome to attend this workshop. However, you would need to purchase the Standard ticket (1 Adult + 1 Child). With this ticket, you would receive the full goodie bag worth RM49.90.
If you can't find the answer to a question that you have here, please do not hesitate to contact us at hello@mebooks.asia and we'd be happy to look into it.
Date and Time
Location
Me Books Asia HQ
UOA Business Park Tower 3 Level 3 Unit 6, Jalan Pengaturcara U1/51A
Kawasan Perindustrian Temasya
Shah Alam, Selangor 40150
Malaysia
Refund Policy