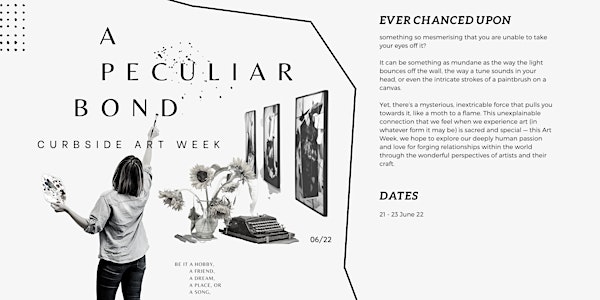 A Peculiar Bond - Curbside Crafters Event
Location
730 North Bridge Rd
730 North Bridge Road
Singapore, Singapore 198698
Singapore
Curbside Crafters is hosting its first ever Art Exhibition which is in collaboration with Mama on Palette and 26 other talented artists!
About this event
Curbside Crafters is a curated lifestyle marketplace for crafters, entrepreneurs, and artists. Our flexible spaces are specially designed for Creatives to showcase their masterpieces, as well as co-create with a like-minded community - all while providing an immersive retail experience for their customers.
This June Holidays, take a stroll down to Kampong Glam - a vibrant cultural district to visit Curbside Crafters where the first Art Exhibition week will be hosted from 21 June to 23 June 2022. Together with a strong community of almost 30 artists from all walks of life, we want to offer our local crafters an avenue to display and showcase their best works to the public.
If you appreciate art, we encourage you to come visit us and speak with our artists to find out more! All our artists are happy to share with you their experiences, journeys and inspirations.