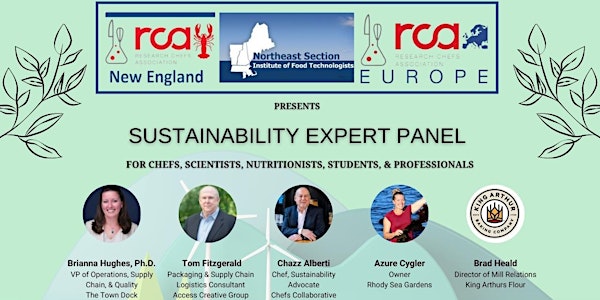 A Panel with Industry Experts Speaking on Sustainability
Why sustainability? Sustainability is a broad theme; it embraces the ability to preserve our natural resources for future generations.
Refund Policy
Contact the organizer to request a refund.
Eventbrite's fee is nonrefundable.
About this event
The New England RCA, NEIFT and Europe RCA are joining hands in a student focused virtual event to present a panel of experts on the topic of sustainability with impact for chefs, culinary scientists, food scientists, nutritionists, students, and professionals alike.
Why sustainability? Sustainability is a broad theme; it embraces the ability to preserve our natural resources for future generations. Sustainability is universal and touches multiple facets of life with methods to preserve the environment for the well-being of our communities and the health of our planet. 64 percent of consumers say that making sustainable choices is important to them was reported by Dataesstential's Sustainability Keynote Report (October 2022). Further, Dataessential emphasized that sustainable values and missions are essential to a company's core values for today's consumer.
In a timely article in Flavor and the Menu magazine, (December 2022), they feature consumer trends that are focused on sustainability: "Today, sustainability has moved from a hot-button issue for a niche group of concerned consumers to a foodservice industry imperative." In October, Innova Market Insights, a global market intelligence agency, released findings that the top global issue for consumers is the health of the planet. Today, restaurants with sustainable sourcing practices achieve a competitive edge in gaining and keeping customers' loyalty.
Learn from our speakers their personal or corporate values relating to ecology, energy, environmental and sustainable development in their specific areas of expertise. Their bio's will be sent shortly prior to the event.
· Brianna Hughes, Ph.D. – VP of Operations, Supply Chain, & Quality, The Town Dock - The Town Dock | The Best Calamari | Narragansett, Rhode Island · Tom Fitzgerald – Access Creative Group - Access Creative Group · Chef Chazz Alberti, Sustainable Food Advocate - Chazz Alberti - Chefs Collaborative · Azure Cygler ateamcoastal@gmail.com Owner of Rhody Sea Gardens
· Brad Heald – Director of Mill Relations, King Arthurs Flour
Sustainability innovations topics may tap into eco-friendly packaging, carbon reducing methods in land and sea, products to reflect green values, reducing food waste, upcycling, energy alternatives employed by food manufacturers, renewable energy, recycling, renewable sources, land stewardship. Be sure to have your questions ready for our panelists to engage in a lively discussion on the universal theme of sustainability. We hope to see you there.
The format –
Speakers will have 15 minutes to present, questions will come at the end to allow for plenty of time.
This panel will be of interest for professionals as well as students. Watch for announcements and registration to begin soon.
**Earn 2 Continuing Education for participating in this event. Email New England Regional Chair, Susanna Tolini (Susanna.Tolini@kayem.com) and your certificate of education will be emailed after the event