Location
Kenilworth 508 Theatre
1925 E Kenilworth Place
Milwaukee, WI 53211
Refund policy
Contact the organizer to request a refund.
Eventbrite's fee is nonrefundable.
Theatre Gigante presents a Japanese silent film masterpiece, lost for nearly half-a-century, with live accompaniment by LITTLE BANG THEORY.
About this event
A PAGE OF MADNESS
One of the greatest avant-garde films in history, A Page of Madness, directed by Teinosuke Kinugasa in 1926, was lost for nearly half-a-century. Nobel laureate Kawabata Yasunari's story centers on a janitor at an asylum that holds his wife. Japanese benshi Nanako Yamauchi will narrate the film, and Little Bang Theory will perform an original score by Frank Pahl on toy and hand-made instruments. Long considered a lost film, director Kinugasa fortunately found a negative in his garden storehouse in the 1970s.
Supported in part by the Center for Japanese Studies, University of Michigan.
October 8th 7:30pm with pre-show talk at 7:00 & post-show talkback
October 9th 2:00pm with pre-show talk at 1:30 & post-show talkback
pre- and post-show talks led by Professor of Asian Cinema Markus Nornes, University of Michigan
Tickets:
$30 (front seating)
$20 (side seating)
Group rates (10 or more) are available – contact gigante@theatregigante.org
Kenilworth 508 Theatre 5th floor
1925 East Kenilworth Place, Milwaukee, WI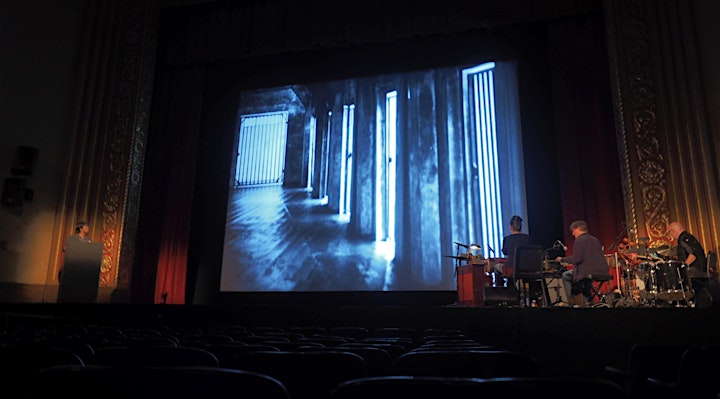 Little Bang Theory performing their original score for A Page of Madness, photo by Markus Nornes, 2017
A PAGE OF MADNESS
director Teinosuke Kinugasa
live narrator Japanese benshi Nanako Yamauchi
live music by Little Bang Theory
played on toy and hand-made instruments
score by Frank Pahl
A Japanese silent film masterpiece, lost for nearly half-a-century.
One of the greatest avant-garde films in history!
Theatre Gigante
Artistic Directors
Isabelle Kralj and Mark Anderson
35th Anniversary Season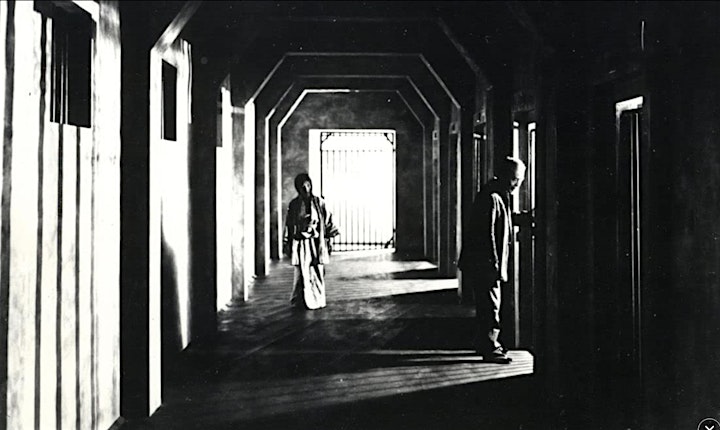 Film still from Teinsuke Kinsgasa's A Page of Madness, 1926.
A Page of Madness / The Silent Film
Actor-turned-director, Teinsuke Kingasa, directed 118 films. One of those films, 1926's A Page of Madness, was made by his own independent production company. It is often cited as one of the earliest avant-garde Japanese films.
A Page of Madness takes the viewer into the world of an asylum, where a retired seaman has become a janitor so he can be near his committed wife. Influenced by innovations of German expressionism and French impressionist films, A Page of Madness employs an array of devices to convey the subjective reality of the asylum patients, all without a single title to help the narrative. As Kinugasa later said, 'story was less important than technical experimentation: tracking shots, close-ups, rapid montage, flashbacks, dissolves, irises, etc. In this film I used almost every avant garde technique.'
Japanese critics were duly impressed by A Page of Madness. [Japanese film critic] Akira Iwasaki called it 'the first film-like film born in Japan.'
Kinugasa experienced something of a resurgence in the 1970's when a print of A Page of Madness, unseen for decades, was found by the director in a rice barrel at his country home.
Of the more than fifty silent films Kinugasa directed, only a handful are known to have survived, a condition that afflicts the pre-World War II legacy of nearly every Japanese filmmaker." San Francisco Silent Film Festival essay by Brian Darr, 2008.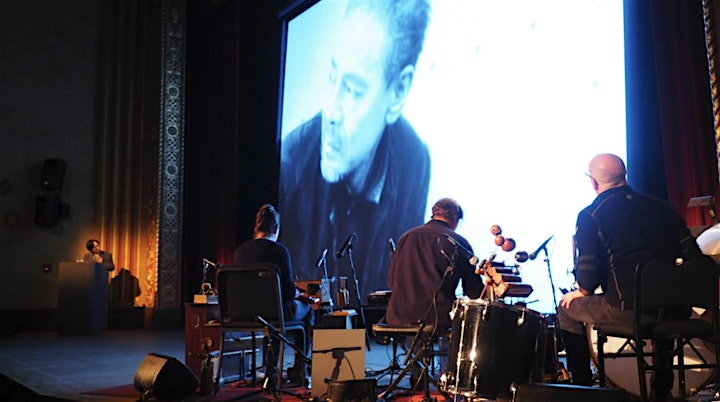 A Page of Madness in performance at the Ann Arbor Film Festival, photo by Markus Nornes, 2017.
A Brief History of Benshi / Silent Film Narrators
Japanese silent movies were never silent. From the very first showing of motion pictures in Japan in 1896 until the end of the silent era in 1939, a person, or a group of people, always supplied a verbal component to the motion picture show. The most widely accepted Japanese word for this 'narrator' is benshi, although the term changed over time. Benshi formed a central part of the silent movie experience in Japan by explaining what the motion picture was about, either before, during, or after the show. While one can find examples of similar motion picture narration elsewhere in the world, Japan is the only place where narrators proved to be an influential and integral part of silent cinema.
It should be pointed out that nowhere in the world was silent cinema ever truly silent — music was always a part of the show. In Japan, music also accompanied the film, but was used in a symbiotic relationship with the benshi. If music was playing, then the audience would not be able to hear the benshi. Thus, the orchestra had to coordinate with the benshi when to play, when to play quietly, and when to remain silent.
To many silent cinema fans in Japan, benshi were a major attraction. It was usually the film that drew people to the theater, but it was often the benshi which determined which theater a person would attend.
Benshi were huge cultural stars of the time, with benshi earning as much, if not more, than many actors. Benshi had huge fan followings, particularly among women, and were often both fashion and vernacular trend setters. Around 1917, when group kowairo setsumei was at its peak, about 11% of benshi were women. With the disappearance of kowairo setsumei, the number of women in the profession rapidly declined. By 1926 only 4% of benshi were women. Japanese movie theaters were comparatively large, with an average seating capacity of 1000 seats. Benshi performed without a microphone. One of the great skills of the benshi was projecting their unamplified voice within the cavernous theater. During the Golden Age, a benshi typically only performed for an hour, with several benshi dividing up long films into one-hour segments. Still, benshi had to perform four to five shows a day, seven days a week. Films generally changed every week. Thus, benshi had to come up with new setsumei every week, then perform it in a fresh, entertaining, and engaging way roughly thirty times during the week. Benshi truly were 'Poets of the Dark.'"
– About Japan / Japan Society A Brief History of Benshi (Silent Film Narrators)
by Jeffrey Dym, 2008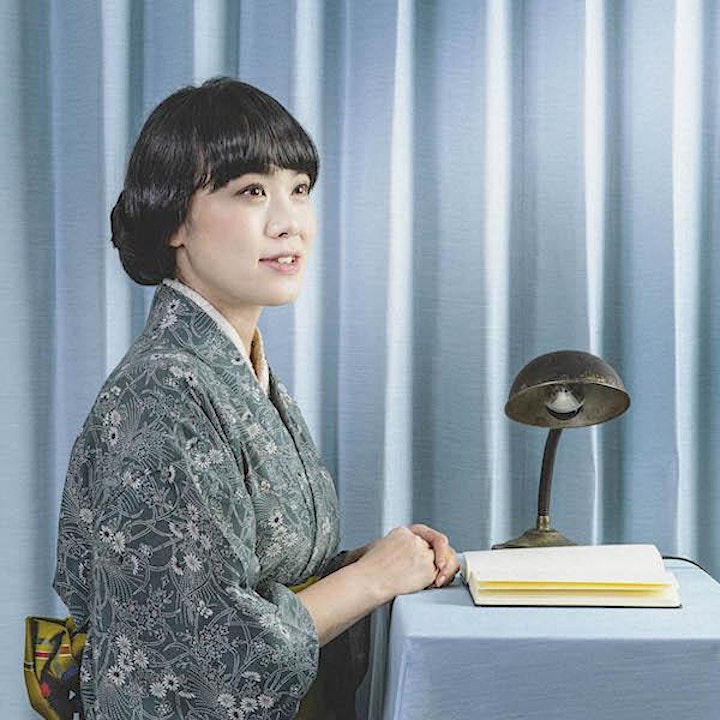 Portrait of Nanako Yamauchi.
NANAKO YAMAUCHI
Nanako Yamauchi is a graduate of the Film Department at Nihon University, the oldest film school in Japan. She began studying the art of the benshi under Sawato Midori in 2010, performing for Matsuda Film Productions' Friends of Silent Film Appreciation, various film festivals and the National Film Archive of Japan. In 2021 and 2022, Yamauchi was a supervising editor for Nasuno Mayuka's manga about benshi entitled Ray—A Taisho Era Cinema Story.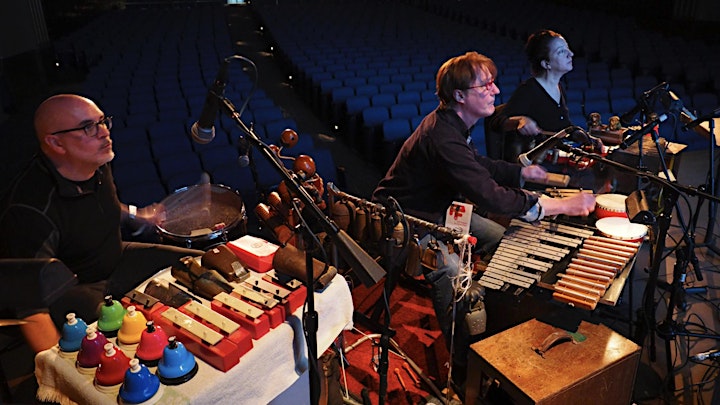 Shimmin, Pahl, and Sarris live in performance as Little Bang Theory, photo by Markus Nornes, 2017.
LITTLE BANG THEORY
Little Bang Theory is a trio, featuring musicians Frank Pahl, Terri Sarris, and Doug Shimmin, based in Detroit/Ann Arbor, Michigan. The brainchild of Pahl, Little Bang Theory's brilliant musical explorations are performed entirely on children's toys and hand-made instruments. Pahl and Little Bang Theory frequently perform with Theatre Gigante.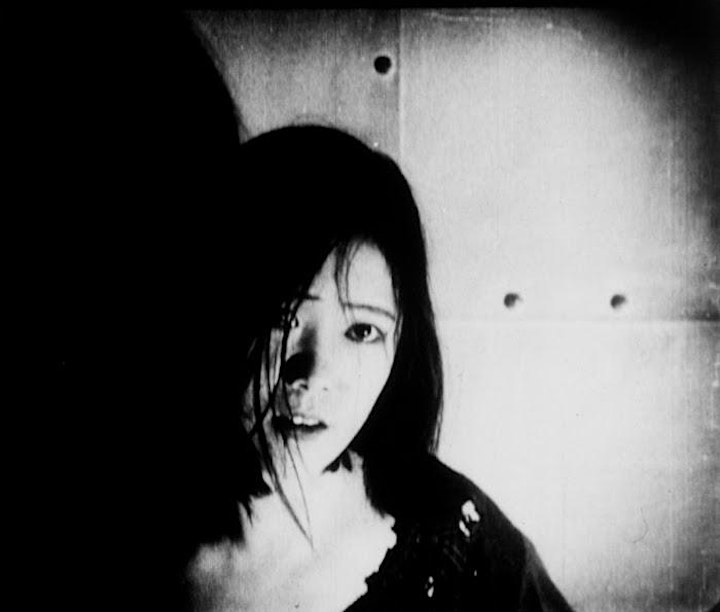 Still from A Page of Madness, 1926.
THEATRE GIGANTE
Founded by Isabelle Kralj, with Kralj and Mark Anderson serving as joint Artistic Directors, Theatre Gigante is now celebrating its 35th year. The company's work enlivens the local performance scene with its unique style of theater, combining text, movement and music in ways that are thought-provoking, compelling and entertaining. Gigante brings original theater to the stage, written by Kralj and Anderson, and other established, innovative auteurs. The company has a strong history of dynamic collaborations with nationally and internationally known musicians, visual artists, composers, and performers. The theatre of big ideas, critically acclaimed Theatre Gigante, is exciting, challenging, and fresh.
Theatre Gigante does the kind of work nobody else in Milwaukee does…the kind of unique approach that makes them such a vital and valued member of the world of theater in Milwaukee.
Dave Begel, OnMilwaukee.com