Description

The ONE-Raiser serves to raise awareness of a specific issue relative to the community while raising funds for the works of ONE. Visit www.oneoncampus.com
Dr. Fong is a Clinical Professor of Psychiatry at the Jane and Terry Semel Institute for Neuroscience and Human Behavior at UCLA
We are so honored to have Dr. Fong present to the community. He is an expert on the effects of Vape on the body and minds of our culture. He is also a part of the faculty leadership of the UCLA Cannabis Research Initiative, a multidisciplinary effort to examine the full impact of cannabis on the body, mind and brain.
Dr. Fong completed his undergraduate and medical school at Northwestern University in Chicago. He then came to UCLA and finished his residency in adult general psychiatry in 2002 and was the first accredited addiction psychiatry fellow at the UCLA Neuropsychiatric Institute (2002-2004).
Since 2009, he has been the director of the UCLA Addiction Psychiatry Fellowship, a one-year accredited program that provides clinical training in addiction psychiatry. He is a dynamic presenter and possesses the knowledge we are all seeking.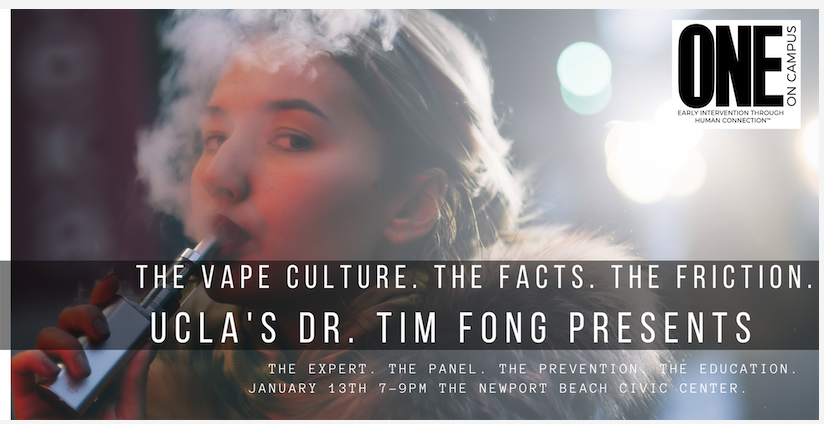 THE PANEL:
Arastou Aminzadeh, M.D.
Dr. Arastou Aminzadeh or Dr. A as most teens refer to him, has been working in variety of clinical settings for the last 20 years. He is a triple board certified physician in psychiatry, Child and Adolescent psychiatry and Addiction medicine. He owns and operates BNI Teen Treatment Centers with his partner Dr. Oliver Amirpour in Los Angeles. Dr. A is well respected nationally for his expertise in Addiction medicine and treating adolescents. https://bnitreatment.com/
Geoff Booth, M.D.
Dr. Geoffrey A. Booth Medical Director of LifeSync in Malibu and a principal of The Advocacy Group Co. has extensive experience in providing expert medical detoxification for the most complex clients. After earning his B.A. in psychology at California State University, Los Angeles, Dr. Booth attended New York Medical College. He completed his internship and residency in Internal Medicine at UCLA Olive View Medical Center and is Board-Certified in Addiction Medicine and Internal Medicine. https://lifesyncmalibu.com/ http://theadvocacygroup.co/
Don Grant, Ph.D.
Dr. Don Grant is an internationally award-winning media psychologist, researcher, and Doctoral Addictions Counselor. He is Executive Director of Resolutions Teen Center, Chairman of the American Psychological Association (Division 46) "Device Management" Committee, and has been commissioned by APA to write the only book on "Healthy Device Management" they plan to publish. https://resolutionstreatment.com/resolutions-teen-center/
John Lieberman, MA.
John Lieberman, Director, Visions Teen. John is an integral part of the fabric that makes up Visions. He joined in 2002, creating the initial building blocks to ensure Visions became the preeminent provider of adolescent treatment for substance abuse and mental health disorders it is today. John is a nationally recognized expert in adolescent treatment, intervention, and family dynamics. https://visionsteen.com/
Peyton Yardley, CADC-II
Peyton Yardley Program Director of Newport Academy's Intensive Out Patient center is a gifted and highly skilled adolescent counselor. She has a unique and invaluable perspective. She came to California to begin her own recovery journey as a teenager. She has a passion and a gift in working with struggling youth. Before joining the Newport Academy team in 2015, she held positions as a case manager at Safe Harbor Treatment Center for Women and as a director for children with disabilities at Mission Road Developmental Center in San Antonio, Texas. https://www.newportacademy.com/
Vladimir Anderson.
Vladimir Anderson. District Investigator for the Newport Mesa Unified School District and the Irvine Unified School District. Vladimir has a 28-year career in law enforcement. He dedicated 12 of those years as a SRO Officer; a sworn officer responsible for safety and crime prevention in schools. He served his Country in the Marines and continues to serve this community.
Thank you to Newport Beach Civic Center for your continued support of ONE and ALL in the community.
The Panel will be announced December 2, 2019.
Sponsorship is available. Email: Inspire@oneoncampus.com