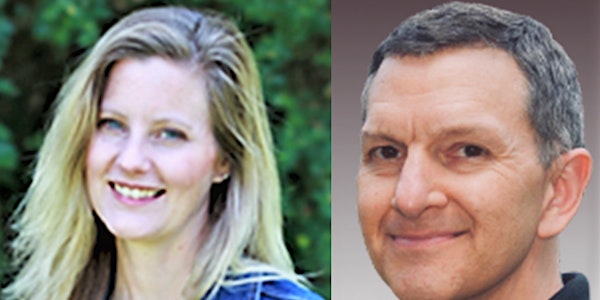 A NOVEL IDEA Presents Local Authors J.M. TOMPKINS and GEORGE WEINSTEIN
A NOVEL IDEA presents local authors J.M. TOMPKINS and GEORGE WEINSTEIN as they take a peak BEHIND THE WRITER'S CURTAIN.
When and where
Location
Vintage Pizzeria Dunwoody 5510 Chamblee Dunwoody Road Dunwoody, GA 30338
About this event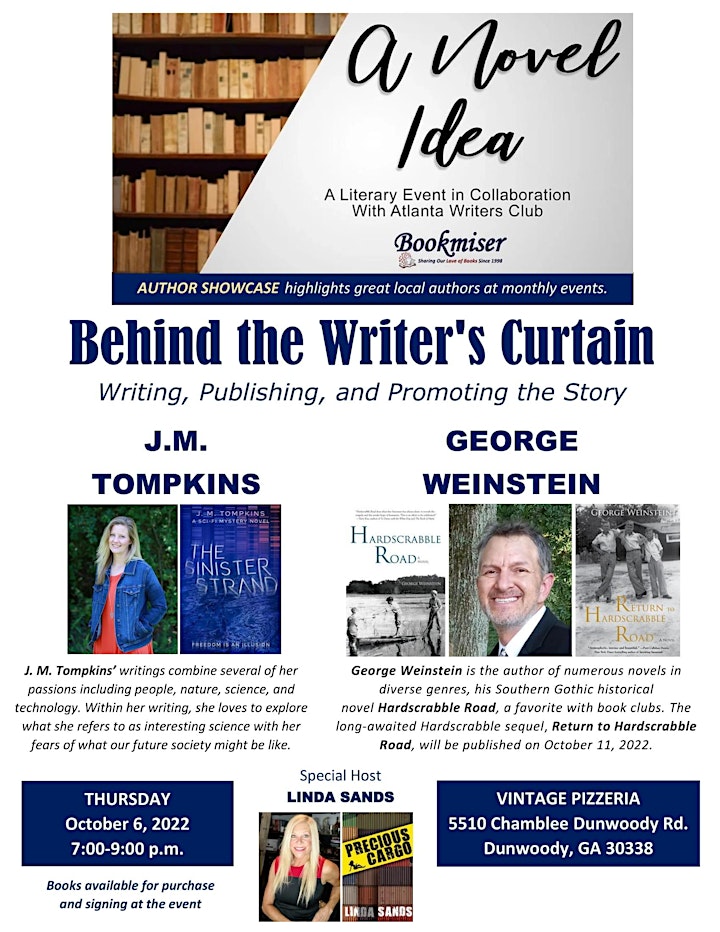 ABOUT J.M. TOMPKINS
J. M. Tompkins was born in Atlanta and grew up in a small Georgia town. She studied at Emory University and has worked as a flight attendant and within technology sales. Determined to make her life's goals come true, she started her own publishing company and began focusing on her true passions.
As an author, she first published at the age of sixteen, had a popular poetry blog, published in several magazines, and began working on what would become the Habitual Humanity Series in 2012. She finally took the plunge in 2019 to begin publishing her books.
J. M.'s writings combine several of her passions including people, nature, science, and technology. Within her writing, she loves to explore what she refers to as interesting science with her fears of what our future society might be like. Interesting science, according to J. M., is the science of today that a large portion of the population still thinks of as science fiction. This includes the possibilities of what can be achieved with Artificial Intelligence, personal data, biohacking, genetic modifications, and more.
J. M currently lives in Georgia and enjoys camping and hiking with her husband, son, and dogs.
ABOUT THE SINISTER STRAND
Just keep telling yourself you are free.
Anneliese is one of the best investigators in Rochester. Or she was.
Then the DNA sequence for serial killers was uncovered and now, instead of a detective, she's a director of the Choosing. Instead of hunting down criminals, she's sending pre-teens with the gene to prison for life.
She hates her new job but can't argue that there hasn't been a murder in Rochester in twelve years. And she can't help but feel guilty about the fact that she's been bored and depressed without any murders to investigate.
But then, there's a body. And it's not just anyone, it's a cop. Anneliese wants nothing more than to track the perpetrator down. She's suddenly back to what she loves doing--hunting down bad guys.
But as the bodies start to pile up, the list of suspects expands and she's forced to dive into a new dark reality of society.
Well, at least she's not bored anymore.
REVIEW
Anneliese is a cop and the Director of the Choosing, where kids are DNA tested when they're 11. If kids test positive for the "sinister strand" in their DNA (which serial killers & other evil people have), they're locked up for life to prevent crimes. (In a way, the premise reminded me of Minority Report, except this is much more plausible than Precogs who psychically see the future.)
When officers start turning up dead, Anneliese is in on the investigation to try to figure out who is behind the murders.
It sounds dark and dystopian, and it IS, but this book also made me laugh out loud with Anneliese's observations of the world, and I couldn't put it down. The cast of side characters is rich, including Anneliese's family, the Captain, and Anneliese's partner, and maybe we'll get a book about them someday?!
While it is the first in a series, it has a very satisfying ending with the main threads resolved. So go read it already!
ABOUT GEORGE WEINSTEIN
George Weinstein is the author of the kidnapping thriller Watch What You Say, the amateur-sleuth murder mystery Aftermath, the modern relationship drama The Caretaker, the beloved Southern historical novel Hardscrabble Road, its sequel Return to Hardscrabble Road, and the novel of forgotten US history The Five Destinies of Carlos Moreno.
He has always written: at six years old, he wrote a collection of superhero plays for his stuffed animals to act out, to entertain his brother and sister. And, his family will attest, he loved telling lies as a youth, even when there was no penalty for telling the truth, just to see what he could get away with and for how long. So, it's little wonder he still writes fiction.
His work has been published locally in the Atlanta press and in regional and national anthologies, including A Cup of Comfort for Writers. His first novel, the children's motivational adventure Jake and the Tiger Flight, was written for the nonprofit Tiger Flight Foundation, which is dedicated to the mission of leading the young to become the "Pilot in Command" of their lives. He wishes that there had been such an organization in Laurel, Maryland, where he misspent his youth.
George is the twice-former President and current Executive Director of the historic Atlanta Writers Club (AWC), which was founded in 1914. Since 2008, he has directed the twice-yearly Atlanta Writers Conference for the AWC, bringing in acquisitions editors and literary agents to help members understand the business of writing and achieve their dreams of publication.
He lives with his wife–author Kim Conrey–her two daughters, and their furry, four-legged children in Marietta, GA.
ABOUT RETURN TO HARDSCRABBLE ROAD
Return to Hardscrabble Road, the sequel to his beloved Hardscrabble Road, will be published on October 11, 2022!
ABOUT HARDSCRABBLE ROAD
"When a writer sits down to write a blurb for another writer's work, there's an aching urge to craft a sentence or two that shows off his own prowess at the game of words. Same with me. Instead, for George Weinstein, for his Hardscrabble Road, I have six words: This is a damn good book."
– Sonny Brewer, author of The Poet of Tolstoy Park
The entire MacLeod clan is haunted by secrets—and young Roger "Bud" MacLeod doesn't realize he carries the biggest secret of all. Growing up poor in Depression-era South Georgia is hard enough, but Bud is also cursed with a stutter and a birthmark that disfigures his face. His hateful father and amoral mother make life worse still, despite his brothers' efforts to shield him.
To survive in body and soul, Bud must discover his strengths and confront the sins of his parents. First, though, he'll need to grasp his own truth: that he can't embrace his future until he comes to terms with his past.
"Reading Hardscrabble Road is like discovering To Kill a Mockingbird when no one else knew about it. It has that kind of impact. But then this novel has such fascinating characters, such vivid descriptions of South Georgia during the Depression, and such an uplifting storyline, that one day it may also be considered a classic."
– Jackie K Cooper, author of Memory's Mist, and critic for The Huffington Post
"George Weinstein's authentic voice brings Bud MacLeod to life, a vivid character drawing me into his tough and tender Southern world. Bud fights to save his own soul with determination and heart. Hardscrabble Road is a bittersweet and gripping story that will steal your heart."
– Patti Callahan Henry, New York Times bestselling author
"George Weinstein's Hardscrabble Road cinematically brings the Deep South of the 1930s and 1940s to life. You'll never forget Roger 'Bud' MacLeod."
– Jessica Handler, author of Invisible Sisters: A Memoir
"This profoundly told and splendidly written story of Bud MacLeod in his growing up days of the Depression in South Georgia, is one of the most engaging novels I've read in years. Rich in character—from Bud's parents and siblings to his half-Japanese friend, Ry—Hardscrabble Road does what fine literature has always done: it reveals the tragedy and the tender hope of humanity. This is an effort to be celebrated."
– Terry Kay, author of To Dance with the White Dog and The Book of Marie