Description
HOPE, OPENNESS, AND CREATIVITY IN THE FACE OF SYSTEMIC VIOLENCE
Boost your sense of awe and wonder in a nourishing half-day retreat supporting social justice-minded folks to Thrive.
Led by Jonathan Relucio, Danielle Ancin, and Wendy Martinez
AllThrive retreats support people who care about social and environmental justice to live their full creativity, resilience, and interconnection - in short, to Thrive. In times of systemic violence and overwhelm, we need to release stress and reconnect with a sense of awe and wonder in order to maintain our creativity, empathy, adaptability, and hope.
At our February half-day retreat, we will incorporate time-honored embodiment practices, expressive arts, and meditation to promote collective healing, rejuvenation, and the envisioning of new possibilities.
Why attend an AllThrive Retreat:
By releasing stress and connecting with the awe and wonder that already surround us, we maintain our openness, creativity, and perspective. We see more options and opportunities and can better adapt to new circumstances.

Generate hope and community in times of systemic violence and overwhelm. In the words of Paolo Freire, "Nobody liberates anyone else, and nobody liberates themselves alone. We are liberated in community."

Explore practices for processing and transforming anger and anxiety. The human mind is wired to focus on the negative, and this is reinforced by the media. Taking time to consciously tap into the creativity that surrounds us allows us to envision new possibilities.
Find Your Strength In Connection: With Nature, With Self, And With Like-hearted Community
This Retreat Includes:
Embodied mindfulness practices (drawing from yoga, martial arts, and dance)

Guided expressive arts exercises to tap into our creativity and intuition

Circle practice for community dialogue

Silent time for meditation and self-reflection

Ritual

Connecting over a thoughtfully prepared lunch
---
About AllThrive Facilitators
We, Jonathan, Danielle and Wendy (AKA JoDaWe) have decades of experience supporting the sustainability of other activists, teachers and mental health professionals. Having experienced burnout and secondary trauma in our own lives, we know what works for us to maintain balance and wellbeing while being fully engaged in social justice work. The practices that we share are the same ones we practice, and they allow us to reclaim and integrate the sacred in our lives and work. We honor the roots of our practices and our ancestors, on whose shoulders we stand.
Visit our website to learn more about us and why we created AllThrive. If you would want to know more about personal journeys, read Danielle's or Wendy's story in our blog. Jonathan's is coming soon :)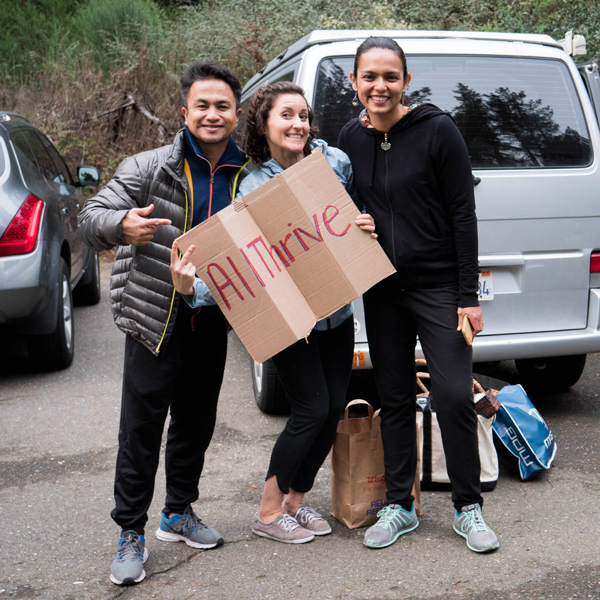 We hope to see you on Ferbruary 17th!