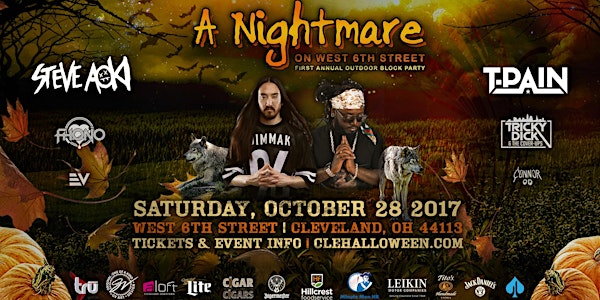 A Nightmare on West 6th Street-Halloween Block Party
When and where
Location
West 6th Street 1212-1280 West 6 Street Cleveland, OH 44113
Description
A NIGHTMARE ON WEST 6TH STREET
Happening in Cleveland's Historic Warehouse District | West 6th Street from Lakeside to Saint Clair
The Biggest Halloween Block Party to Ever Hit Cleveland & First of its Kind
---
LIVE PERFORMANCE LINEUP
STEVE AOKI
Is an American electro house musician, record producer, DJ, and music executive. In 2012, Pollstar designated Aoki as the highest grossing dance artist in North America from tours. He has collaborated with producers and vocalists such as will.i.am, Afrojack, LMFAO, Linkin Park, Iggy Azalea, Lil Jon, Laidback Luke, and Louis Tomlinson,[6] and is known for his remixes of artists such as Kid Cudi. Aoki has released several Billboard-charting studio albums as well, notably Wonderland, which was nominated for Grammy Award for Best Dance/Electronica Album in 2013.
T PAIN
Is an American rapper, singer, songwriter and record producer. His debut album, Rappa Ternt Sanga, was released in 2005. In 2007, T-Pain released his second album Epiphany, which reached number one on the US Billboard 200 chart. T-Pain has also released a string of hit singles, including "I'm Sprung", "I'm 'n Luv (Wit a Stripper)", "Buy U a Drank (Shawty Snappin')", "Bartender", "Can't Believe It", "5 O'Clock" and more. T-Pain has earned two Grammy Awards, alongside artists Kanye West and Jamie Foxx respectively.
Tricky Dick & the Cover-Ups
With an undeniable repertoire of close to 200 hit songs, Tricky Dick boasts four young and energetic members with fun personalities and refined musicianship. With a constantly growing playlist comprised of non-stop blocks of music, a unique and compelling intelligent light show, a sincere dedication to engaging every audience, and over three years of experience playing 200+ shows a year together, Tricky Dick has garnered over 9,000 fans on Facebook and they have only just begun.
DJ EV
With thousands of electrifying performances around the globe, E-V has quickly E-Volved into the entertainer that he is today – some shows include SXSW, Number (#) Fest, Life in Color, Bamboozle, Electro Beach, EST Fest, and both the iHeart Radio Pool Party in Miami and iHeart Radio Musical Festival in Las Vegas. From sharing stages with some of the biggest names in the modern music industry – including Alesso, Steve Aoki, Kendrick Lamar, Krewella, Drake, Carnage, Cash Cash, Timeflies, Bassnectar, Major Lazer, Adventure Club, Flosstradamus, Seven Lions, Waka Flaka, and Cake'd Up – to energizing club dance floors across the country for his monthly residencies, E-V is force to be reckoned with.
Fhono
A boy and a girl, caught up in the whirlwind of world expectation, began to wonder what it would feel like, look like, to create freely without agenda or boundary. What if there were a tribe of artists whose hearts ached to explore the same thing? Could we make space for something more powerful to be manifested than our own personal identities? What if we allowed for a magic we only catch glimpses of, to flow unobstructed?

What you search for you often find.

One by one people with the same heart and burning desire are emerging from the wilderness. Armed with unique expressions of themselves, found in their own personal awakenings. Its time to share what has been found in the depths and illuminate the way to find it within, believing that something bigger than ourselves will manifest.
FHONO
From Here On Out.
This is a Place. An Experience.
And You're Invited.

- FHONO
DJ Connor OD
Growing up in Cleveland, Ohio Connor OD was attracted to music at an early age. While attending John Carroll University, Connor became heavily involved in the local music scene. Connor would spend his weekend's studying DJ's in hopes to learn the art of DJ'ing. Recently being involved with some of Cleveland's major clubs has made him a household name around the city and is destined to be one of the best in the city.
And More to Come...
---
HALLOWEEN COSTUME CONTEST
TRIP FOR 2 TO LAS VEGAS UP FOR GRABS | MUST BE PRESENT BY 7PM FOR CHANCE TO WIN

---
WHAT ELSE IS GOING ON
FOOD TRUCKS
5 FULL SERVICE BARS
STREET VENDORS
FREE ACCESS TO 6 BARS
---
VIP TABLES AVAILABLE
Contact Joe at 440-487-3752 for Info
---
TICKETS + HOTEL VOUCHER DEALS! Opportunity Ends 10-25-17
GENERAL ADMISSION TICKETS FOR 2 & $30 HOTEL VOUCHER
https://www.hotelplanner.com/Package/92F2A424-5E01-4DEE-B1AA-5448D3B5F6F1
VIP TICKETS FOR 2 & $50 HOTEL VOUCHER
https://www.hotelplanner.com/Package/1FEDAA03-D0B9-4B80-8E52-D2FAF6AD92A8
PIT TICKETS FOR 2 & $60 HOTEL VOUCHER

https://www.hotelplanner.com/Package/1361E733-84A7-477A-96E6-690DA7F26884
ALOFT HOTEL DEAL-WEEKEND OF SHOW ONLY
CLICK HERE

---
BROUGHT TO YOU BY THE FOLLOWING PROUD SPONSORS
Barley House
Liquid
Dive Bar
Velvet Dog
Tequila Ranch
Rumor
Miller Lite
Red Bull
Jagermeister
Jack Daniels
Tito's Handmade Vodka
Minute Men Staffing Services
---
PARTICIPATING VENDORS
Cocky's Bagels
Smokin' Rock n' Roll BBQ
The Gorilla Sandwiches
Marlboro
Cigar Cigars
Metro PCS
Cleveland Vape
IV Rescue Cleveland
---
MUST BE 21+ FOR ENTRY