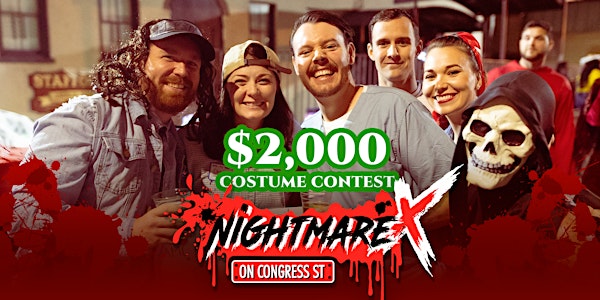 A Nightmare on Congress Street X ~ Halloween Themed Bar Crawl
Join us for an evening full of ghouls, goblins, and ghosts, aka "A Nightmare on Congress Street", Saturday, October 28th, 2023 from 4-10pm
Date and time
Saturday, October 28 · 4 - 10pm EDT
Location
Stafford's Public House 306 W Upper Factors Walk Savannah, GA 31401
About this event
Join us for an evening full of ghouls, goblins, and ghosts, aka "A Nightmare on Congress Street IX", Saturday, October 28th, 2023 from 4-10pm. "A Nightmare on Congress Street" Halloween Themed Bar Crawl is Savannah's creepiest and scariest bar crawl along Savannah's eeriest strip.
COSTUME CONTEST - $2,000 IN PRIZES
$2,000 will be given away at Savannah's largest COSTUME CONTEST! All crawlers are automatically entered once registered. A photographer will be taking contestants' photos near registration at The Crypt Pub, on the official event backdrop, of all who wish to enter. Be sure to give them your biggest smile or scariest pose.
What to consider when trying to win Savannah's LARGEST costume contest?
Originality.  Every winner so far has designed and created their own costume!
Scary.  It is Halloween!
Groups.  You may have to split the money but pairing up and getting creative could win you the grand prize!
COSTUME CONTEST PRIZES
First Place: $1,000
Second Place: $600
Third Place: $400
People's Choice (most likes): One Year Free Entry to Bar Crawls.
Participating Bars *
Stafford's Public House (Registration)
The Crypt Pub (Contest Photos)
Rogue Water
Boomys
The Escape Room ~ Hideaway Lounge
The Grove
Tree House
Pour Larrys
Eclipse Lounge
Barrelhouse South
Savannah Octane Bar
Club 51 Degrees (After Party & T-Shirts)
IMPORTANT EVENT INFORMATION
WHEN: Saturday, October 28th, 2023
START: Packet pickup will be at Stafford's Public House between 4pm-8pm the day of the event. Please bring your 21+ ID and if there are other people waiting to check-in please remember to social distance!
END: Pick up your T-shirts at Club 51 Degrees anytime between 6pm-10pm.
PRICE: $20
WEAR: COSTUME CONTEST!!! $2,000 costume contest!! We want to see your best, scariest, and most outrageous costumes!
HOW DOES A BAR CRAWL WORK?
Participants crawl at their own pace instead of all together in one huge group. Once crawlers pickup their scorecards at the starting bar, they then travel to all the bars listed enjoying drink specials and getting their scorecard marked at each bar. After visiting all the bars on the list, crawlers join us at Club 51 Degrees to get your t-shirt!!
THE GOAL
Complete your scorecard by visiting each participating bars and be one of the first 200 crawlers to receive a t-shirt. As you enter the venue, the doorman or bartender will "mark" their respective bar's section of your scorecard. You do not have to purchase a drink to have your scorecard marked.
FREE STUFF
On top of drink specials, all participants will receive a koozie, a bunch of swag from our sponsors (while supplies last), a scorecard/map to mark your progress, and free entry into all participating bars. Also, the first 200 participants to complete their scorecard will receive an official Savannah Bar Crawl Event t-shirt!
AFTER PARTY
After you have had your scorecard marked at all the bars, join us at Club 51 Degrees for the official after party. This is also where you will pick up your FREE/RESERVED t-shirts between 6PM-10PM. Remember, we are only giving away FREE shirts to the first 200 crawlers with a finished scorecard. Hang around and party with Savannah's best afterwards. Drink specials will be honored until 2:45am. Make sure to bring your score card as proof of participation.
FREE T-SHIRTS
We will be giving away FREE t-shirts (size S-XL) to the first 200 crawlers to join us at Club 51 Degrees with a completed scorecard. XXL and XXXL will need to be purchased to guarantee in your size.
Many of you want t-shirts, so for an extra $15 (S-XXXL) you may guarantee yourself a t-shirt, in your size, to be waiting for you at the After Party! You will find this option on the registration form.
T-SHIRT ORDERS ARE CUT OFF 1 WEEK PRIOR TO BAR CRAWL TO ENSURE ACCURATE ORDER COUNT. You will be able to purchase t-shirts at the after party for $20
NOTE: You will only receive ONE t-shirt. This feature is to guarantee yourself a t-shirt when we run out and guarantee it will be in your size. Otherwise, you are more than welcome to try to be one of the first 200 crawlers and get a free t-shirt, size not guaranteed.
THANK YOU to our Sponsors
Southern Eagle
United Indoor Advertising
Stafford Promotions
Savannah Adult Recreation Club
Cancellations / Refunds
We always hope for beautiful weather so we crawl rain or shine. While we normally do not provide refunds, this year will be different. If for any reason this crawl gets cancelled you will be 100% refunded. Also, if you can not attend this crawl because you are feeling ill or have been exposed, will will give you credit for a future crawl, no questions asked.
* Participating bars and drink specials are subject to change
For all event information, visit www.SavannahBarCrawl.com
About the organizer
Savannah Bar Crawl is a local Savannah, GA based company that brings a variety of exciting community events to better the community we live and work in.