Description
Join us for – "A NIGHT WITH THE KING" - PRAYER SHUT-IN
Are you ready to be serious about your prayer life? Are you ready to pray and see the vision that God has for you in 2020? Are you ready to receive all that God has for you? Well if you answered YES to any of the questions above... you should RSVP to attend.
We will pray and cry out to the lord on behalf of our future, business, family, church, health, mind, body, soul, job, government, education, military and media arts!
WHEN: MARCH 20, 2020
TIME: 11:00 PM - 3:00 AM
CHECK IN TIME: 10:00 PM
LOCATION: CHRIST FOUNDATION CHURCH
10727 PLANO ROAD SUITE #100
DALLAS, TX 75238
WEBSITE: www.wpfcm.org
You must RSVP to attend this free event. RSVP for you, your group or your friends at – https://prayershut-in.eventbrite.com
Questions...contact Dr. Angela S. King at (213) 973-2674 or email at angelasking@wpfcm.org
Let's "PRAY WITHOUT CEASING"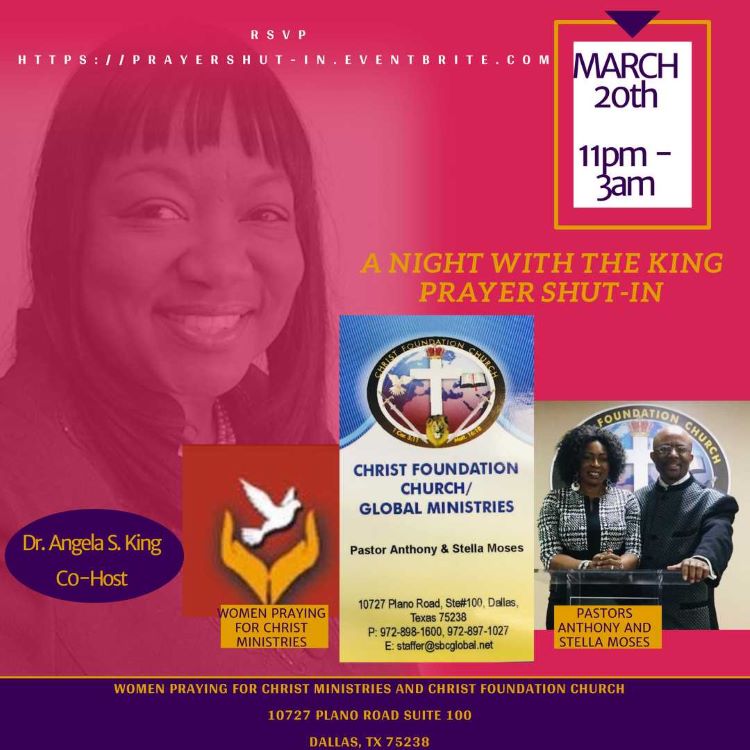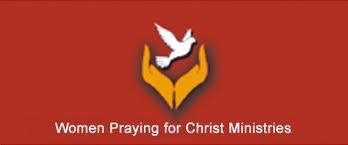 www.wpfcm.org
Organizer of "A NIGHT WITH THE KING" - PRAYER SHUT-IN
Dr. Angela S. King is nationally known as the Warrior of Intercession, Deliverance and Spiritual Warfare. Dr. King is a World Leader who has partnered with many at all levels of state, business professionals and international leaders. In 2004, Dr. King answered the call and has successfully equipped and empowered many to maximize their leadership potential in their communities and transform souls through the power of prayer. As one of the leading voices for such a time as this, she founded Women Praying for Christ Ministries, Inc. (WPFCM) with chapters in Liberia, Sierra Leone, Kenya, Nigeria, Texas and North Carolina, Dr. Angela S. King Ministries, Women Let's Talk, How will I know…the word of God?, The Wailing Hour and Powerful D.I.V.A.S. In addition, Dr. King has received numerous awards and recognized during several television appearances.
Dr. King has truly responded to the mandate from the Holy Spirit by developing programs and services for individuals and families that need counseling, prayer and personal improvement. Her accomplishments as an Evangelist, Teacher, Motivational Speaker, Mentor, Talk Show Host and Author have established her as one of the most respected and sought-after voices in the nation today. Corporately, Dr. King has worked in the Banking and Finance profession for over 30+ years.
Recognizing that she can do absolutely nothing without her Lord and Savior, her life statement is Philippians 4:13 KJV personalized: "Angela can do all things through Christ who strengthens Angela!"