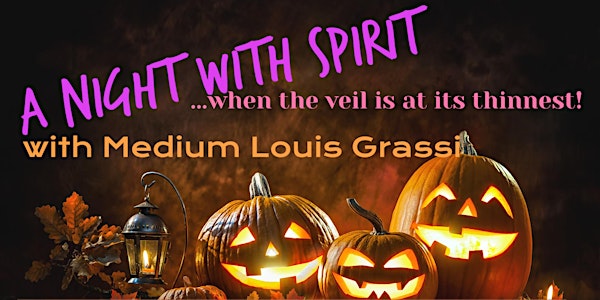 A Night with Spirit - Halloween Edition (with Giveaways)
Enjoy a night with your loved ones in Spirit, just prior to the Day of the Dead! Come in-costume for a chance to win a private reading!
Refund Policy
Contact the organizer to request a refund.
Eventbrite's fee is nonrefundable.
About this event
Medium Louis will hold space for his audience in order to communicate with Spirit, channeling in that rich Samhain energy! The messages brought forth on this special night will grant peace in the awareness that our passed-on loved ones remain a prominent force in our everyday lives. Also, when communicating with Spirit, Louis will deliver evidential information that pertains specifically to your loved ones. He does this so you know, for sure, that it really is that one & only person making the connection. Finally, Medium Louis always feels compelled, by virtue of Spirit, to deliver a powerful message that will resonate deeply with the sitter.
Louis will provide as many readings as he is able for the duration of the event. However, not every person on the Zoom call will be receiving an individual message. Nevertheless, even just witnessing these healing and endearing readings is a truly unforgettable experience.
*Louis will be raffling off a FREE PRIVATE READING at this event, and any person who is DRESSED IN COSTUME will be eligible! (It doesn't have to be elaborate; even if you are just wearing cat ears, wild make-up, or a funny t-shirt, it all works! Just have fun with it!)
*He will also be holding a drawing for an oracle card gift pack!
*We have other prizes in-store for this event, as well!
DISCLAIMER: Information, communication, and/or consultations with Medium Louis Grassi (or any other participating mediums) are for educational, spiritual and entertainment purposes only. In addition, psychic, mediumship, and/or Akashic Records readings never take the place of professional services including but not limited to: medical, legal, financial, business and/or psychological. All sales are considered final; due to the energy exchange, we cannot offer refunds. RECORDING: The recording of the event is the sole property of Medium Louis Grassi; attendees do not have permission to privately record or share any replays publicly. In addition, the ticket fees only cover admittance to the event. In the case of a recording being provided, it is a purely complementary service, and it is not guaranteed. It is not to be shared, and may only be kept for commemorative purposes. We will never share or divulge your private information at any time.