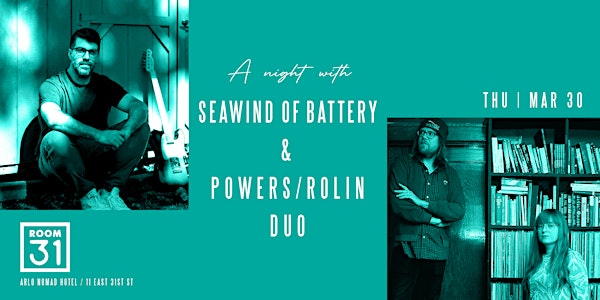 A Night with Seawind of Battery & Powers/Rolin Duo
A Night with Seawind of Battery & Powers/Rolin Duo
Date and time
Thursday, March 30 · 7 - 10pm EDT
Location
Room 31 at Arlo NoMad 11 East 31st Street New York, NY 10016
Refund Policy
Contact the organizer to request a refund.
Eventbrite's fee is nonrefundable.
About this event
7:00PM > Doors
7:30PM > Seawind of Battery
8:30PM > Powers/Rolin Duo
Powers/Rolin Duo -
Musicians from Leo Kottke to Kraftwerk have already soundtracked your perfect road trip; Rolin and Powers supply the sounds to your dream of a perfect sunrise. - Magnet Magazine "Essential New Music"
On their new album Strange Fortune, for the Astral Spirits sister label Astral Editions, the pair offers a sage-scented, instrumental love poem, which straddles the lines of psychedelic and folk idioms. - Steve Lowenthal
The pair's wide-open journeys drift without feeling aimless, inviting the listener in, offering warmth and companionship — a cosmic front porch scene, if you can dig it. These are the tones you've been looking for. - Aquarium Drunkard
Hammered dulcimer player Jen Powers and guitarist Matthew J Rolin began recording improvisations at home in Columbus Ohio in 2018. As Powers/Rolin Duo they've since released several albums, via labels such Feeding Tube, Astral Editions and Trouble In Mind. The couple also collaborate with other musicians together and individually... - The Wire Magazine
Seawind of Battery (Mike Horn) Music
Clockwatching is the debut instrumental solo endeavor of Mike Horn, who's released more cosmic American music as Goldkey and Sunblinders. He leans deeper into the cosmic realm with Seawind of Battery, an ambient, experimental exercise that acts as a sonic balm for those in a state of existential anxiety. Mastered by Sean Conrad of Inner Islands & Channelers, with design by Steve Rosborough of Moon Glyph, this is the first release under the brand-new Island House Recordings.
Birdsong calls in the ambulant "Above the Waves," drifting and soaring along, catching the wind just so to coast. "Some Kind of Symmetry" melts, mirage-like as a distant ship passing through a channel at night. In "Sidestepping," guitar chimes counting past the usual amount of hours, rendering time both meaningless and infinite, culminating in a time-warp fuzz of noise and sound. "Summer Hymn" is a bright interlude between the droning of the latter and the proximal "Levels," a sequence of singing-bowl-reminiscent loops accented by delicate guitar lines that spread across the album, perhaps coming to an apex here before the denouement of the title track. "Light on the Horizon" is indeed a beacon, less of an endcap than a promise of what's to come.
Atmospheric and expansive, at first listen you would never know that Clockwatching was city-made music. Like his New York neighbors SUSS, this album by Mike Horn transports you to a wider sky with its patient, meandering flow. Guitar loops and call-and-response lap steel fill the space just so, and as the project title invokes, there's a touch of an aquatic vibe here a la fellow New Yorkers Gunn-Truscinski Duo's Soundkeeper, with its shimmering, endless drone behind intricate strums and haunting licks.
I've listened to this album in the early morning, in the liminal pass between the high and low deserts, and it fits there-I've listened to it at night with the doors open and a breeze passing through, augmented by the nightbird and cricketsong of my own. Clockwatching is around-the-clock listening, unassuming and beautiful start to end.
- Lara Bennett, Petal Motel
Room 31 is a new beautiful and intimate listening room at Arlo NoMad hotel hosting live events, Jazz, Blues, Roots, Americana, Poetry and more.
Only 30 seats, order your tickets now!
About the organizer
Room 31 is a new beautiful and intimate listening room at Arlo NoMad hotel hosting live events, Jazz, Blues, Roots, Americana, Poetry and more.