Location
River Family Church
390 Mimosa Avenue
Vista, CA 92081
Nolan Morgan and Heather Allen , MORGAN ALLEN, will share music from their recent album "Awaken the Dawn" with special guest Abby Malloy
About this event
Come join us for a night of celebration featuring old and new friends who we consider family.
Abby Malloy will be opening the night with selections from her published works. Abby started playing music at the age of 4, started writing her own music in the 4th grade, and has now recorded with multiple big name artists such as Maverick City, Brandon Lake, and live recordings with We the Kingdom, Mandisa, Leeland, Sinach, and more. Abby and Heather met through their common connections at the recording studio, Bridge Studios in Jamestown Missouri, and Heather had the pleasure of singing with the choir for Abby's album "Light in the Darkness".
Nate Yake is a brilliant producer and musician who has mastered guitar, drums, bass and many more instruments. His offerings were integral to every song on the Morgan Allen album. With his production company, Nate Yake Music, he has produced music for artists More Rain, Walker Conn, Dillian and Hannah Mitchell and many more. He has recently released his own inspired EP of originals entitled, "The Storm is What I Need" and you can check it out on all streaming platforms.
Lester Abrams has been a dear friend to our family since the mid 90's. Lester has had a very long and successful carreer as a musician, songwriter, arranger, producer and worship leader in North County. From writing the Grammy award winning hit "Minute by Minute" with Micheal MacDonald for the Doobie Brothers in the 70's to leading worship for the past decade at Hope Church in Vista, Lester is continually blessing the kingdom of God with his gifts and talents. He can be found playing with his group, the Lester Abrams Trio, at local North County venues.
Tres "Sojourn" Hodgens will be setting the foundation Sunday as our drummer. Heather and Tres played together on the worship team for Family Fellowship Church in Oceanside back in the early 2000's and she has been looking forward to an opportunity to play with him again ever since. He is a masterful producer and beats creator for rap artists Shames Worthy, Ruslan, Sivion, as well as his own original songs. Check out his tracks "Expectaions", "Sojournalism", "Cause and Effect" and many more.
Tickets
We would hate for anyone who wants to come to not because they couldn't afford the tickets, so everyone is welcome, we are not charging a specific fee. But, as with everything, there is a cost to putting on this event and we just ask that you make a donation based on what you can afford. We appreciate your support of our music and helping us use it to bring joy and encouragement in the name of Jesus Christ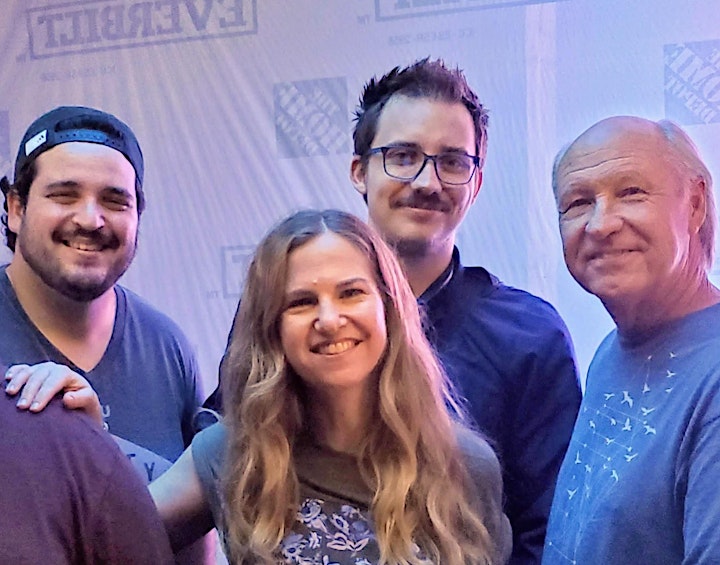 Morgan Allen
pictured: Steffen Gastineau (in hat), Nate Yake (glasses), Heather Allen (long hair), Nolan Morgan (little hair)