Description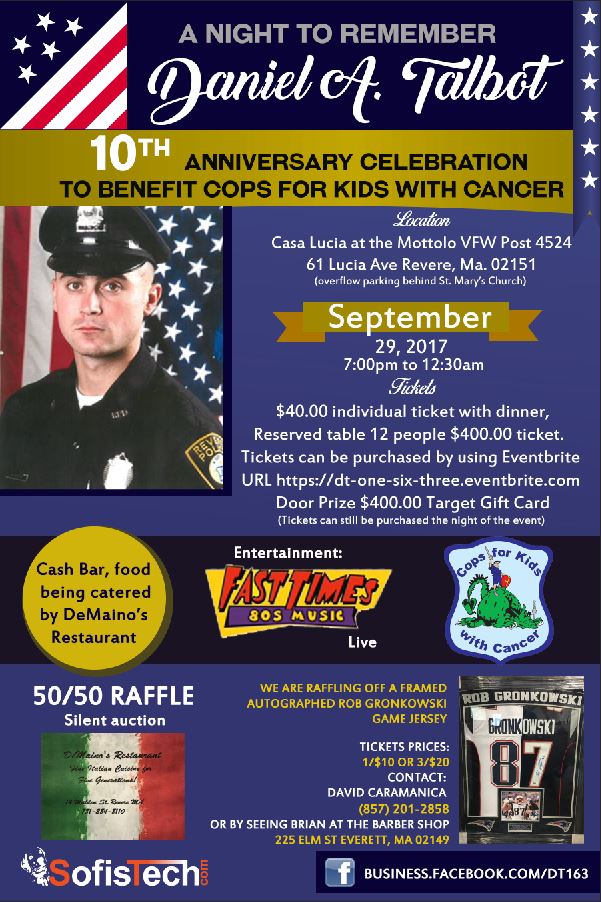 A night to remember Officer Talbot will be a night dedicated in honoring and celebrating the late Daniel Talbot. This year on September 29, 2017 marks the 10th Anniversary of his passing and each year friends and co-workers get together to commemorate his life.
For the 10th Anniversary, it was decided by his friends to have a night that would not only bring together friends of old but the entire community to not only remember Danny but to raise money for a worthy charity. The charity we chose to donate all the proceeds of the event to is Cops for Kids with Cancer which is a 501(C)(3) charitable organization focused on raising funds to provide assistance to families of children fighting cancer, to improve their quality of life.

The night will include a cash bar followed by dinner catered by Demaino's Restaurant in Revere. All attending guests will have a chance to win a $400.00 gift card from Target. We will also be offering a 50/50 raffle and having a silent auction that will include sports memorabilia and two custom pieces specifically designed for this event. We have designed a new logo for the 10th Anniversary and will be selling shirts and car stickers. The night will conclude with a cover band Fast Times performing many hit songs of the 1980's.
Tickets for the event will be $40.00 which includes dinner and a chance to win the door prize. We are also offering tickets to reserve a table for 12 people that will cost $400.00. Each person at the table will have an opportunity to win the door prize.
If you can't attend the event but want to donate to the charity, you will be able to donate on this site or by sending a check made payable to Cops for Kids with Cancer to the Revere Branch of East Boston Savings Bank located at 525 Broadway (Special Attention Angelina Barletta).
We are also raffling off a framed autographed Rob Gronkowski game jersey worth $1000.00 prior to the event with the drawing taking place on September 29th (You don't need to attend to win). If interested in a raffle ticket please contact David Caramanica 857-201-2858 - dcaramanica@reverepolice.org or see Brian at The Barber Shop 225 Elm St Everett, Ma 02149. Tickets going for 1/$10 or 3/$20.