Description
Canterbury Theatre welcomes back Steve Champagne, David Lahm and Mary E. Rapier for "A Night of Jazz and Wine" at the Canterbury. The evening kicks off with a reception featuring brews by Zorn Brew Works and Shady Creek Wine.
Steve, David and Mary are known for their eclectic blend of musical genres and tunes from Beatles' to Bacharach and such greats as Fats Waller, Doors, jazz standards, all with a whole new vibe.
Tickets are $12 in advanced or $14 at the door and can be obtained thru eventbrite, Canterbury box office or by emailing maryerapier@gmail.com. Beer and wine will be available during the full performance for an additional fee (cash only please).
Half of all ticket sales goes to help keep live theatre affordable to the many patrons who enjoy the amazing shows that Canterbury Theatre offers to the Southshore community and guests.
About the Artists: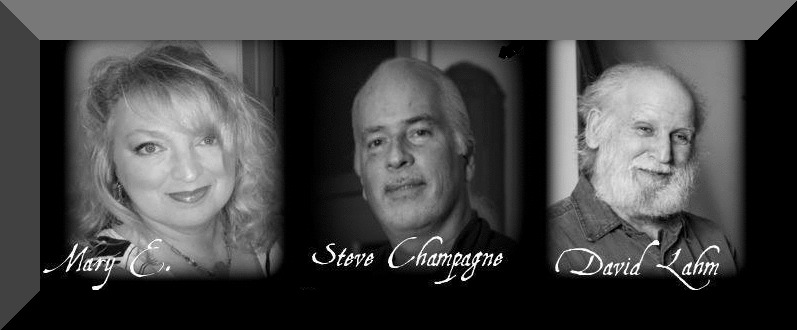 David Lahm is a jazz pianist, songwriter and accompanist who divides his time between NYC and his second home in Harbor Country. He and his late wife Judy Kreston had a very successful cabaret act in New York, collaborated on three albums and concertized at the Acorn Theater in Three Oaks several times, over their many years together. He has conceived and produced a couple of unique recordings: "Medleyfying: a Centennial tribute to Richard Rodgers" and two CDs featuring "Jazz Takes On Joni Mitchell."
Over the last six years he has been, in his own words "very happy to have been able to work with some excellent performers in the Michiana area." This chapter of his career takes another step forward in his collaboration with Steve and Mary.
Mary E. has been singing for over three decades. She and her partner Steve Champagne were named Best Acoustic Duo in 2015 by the Kankakee Area Music Awards. For over 20 years, Mary E. has been a guest vocalist with Kankakee Municipal Band. Mary began her career singing standards, light opera, and Broadway. Since forming an acoustic duo with Steve in 2007, they have focused on a wide range of songs made popular between the 60s and 70s, and love bringing their music to the Michiana region.
Steve is a singer/songwriter and multi-instrumentalist. He has dedicated his life to perfecting his knowledge of the Beatles and other favs. Some call him a walking jukebox the way he can recall lyrics, melodies, and overall style. He has been singing and playing guitar since his earliest memory. Together, Steve and Mary E. have hours of pop-rock play list along with standards to share.
About Canterbury Theatre:
Located at 807 Franklin Street, Michigan City, Indiana, Canterbury Theatre offers an intimate setting with reminiscences of the past and conveniences of the present. With its bright red roll-up awning, leaded glass on the facade, tin ceilings, and turn-of-the-century-style lighting fixtures and fans, the building reflects its past. But with modern restrooms, handicap accessibility, central air conditioning--all part of recent renovations--the theatre is modern and comfortable.
Canterbury Theatre is an intimate space, seating 140, which assures every patron a seat no further than 12 rows from the front. Convenient parking is also an amenity for cars and buses.
Canterbury Theatre is located in the vibrant and growing Uptown Arts District, with many opportunities for shopping and dining.