Description
Sewing Seeds is happy to invite you to...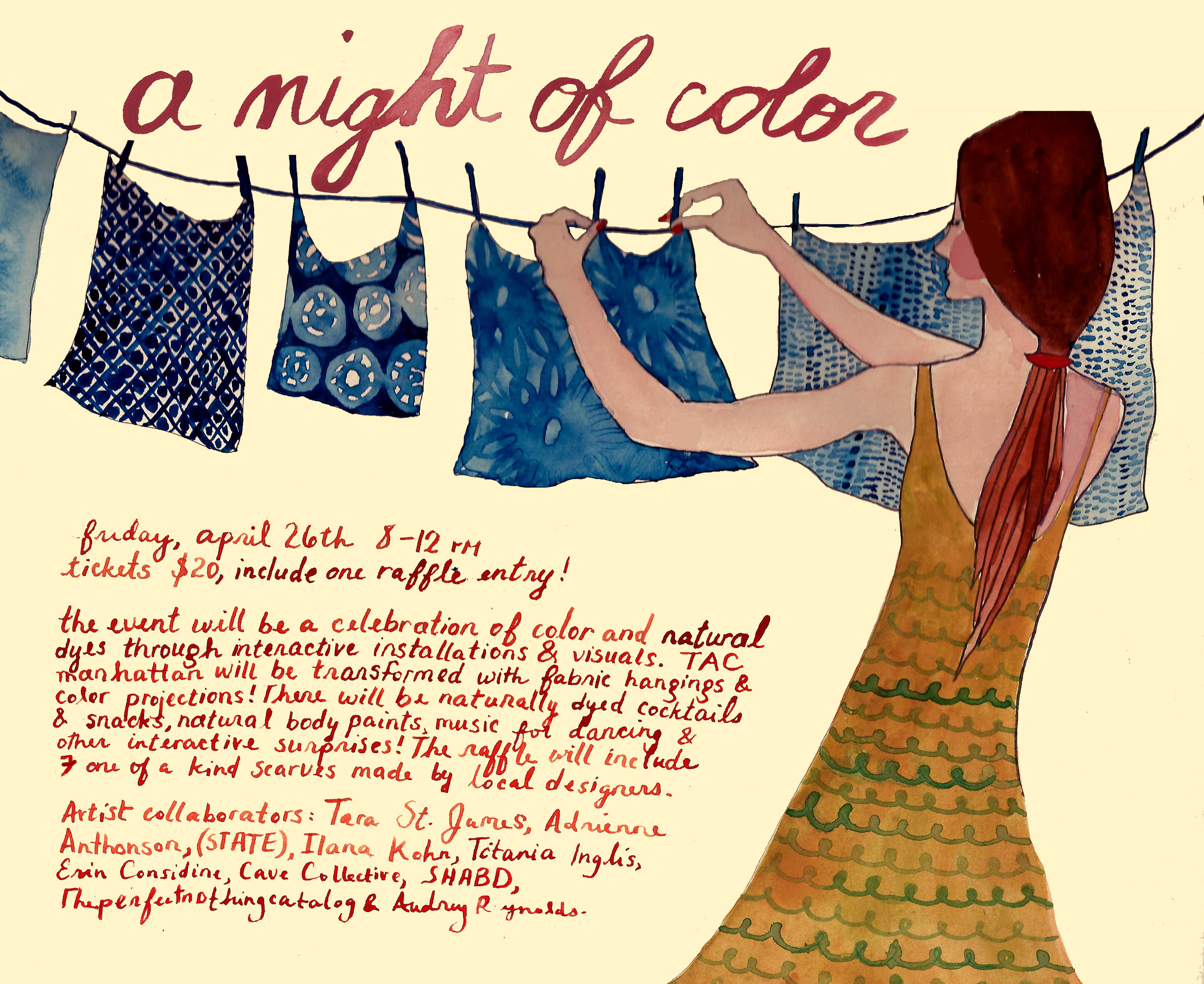 On Friday, April 26th, from 7-12AM, Sewing Seeds will be celebrating Art, Color and Natural Dyes through interactive installations, visuals and performances. The TAC Manhattan studio will be transformed into a Color Haven with displays curated by Frank Traynor (aperfectnothingcatalog).
Join us for naturally dyed cocktails, generously made possible by Van Brunt Stillhouse, tasteful snacks, dancing + mingling, fun fun times and surprises.
Study NY x Cat Lauigan of Cave Collective created an interactive performance exhibiting their limited edition run of garment + accessory sets specially produced for the event. In keeping with the theme of natural dyes, the fiber necklaces will contain frozen natural dye-filled gems emulating beads or crystal pendants worn by selected participants. The frozen crystal pendants will melt and stain the garments and fiber necklaces creating patterns unique to the individual wearing the pieces. The sets will be beautifully transformed throughout the course of the evening creating one of a kind pieces that are not only fashionable but reflect the experience of this one time only performance. These limited edition sets will be available to purchase on the night of the event only and are on a first come first serve basis
We'll also be raffling 7 one-of-a-kind silk scarves, kindly designed and naturally dyed by Sewing Seed's supporters and amazing designers -- Audrey Louise Reynolds, Adrienne Antonson (STATE), Erin Considine, Ilana Kohn, SHABD, Tara St James (Study NY) and Titania Inglis.
All the proceeds from this event will go to Sewing Seeds programing, including a community natural dye garden, free and open to all summer workshops and a garden art residency. We believe in natural plant dyes as a sustainable alternative for art making and textile production. We believe education is empowering and will lead to change. Help us continue making Sewing Seeds possible.
Ticket includes naturally dyed cocktails + snacks, 1 raffle entry and awesome times
*Illustration by Eleanor Anderson*