A Night of Blue & White - SAU Scholarship Fundraiser
Description
Presenting the 1st Annual "Night of Blue & White" SAU Scholarship Fundraiser in the DMV, featuring: DJ Reggie Mac bringing you music to rock all ages; a silent auction; light hors d'oeuvres, vendors and other surprises! This party with a purpose is a scholarship fundraiser for students of Saint Augustine's University. Plan to be there, bring friends and have A Night of Blue & White you'll long remember!

Tickets: $50.00

We appreciate your support of Saint Augustine's University an HBCU celebrating 150 years of educating and inspiring young men and women to be local and global leaders making a positive impact everywhere they go.

Hosted by the Washington DC Metropolitan Alumni Chapter Saint Augustine's University
This event is part of our SAU DMV Reunion Weekend Activities All are invited!
Click here to download the flyer.

Contacts:

Tami Dabney: 240-605-0259
Email: dstdabneyloves2teach@gmail.com

Amanda Welch: 202-710-6880
Email: acwaka03@yahoo.com

Visit us on Facebook: wdcmacsau St Aug
---------------------------------------------------------------------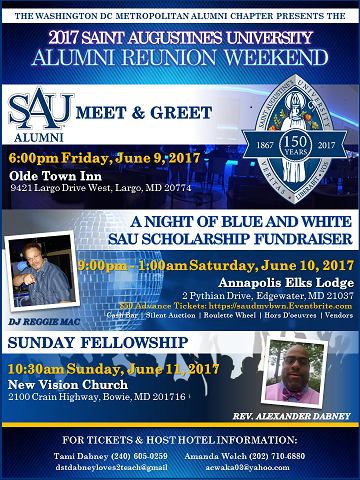 SAU DMV Reunion Weekend Schedule: June 9-11

SAU Reunion Weekend Meet & Greet - Friday June 9: 6:00 PM -- Olde Town Inn (OTI)
9421 Largo Dr W, Largo, MD 20774

The Night of Blue & White: SAU Scholarship Fundraiser - Saturday June 10: 9:00 PM - 1:00 AM -- Annapolis Elks Lodge: 2 Pythian Drive, Edgewater, MD 21037 Order your ticket here today

Sunday Fellowship - Sunday June 11: 10:30 AM -- New Vision Church
2100 Crain Hwy, Bowie, MD 20716