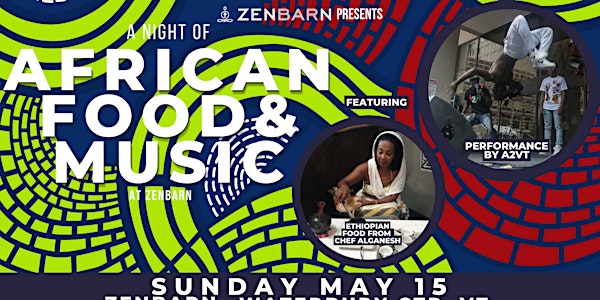 A Night of African Food & Music at Zenbarn!
Event Information
Performers
Location
Zenbarn
179 Guptil Road
Waterbury Center, VT 05677
United States
Join us a for a free concert with A2VT and a special Ethiopian dinner with Chef Alganesh. Please purchase food tickets ahead.
About this event
Don't miss our latest event in a series of community-based events showcasing the incredible diversity in our Vermont community! Enjoy a FREE all-ages show with A2VT and try out some incredible Ethiopian cuisine with Chef Alganesh! Dinner is available starting at 5pm. Music starts at 6pm.
IMPORTANT: please order your food ahead by purchasing a ticket. Meals will feature Injera (special Ethiopian sponge bread), Lentils and Collard Greens with Mushrooms (Vegetarian) or Choice of Chicken or Beef. After purchasing ticket you can arrive anytime to enjoy your meal at the venue or for takeout just let us know when you arrive.
---
Representing Somalia, Tanzania and Burundi and currently living in Burlington, Vermont, A2VT synthesizes their native African musical and dance roots with Western pop and Hip Hop sensibilities. Their songs, performed in up to eight unique languages, reflect their journey from Africa to America, and celebrate the musical collision of two continents and the party that ensues!
---
Ethiopia and Eritrea are countries in the horn of Africa. The two staple components of this authentic cuisine are injera and berbere. Injera is a staple food, usually made from teff flour, and it is unique to both countries. It is a fermented, sourdough flatbread served with variety of stews & curries of meats and veggies, also called wet, on top. Berbere is a traditional spice blend that is the backbone of Ethiopian & Eritrean cuisine. It's used in many different dishes, including the national dish, Doro wet (chicken stew). Traditionally, the food is eaten by hand from a common platter, communal dining tradition; don't be afraid to dig in! Food will be available to purchase and eat on-site. It is served on a platter and each dish can be shared.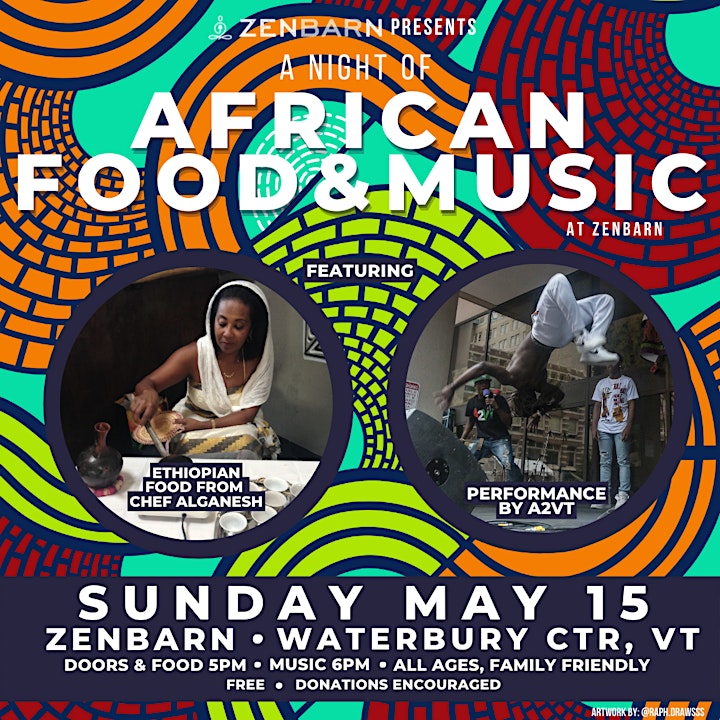 Performers
Date and time
Location
Zenbarn
179 Guptil Road
Waterbury Center, VT 05677
United States
Refund policy