Description
Celebrate Women's Equality Day with a pop-up dinner at Paulsdale!
Gather your friends and join the staff of the Alice Paul Institute for a special pop-up dinner to celebrate the date that women were granted the right to vote! The observance of Women's Equality Day not only commemorates the passage of the 19th Amendment, it also calls attention to women's continuing efforts toward full equality. API is proud to host this elegant evening to raise funds for its leadership programs for teen girls and for our continued advocacy for the passage of the Equal Rights Act.
White is the color of the event! In honor of the many suffragists who wore white in their fight to gain the right to vote, every guest is highly-encouraged to wear all white and decorate their table in white linens. In true pop-up fashion, this event operates on a "pack it in/pack it out" philosophy. Every group must bring all their supplies (tables, chairs, food, flatware, linens, etc.) and take everything home with them, including trash.
Spots can be secured for groups of 4, 6, 8, 10, or 12.
The first 50 registered guests are guaranteed a spot on Paulsdale's beautiful wrap-around porch! Guest registering after the first 50 will enjoy popping up their tables on the beautiful grounds of Paulsdale.
$10/person.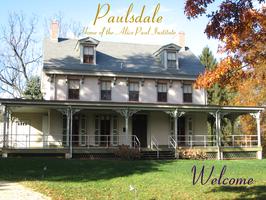 Note: To protect historic Paulsdale, no open flame allowed, but we do encourage battery operated candles.
There are two ways to participate - as a Table Captain or a Guest. Table Captains make the initial purchase of the table, then invite guests to join them. Table Captains can cover the entire cost of the table, or share the expense with their guests.
Table Captain Responsibilities:
Purchase a spot to pop-up a table for a group of 4, 6, 8, 10, or 12 people.
Invite your friends, family, co-workers, neighbors to be your guest at the event.
Organize the group members to bring everything: tables, chairs, linens, food, beverages, plates, flatware, etc.
Ensure all table-mates wear white in honor of Women's Equality Day,
Organize the group to take down and take home all items that were brought for the pop-up dinner
Be at Paulsdale by 5:30pm to set up your table, chairs, linens, etc. The circular drive will be open for cars to temporarily park for unloading and loading.
For more information, contact API's Development Director Paige Salvador at psalvador@alicepaul.org or 856-231-1885.
FAQs:
Do we really have to wear all white? Yes. It is in spirit with honoring the suffragists who fought for equality.
Do we have to bring our own tables and chairs? Yes.
Can we sit on a blanket on the lawn, picnic style? Yes. The table captain can design their guest's experience as they wish.
Does the food have to be white? No. Add any splash of color with your food and beverage.
Do we need to bring our own trash bags? No. API will provide high-grade garbage bags for you to pack your trash out with you.
Will we have access to a kitchen? No. All food and beverages need to be brought ready to serve.
Can we bring alchohol? Yes. We expect guests to drink responisibly.
Are children invited? Yes. Children 12 years and older are welcome.
Can we bring glass, or is platic preferred? Either are allowed.
Can we play music? No. Music will be provided.
Is there parking? Do I have to pay for parking? Parking is available, but we do encourage carpooling. Parking is free of charge.

Can I pay at the door? No. All tables must be secured in advance.
Is there a rain date? No. This event is happening rain or shine. In the event of rain, we will move tables inside.