Description
Buy tickets for the last big fiesta of the year for WaterAid Nicaragua in Indianapolis! We're launching a new vocational training program for survivors of sexual assault to become Nicaragua's first women plumbers.
Enjoy a Latin street party, gourmet food trucks, heated tent, a Nicaraguan market, and indoor art spaces with prints and merchandise by renowned artist Carlos Barbarena. Plus, there will be live music and dancing at our very own discoteca!

Tickets $30- $100
Our Initial Three-Year Partnership with WaterAid
Since 2015, we've supported jobs training by WaterAid in the Bilwi region of Nicaragua where water and sanitation infrastructure is the poorest in the country. Over the last three years, our support has impacted 101 women who have received vocational training in water, sanitation and hygiene (WASH) to build rainwater catchment systems, install pour-flush toilets, repair manual rope pumps, and clean and disinfect wells. On average, women in the program have earned between $150 to $300 a month and have chosen to invest in education and schooling for their children. Through WaterAid's microloan program, young women can earn a fair wage and incrementally pay back loans as they invest in their families and communities.
Our New Commitment to WaterAid and Nicaragua
In 2018, our board decided to continue supporting WaterAid's activities in Nicaragua because their vocational training in clean water and sanitation technologies exemplifies Water For Empowerment's mission to empower women and girls to build healthy futures through clean water initiatives.
We have committed to raising money for a new vocational training program through WaterAid that helps single mothers and women from a battered women's shelter to become plumbers. This program creates new opportunities for young women to maintain and repair household toilets and sinks in the Bilwi region. The funds raised from the November gala will provide training, tools and materials for the program.
Our goal is to raise $50,000 to train over 40 women in the Bilwi region with an additional $20,000 so each participant can improve sanitation conditions in their own homes too. Help us reach our goal of $70,000!
FAQs
How can I contact the organizer with any questions?
You can email info@waterforempowerment.org with event questions.
Is there event parking available?
Yes, the below map shows available parking areas for the event on Saturday, November 10. This map will also be shared with registered attendees prior to the event.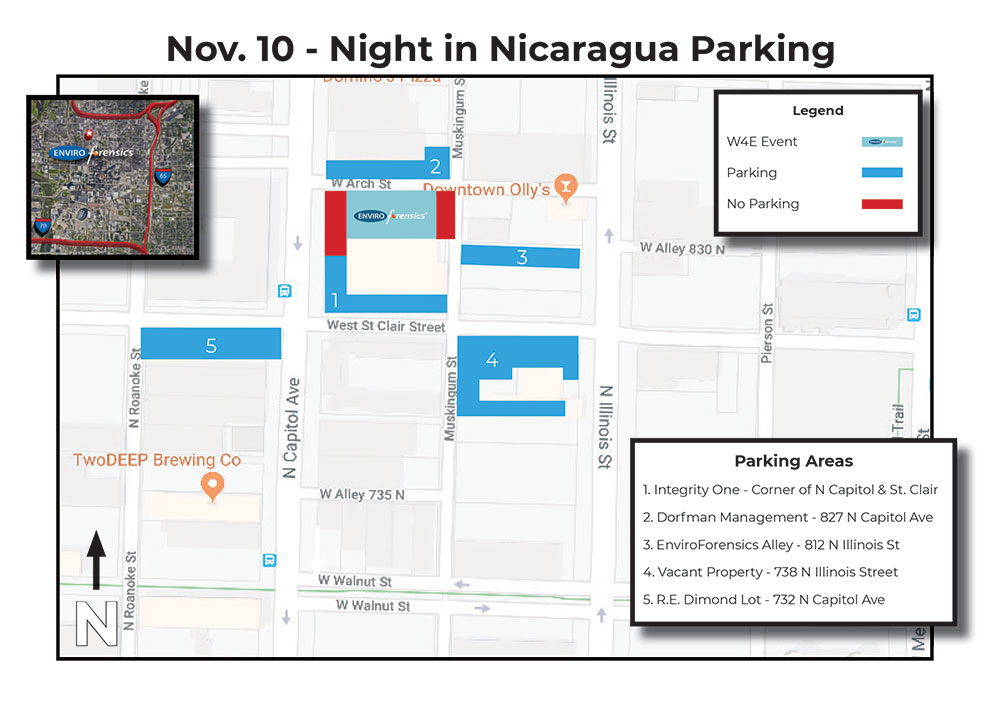 Organizer of A Night in Nicaragua Benefiting Young Women Plumbers
Water For Empowerment's mission is to empower women and girls to build healthy futures through clean water initiatives. We specialize in clean water technologies. Our charity raises money for clean water projects and provides environmental services to non-profit and private sector organizations working in the areas of clean water access and development. Our business model is B2B, charity to charity.

Board members include: Dawn Sandoe, Steve Henshaw, Carey Landis Gaskill, Ruth Rivera, Scott Powell, Michele Murday, Andrea Eberbach, Denise Howard Ray, Pablo and Jackie Cabrera.