Description
Kick off the Season with A NIGHT IN CUBA: Cocktails and Conversation with bestselling author, Robert Macomber sponsored by Pinchers Marina at Edison Ford.
Friends of the Fort Myers Library's festive FUNdraiser features a mix and mingle with the author prior to his talk, "Florida's Crucial Role in the Spanish American War." Purchase a specialty cocktail and enjoy the Cuban music before the presentation. Then learn how this war changed the USA from a continental country into a global power and how close we came to losing this war in Cuba. Marvel at the fascinating personalities who led the way and the related places of interest you can visit today.
Macomber will sign copies of his latest novel, An Honorable War, following the presentation. The thirteenth in his Honor series, this book is the first of three about the Spanish American War in Cuba and Puerto Rico.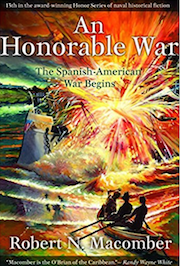 Ticket price is tax deductible.
Your ticket also entitles you to a special offering from our sponsor, Pinchers Marina at Edison Ford-- free dessert with the purchase of $13.99 per person.

Date and Time
Location
Refund Policy