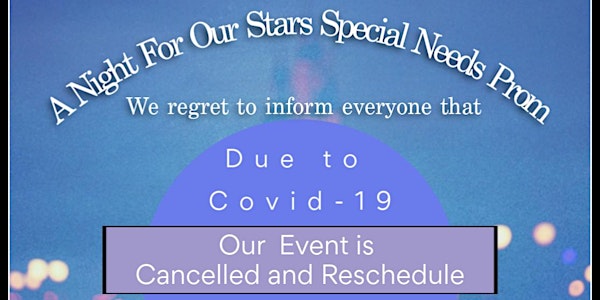 A Night For Our Stars Prom 2020 - A Special Needs Prom Event
Our Event has been moved to April 17, 2021 Due to the Covid-19 Pandemic. All tickets are still valid!
When and where
Location
The Venue at Coosa Landing 201 George Wallace Drive Gadsden, AL 35903
About this event
It is time for our 5th Annual A Night For Our Stars Prom! This is a special needs prom for individuals age 13 and up! It will be a fun night of music, dancing, and finger foods!
We will have Prom Queen, Prom King, and Prom Court! We will have a Live D.J.! Photography for those in attendance! It is yet another year of fun!!!
DOORS OPEN AT 5:00pm - PROM STARTS AT 5:30 until 9:00pm
IF YOU ARE A GROUP HOME or YOUR ATTENDEE LIVES IN A GROUP HOME, PLEASE EMAIL:  eyhazlewood@gmail.com BEFORE YOU REGISTER!
DIRECTIONS FOR GETTING TICKETS/MAKING RESERVATION
We encourage attendees to bring their families! For liability purposes, there needs to be an adult with each prom attendee!
Please register on Eventbrite with the PROM ATTENDEE's name!

It will ask how many tickets you want, you will need to list how many people are coming with the prom attendee!

For example: If your son, John, is going to prom and both parents are coming, you will list the ticket's in John's name with 3 tickets reserved. Please use YOUR (the adult attending with the teen/adult) email address!
THE MAX AMOUNT OF TICKETS PER FAMILY ARE 4!
If you are from a group home, PLEASE contact us at:
eyhazlewood@gmail.com or 256-547-6888 ext. 107 (Emma)
Children's Policy Council of Etowah County is under the umbrella of the Family Success Center's 501(c)3 Non-Profit Status. Children's Policy Council of Etowah County is sponsoring a prom for Special Needs Individuals between the ages over the age of 13, from Etowah County and surrounding counties.Many Special Needs Children may not have the opportunity to attend prom, and we would like to change that! The Prom should be a family affair! FOR MORE INFORMATION you can look on our website!www.anightforourstars.com
or Facebook Page:
www.facebook.com/anightforourstarsQUESTIONS ANSWERED:CAN MY ATTENDEE BRING A FRIEND? Yes, please! A date, a friend. Someone they can have a good time with. HOWEVER, if your child wants to come alone and make friends and dance! That is okay too! DO I (AS THE PARENT) HAVE TO STAY THROUGH THE WHOLE PROM? Yes. For safety purposes, we will be requiring that at least one parent stays for the whole prom. But, if you are feeling up to it, get dressed up and DANCE with your kids!IS THERE A COST? There is NO COST to families. WHAT SHOULD THEY WEAR?: Your child may come dressed in their Sunday Best or as Formal as they would like! This is their night!WILL THERE BE PHOTOS? Your child will have a chance to have their photo taken as a momento keepsake for the evening! Also, please bring your camera!WHAT ABOUT THE VENUE? The Venue at Coosa Landing is wheelchair accessible!.  And we will have an accessible sensory room if your child needs a break!WHAT IF MY CHILD HAS A PARTICULAR SORT OF SPECIAL NEED? You know your child best! You bring whatever you need to make the environment safe and fun for you and your child! If they do not do well with sound and need to wear headphones, bring head phones. If they have something that helps keep them calm, by all means, bring it. WILL THERE BE MUSIC? Yep! We can only play it at a certain level, but there will be music for all to enjoy!WILL THERE BE FOOD? Yes again! We will have light finger foods and appetizers. This is NOT a dinner, it is simply finger foods!HOW DO I SIGN UP?? Go to our EVENTBRITE PAGE:Please put the ticket reservation in your child's name with YOUR email address! Also, reserve enough tickets to count your child, their guest if they have one and at least one parent. However many people are coming and staying for the whole prom all need to be accounted for! (For catering purposes)NOW! SIGN UP AND ENJOY!