About this Event
"A Night at the Theater" will consist of opera arias and scenes, art songs, sacred works, and broadway.
All donations collected from this event will go toward providing musical instruments and educational material for the students at Firm Foundations Academy.
In return for your generosity local professional performers will provide an exceptional evening of quality entertainment, laughter, and inspiration. Get dressed up, grab a fancy dinner, and then meet us at Church of God of Landisville at 7:00 pm for a "Night at the Theater".
Checks can be made out to Firm Foundations Academy. Firm Foundations academy is a non-profit organization and your gift is tax deductible.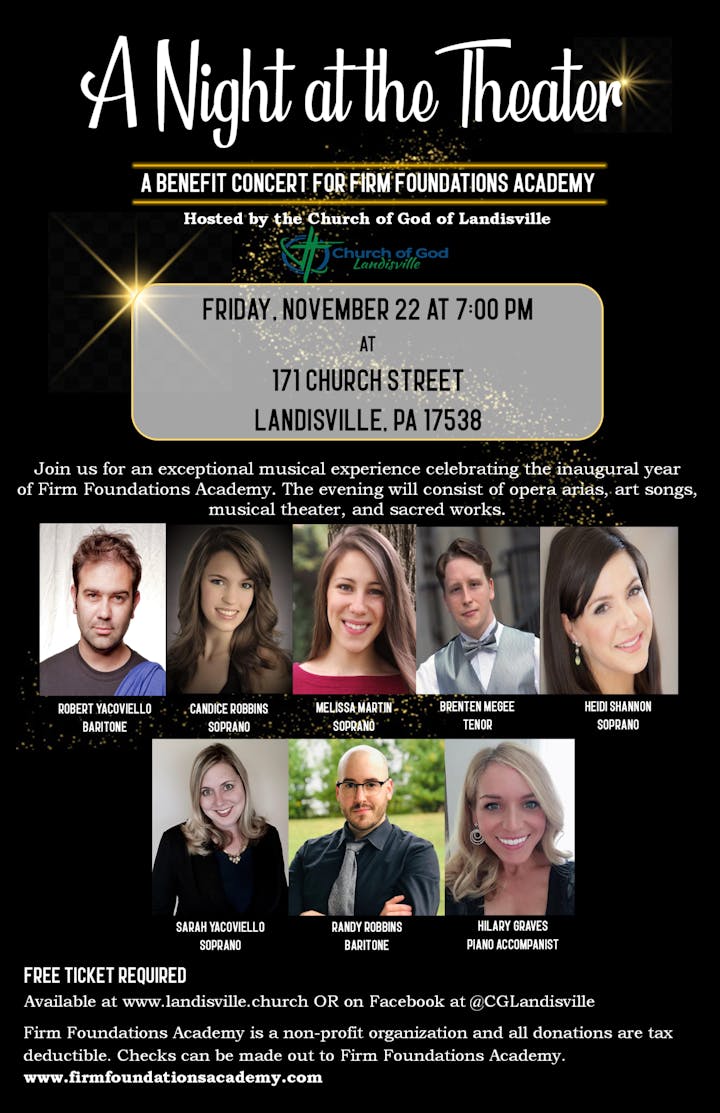 What is Firm Foundations Academy?
Firm Foundations Academy is a hybrid homeschooling program only just in its infancy and is located in Ephrata, PA. Their mission is to equip students, encourage families, and cultivate hope by meeting the educational, emotional, and social needs of their students. Firm Foundations Academy provides support to the entire family, including children who learn typically as well as those who need academic support. They advocate high academic standards, individualized learning goals, and attention to the whole student. They provide students with personalized, research-based instruction to help them unlock their full potential and grow into confident critical thinkers. More information about Firm Foundations Academy can be found on their website: www.firmfoundationsacademy.com.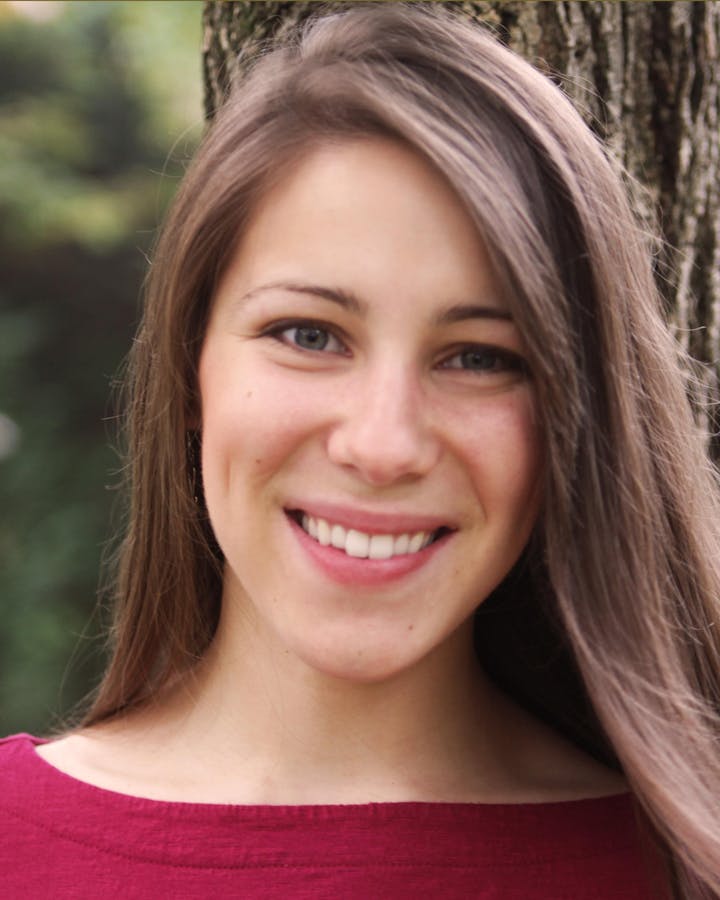 Melissa Martin is grateful to be singing for Firm Foundations Benefit Concert. Her favorite roles and performances include playing Second Woman (Dido and Aeneas), appearances at Millersville University's Ware Center with OperaLancaster, playing Cherubina in OperaLancaster's Opera Tales: The Three Little Pigs, and joining the stage with The York Opera Collaborative. She has also treasured joining the cast of Servant Stage Theatre Company's HMS Pinafore, and playing Hodel (Fiddler on the Roof) at Lancaster Bible College. While in her undergraduate studies, she was a winner in The Allegheny Mountain Chapter National Association of Teachers of Singing (NATS) Student Auditions. Melissa holds a BMus of Vocal Performance from Lancaster Bible College. She has had the privilege of teaching voice at Popovsky Performing Arts Studio, and Melissa currently teaches music to Middle School and High School students at Harrisburg Christian School.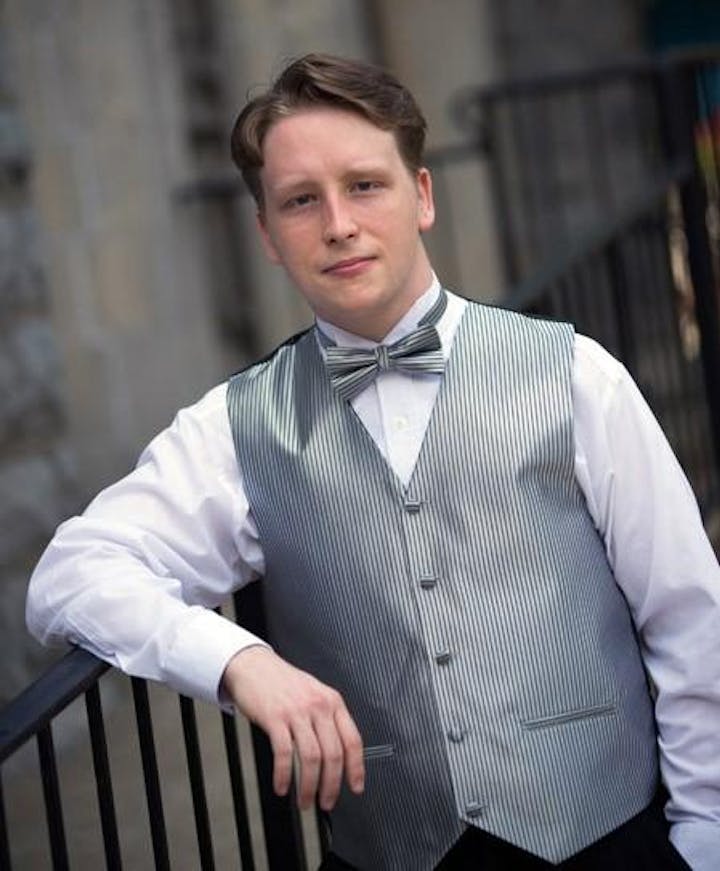 BRENTEN MEGEE sometimes nicknamed "the Music Man" is a well-known tenor from Lancaster, Pennsylvania. Brenten is a vocalist, actor, conductor, director, and pianist with experience in ensembles, operas, musicals, and choral productions. He has been performing solo concerts since the age of ten and is best known for his Christian concerts and classical performances. His strong, versatile tenor voice has been used by well-known organizations and enables him to perform in a wide variety of vocal styles. Brenten has degrees in both Voice and Biblical Studies from Lancaster Bible College, a Master's in Voice from West Chester University, and is anticipating a Master's in Choral Conducting December of 2019. Brenten enjoys his position as the Tenor Section Leader for the Brandywine Valley Chorale and as the Choir Director at Grace UMC in Millersville. Brenten's music has a way of touching the listener's heart. For more information visit: www.brentensings.com.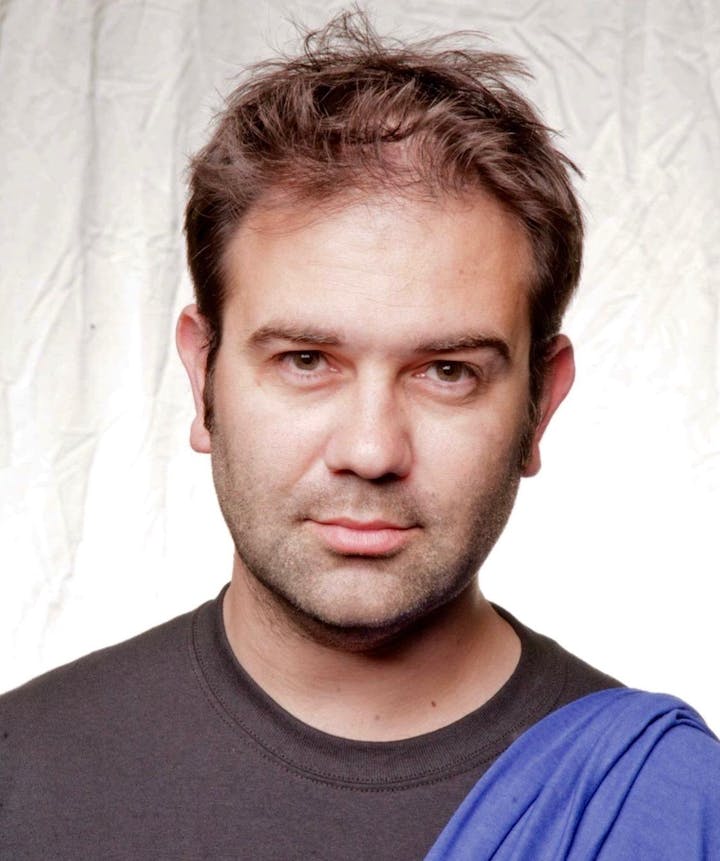 ROBERT YACOVIELLO is delighted to be participating in this benefit concert for Firm Foundations Academy. He has been teaching music and vocal technique for 20 years. He has had the unique opportunity of performing on stages throughout Italy, France, Germany, and Russia. The Washington Post declared Robert "A solid performer and singer," and the DC Metro Arts described him as a "Strong romantic lead." Robert was formally the Director of Vocal Studies at Lancaster Bible College and the director of the LBC Opera Workshop. He is currently teaching students out of his home studio in York PA. Of the many characters he has had the privilege to bring to life, his favorites are Silvio from Leoncavallo's Pagliacci, Count Almaviva from Mozart's Le Nozze Di Figaro, and Aeneas from Purcell's Dido and Aeneas. Robert holds a M.M. in Vocal Performance and is the Co-founder of Windham Music Studios in York Pennsylvania.