Actions and Detail Panel
A Night at the Theater 2017
Wed, May 24, 2017, 5:30 PM – 8:30 PM CDT
Description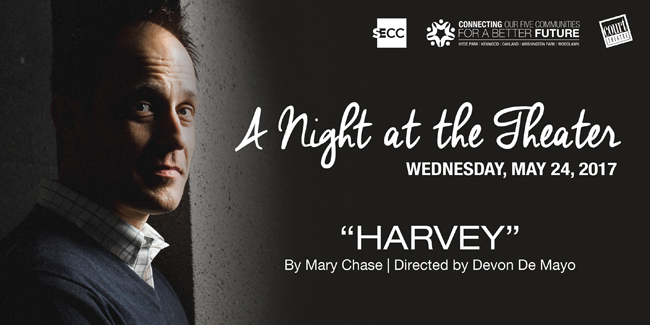 Please join the South East Chicago Commission for "A Night at the Theater" for night of fun and fundraising to support Neighborhood Enhancement beautification projects for Hyde Park, Kenwood, Oakland, Washington Park and Woodlawn communities. The night begins at the Smart Museum at 5:15 pm on May 24, 2017.
5:15PM

Reception

Smart Museum of Art (5550 S Greenwood Ave)

7:30PM

Performance

Court Theatre (5535 S Ellis Ave)
The performance of "Harvey" is a celebrated classic and Pulitzer Prize-winning comedy about a pleasant man with a unique friend—who happens to be an invisible, six-foot, three-inch tall rabbit!
Please purchase your tickets 5:00 pm May 19th! If you cannot attend, please consider MAKING A DONATION to make a charitable donation to the program. Every donation is greatly appreciated, regardless of size.
---
Proceeds from this event support the SECC's Neighborhood Enhancement Grant program.
The Neighborhood Enhancement Grant Program is an initiative administered by the SECC and awards grants of up to $25,000 to neighborhood organizations to support beautification projects that enhance the quality of life in our neighborhoods and allows us to work together as community partners for the improvement of all our areas.
The program is designed to enhance the physical attractiveness of the Hyde Park-South Kenwood, North Kenwood-Oakland, Woodlawn, and Washington Park communities. Since 1999, we have granted nearly $500,000 in beautification funds.
Thank you for your support!