About this Event
This event will feature a 10 race card, with up to 10 horses per race and many beautiful gift baskets. We will once again be featuring our famous Grub Grab raffle where guests have a chance of winning various different gift cards from local restaurants and food stores.
There are three ways you can support this event:
1) Make an in-kind donation of gift certificates, service coupons, jewelry or household items representative of your business.
2) Sponsor and choose the name of one of our 10 horse races for $100. Name a horse for $25 or (3 for $50) and be entered into our "Owners Circle" grand prize drawing.
3) Lend your support by purchasing tickets to our event. Tickets are $50 per person - bring some friends and enjoy a great night out!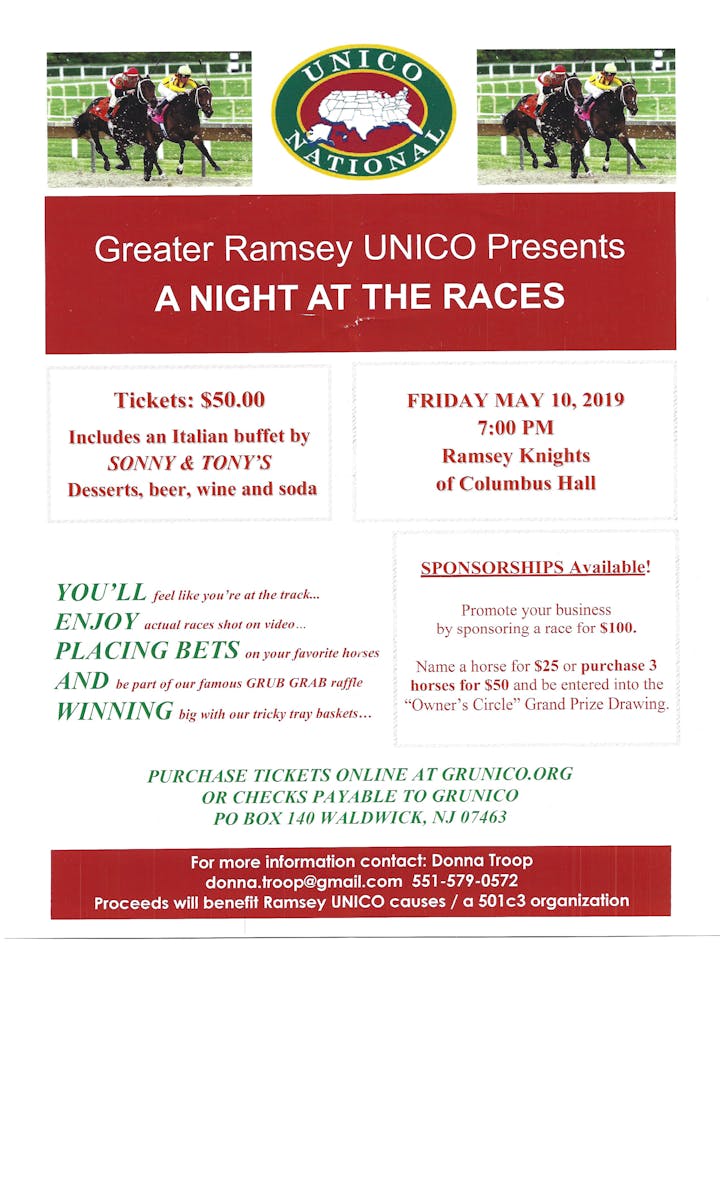 The success of our event depends on the support and generosity of our local businesses, organizations and friends. We are dedicated to ensuring the success of our event in exchange for your generous support. We can't succeed without your help. Please note that your contributions are tax-deductible. Greater Ramsey UNICO is a 501(c) 3 non-profit organization (certificate produced upon request).
Greater Ramsey UNICO Chapter is a non-profit service organization whose members raise funds for scholarships for graduating seniors and many other worthwhile causes. Some specific organizations that have benefited in Bergen County include the Center for Food Action, Ramsey Responds, The Center for Hope and Safety, Meaningful Movement, Emergency Management Teams in Ramsey and Mahwah, Meals on Wheels, Veterans of Foreign Wars, and American Cancer Society's Relay for Life.