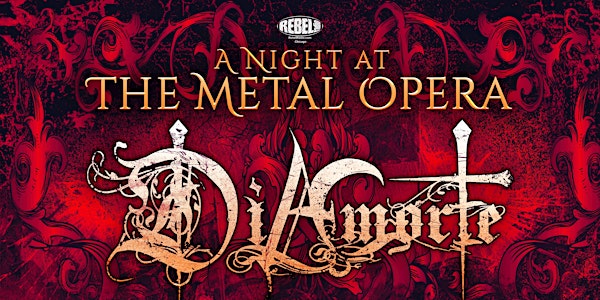 A Night at the Metal Opera: DiAmorte with special guests V is for Villains
DiAmorte with special guests V is for Villains at BHouse Live (Venue Side)
When and where
Location
BHouse LIVE 1000 N Rohlwing Road #13 Lombard, IL 60148
Performers
Headliners
More Performers
About this event
DiAmorte is a Theatrical Metal Production with operatic and live visual elements, presenting the stories of the albums as a live experience. It is musical theater for a modern age, linking the grandeur of the past with the savage orchestral and metal music of the present, imbuing new life into a genre often viewed as antiquated.
With extensive stage presentations that seamlessly meld with a one-of-a-kind musical, DiAmorte strives to make each and every show a must-see for many walks of life. From classic musical theatergoers to heavy metal enthusiasts alike, DiAmorte's makes their productions accessible, fulfilling visual and musical desires in one complete experience.
V is for Villains is a nationally touring, high energy electronic industrial rock band from Chicago, Illinois. A group of highly skilled stage performers, V is for Villains blends original music with colorful costuming and full backstories to create characters with a comic book and sci-fi genre feel.
VIP tickets include participating in The Red Opera RPG run by the author Rick Heinz, Band Meet & Greet, Signed Copy of the Red Opera RPG Book, Entry to the Show, Limited Edition T-Shirt & Event Photos.
VIP experience starts at 4PM.
General Admission Doors open at 7pm
Showtime at 8pm
21+
RSVP & Share on Facebook: fb.me/e/2ItT3eizD
Use our link to get a discounted rate at the Fairfield Inn & Suites Hotel across the street, or at the Crowne Plaza Lombard/Downers Grove.