A New York State of Mind Alzheimer's Association, NYC Chapter Benefit Prese...
Description
Marvel US Mgmt has partnered with Glitz Entertainment to help raise awareness and funds for The Alzheimer's Association, NYC Chapter with a Fashion & Art Benefit.
Wednesday, February 5th, 2014 | 6pm - 10pm
Millesime at The Carlton Hotel, 92 Madison Avenue, New York City
Hosted by Ms. New York
Featuring: Runway Show by Henrioci & Stevie Boi
Art Showcase by 950 Hart Gallery's Antoinette Johnson
Fashion Showcase by Marc Defang New York & Glitz Winter Accessories
Music by: Ms. Nix & DJ Rhys
Silent Auction | Open Bar | Hors D'oeuvres | Live Performance
Appearance by: NHL, NFL & NBA Dancers & Cheerleaders
Proceeds directly benefit The Alzheimer's Association-NYC Chapter
For more info: (732) 570-9467 | marvelusmgmt@gmail.com
Visit us on Facebook
Sponsored by: Marvel US Mgmt, Glitz Entertainment, Millesime, Maestro Dobel Tequila, Rosa Mexicano, H&R Block, Elucid Magazine, Marc DeFang New York, Jo Lance Photo, Marc Joseph Salon & Spa, 950 Hart Gallery & Charity Grow
Hair & Make Up Provided By: Takashi Ashizawa & Kei Hirata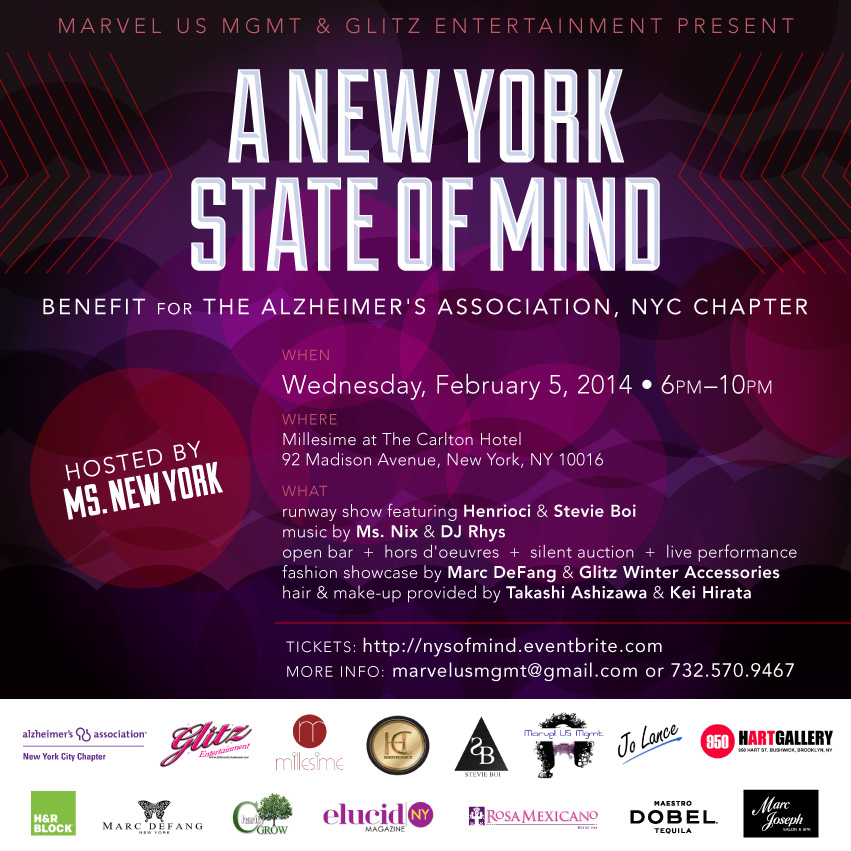 Organizer of A New York State of Mind Alzheimer's Association, NYC Chapter Benefit Presented by Marvel US Mgmt & Glitz Ent.
Marvel US Mgmt is a boutique business management, event design, and marketing firm that has produced NYFW shows, philanthropic and social events, and corporate engagements for over 10 years.
Freehold Boxing & Fitness is a unique one-on-one fitness studio founded by former IBF Cruiser Weight World Champion and principal partner, Imamu Mayfield.
IMC is Isha Mayfield the Comedian who has performed at The Stress Factory and the world-famous Apollo Theater.