Location
Village East Cinema - AUDITORIUM #1
189 2nd Avenue (12th Street)
New York, NY 10003
Sales Have Ended
Ticket sales have ended
This ticket purchase is FINAL SALE. There will be no refunds for tickets purchased.
Description
Short: "Miriam" (UK) 14mins I Short | Drama | Mystery| New York Premiere
Directed by Esther Hegarty
Written by Truman Capote (story)
Stars: Roger Lloyd Pack, Kieran Bew, Claire Goose, Karen Lewis and Annabel Parsons
Synopsis: Mrs Miller has lived a solitary but contented life since the death of her husband. By chance at the local cinema, Mrs Miller meets Miriam, a young girl with the same name who pretends to be with her to gain entry. After a series of disturbing events Miriam arrives late one night at Mrs Miller's apartment with a suitcase informing her she has come to live with her. Terrified, Mrs Miller rushes to her neighbors for help. They check her apartment but there is no sign of Miriam or her suitcase. Has Mrs Miller imagined it all? Who is Miriam, the child who threateningly demands 'Kiss me goodnight!'.
Feature: "A New York Love Story" (US) 77mins I Drama | Romance I World Premiere
Written & Directed by Apolla Echino
Stars: Richard Short, Apolla Echino, Siobhan Flynn, Courtney Reed, Miguel Pinzon
Synopsis: A beautiful dancer living in New York City, DELPHINE has just ended a long-term monogamous relationship and is interested in keeping her options open for while. Despite her best intentions to keep things light, Delphine falls hard for THE PAINTER, whose lies she believes again and again...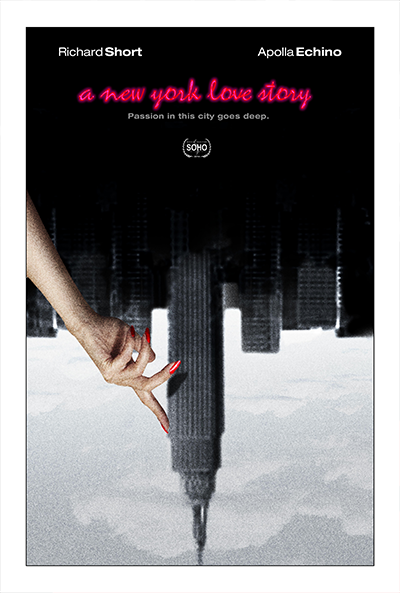 SCREENING FOLLOWED BY Q & A WITH THE CAST & CREW.