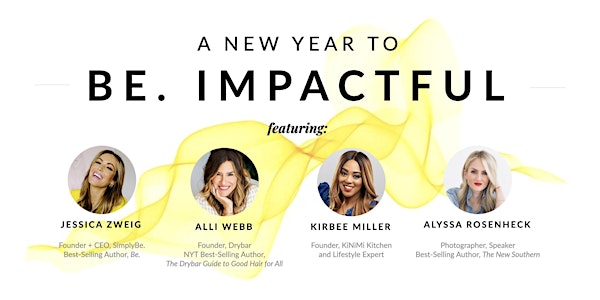 A New Year To Be. Impactful
Location
Collective615: Market Level
3820 Charlotte Avenue
Nashville, TN 37209
Inspiring conversation and redefining impact with all-star female entrepreneurs as your hosts. Cocktail social to follow.
About this event
Every female entrepreneur or career professional experiences times of uncertainty which can fuel perceived states of separation and scarcity. A New Year to Be. Impactful exists as a night for women of all career verticals and experience to come together and redefine what it means to make an impact. In light of the one-year anniversary of Jessica Zweig's Best-Selling Book, Be. - A No Bullsh*t Guide to Increasing Your Self Worth & Net Worth By Simply Being Yourself, we are coming together as a collective to redefine impact. Be. promoted the power of stillness and authenticity, and in short, Be.'ing who you are, unapologetically. It is when you access this stillness and peace with who you are that you begin to attract your ideal opportunities and start to make waves.
Join us for a night of community, conversation and celebration of feminine values that will unlock your next level of success.
Our moderators to take you on this journey are Drybar Founder and New York Times Best-Selling Author, Alli Webb and Forbes Personal Branding Expert and Best-Selling Author Jessica Zweig. They will also be joined by a panel of thriving career professionals, Kirbee Miller, Founder of KiNiMi Kitchen & Alyssa Rosenheck, Photographer, Speaker and Best-Selling Author of The New Southern.