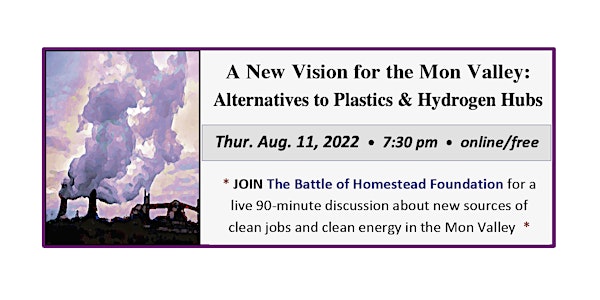 A New Vision for the Mon Valley – Alternatives to Plastics & Hydrogen Hubs
Refund policy
Contact the organizer to request a refund.
Eventbrite's fee is nonrefundable.
Online program discussing new job opportunities for the Mon Valley that do not require reliance on fossil fuel production
About this event
THURSDAY, Aug. 11, 2022 @ 7:30 p.m. — the Battle of Homestead Foundation presents a free Zoom program discussing new job opportunities for the Mon Valley that do not require reliance on fossil fuel production.
SPEAKERS:
* Dr. Patricia DeMarco, author of Pathways to Our Sustainable Future: A Global Perspective from Pittsburgh, is a Rachel Carson Scholar and has served as director of the Rachel Carson Institute at Chatham University, where she holds an appointment as Senior Scholar.
* Dr. Matt Mehalik, Adjunct Professor of Environmental Policy at Carnegie Mellon University, is executive director of the Breathe Collaborative, a coalition of local residents, environmental advocates, public health professionals and academics advocating for healthier air for the Pittsburgh region.
------------------------------------
*** PLEASE NOTE: upon registration participants are given a Zoom link for the event ... scroll down to the bottom of the Eventbrite *confirmation email* for the Zoom link. ***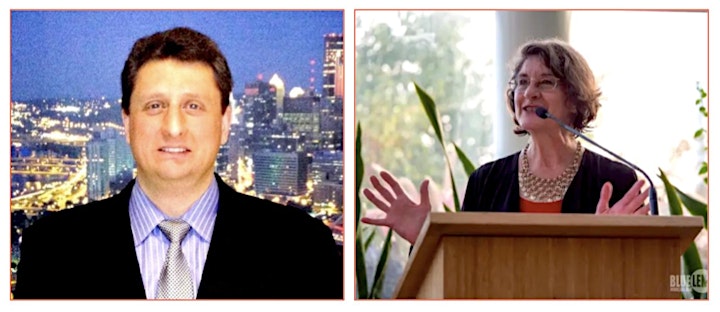 ** PROGRAM OUTLINE **
Part 1: The Foundations - The Road We Have Traveled
Part 2: The Seeds of Greatness – The Way Ahead
"We frame this discussion against the reality that our civilization must shift away from burning fossil fuels to avoid the most disastrous consequences of global warming.
"Some of those consequences are already fixed and cannot be avoided. But we have options to prevent things from being much worse.
"We will present a short history of how the Mon Valley has been shaped by US Steel operations ... workers struggle to secure benefits and right ... the current trajectory of the industry transitions to new technologies and new investments — but not in Pittsburgh.
"We will discuss the false solutions being touted by the major industries to keep dependence on fossil extractive industries.
"And we will present the opportunities and better choices for a shared prosperity and a better future."
** Knowledge Is Power ... join us for a Better Future for the Mon Valley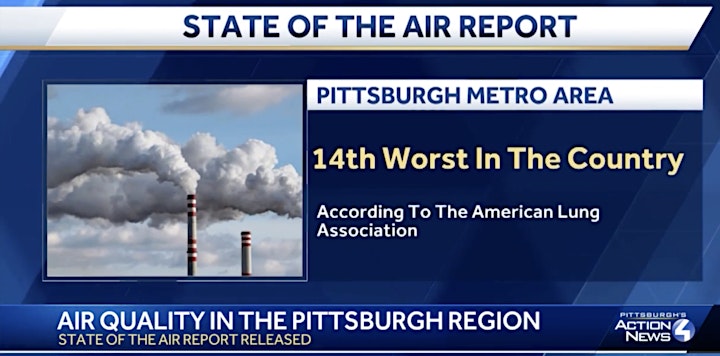 WHAT is the state of *your* air? FIND out here!
______________________________________
** WHILE THIS PROGRAM is admission-free, you are welcome to make a monetary donation to offset expenses involved in producing our 2022 Program Series.