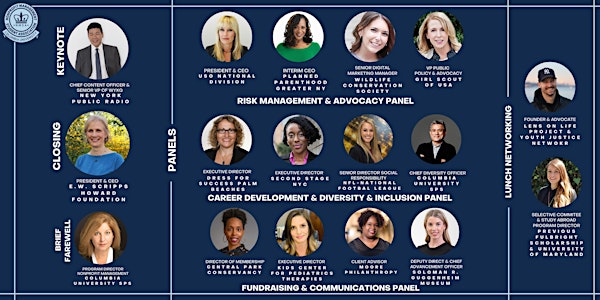 A New Era for Nonprofits - Columbia University SPS Virtual Summer Symposium
Join Columbia University School of Professional Studies' Nonprofit Management Student Association for their First Annual Summer Symposium -
About this event
The Nonprofit Management Student Association have brought together a variety of panelists and speakers to create their first annual Virtual Summer Symposium - "A New Era for Nonprofits."
The day is filled with innovators and trailblazers within the nonprofit sector who are here to discuss pressing issues and relevant topics within the industry.
The event has something for everyone with the robust list of organizations involved, hitting every subsector of the nonprofit industry.
Guest speakers and moderators come from National Football League, E.W. Scripps Foundation, USO National Division, NY Public Radio, Planned Parenthood, Solomon R. Guggenheim Museum, Dress for Success, Central Park Conservatory, Second Stage Theatre, & many more!
Who can attend: This event is open to the entire Columbia Committee and beyond!
Zoom Information: Once you register you will receive a confirmation email. We will be sending all zoom links to registrants 1 day and 1 hour before the event begins.
Register for the event and you will receive individual zoom links for each of the events listed below. While we encourage you to attend as many as possible, you can pick and choose based on your schedule.
Donation: The event is entirely free, but if you'd like to support the initiatives of the Nonprofit Management Student Association at Columbia University SPS you are invited to donate when registering.