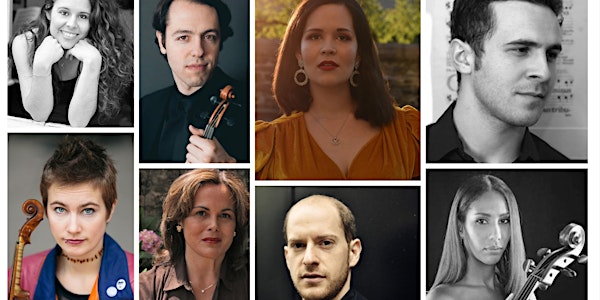 A Musical Journey of Song from Europe to Venezuela and Cuba
This is a story of the universality of music and how we can all connect with each other through its language.
When and where
Location
St. Marks Church-In-The-Bowery 131 East 10th Street New York, NY 10003
About this event
German-American pianist Hannah Harnest, and Venezuelan soprano Maria Brea - a native of the highly volatile "Los Frailes Da Catia" slum in Caracas, and a finalist of the prestigious 2021 BBC Cardiff Singer of the World – will take us on a genuine transatlantic journey of identity and culture in the opening concert of Music for Thought's second season. They will explore all stages of life, from birth and growth to crisis and death, and look at issues of gender, race, discrimination, memories, and purpose of life, in a recital of European art song, and Latin American folksong & contemporary classical music. Hannah and Maria are joined by players from the American Baroque Orchestra, and the pre-concert talk will feature distinguished Cuban-American soprano Rosa Vento, and Venezuelan-American pianist and scholar Manuel Laufer in a discussion about folk culture and contemporary classical music in Latin America.
The mission of Music for Thought Series is to embed the performed music in a current social, historical, and cultural context, and to encourage discussions on the role and relevance of the arts and their creators in society. Season II (October 2021 – January 2022) revolves particularly around the question to what extent the Covid-19 pandemic has had an impact on the American continent, and particularly in New York. We want to make a difference by picking up on relevant themes from national media and discuss a multitude of issues with experts from distinguished partner organizations.
Music for Thought Series is generously being supported by the German Consulate in New York City.
Featured artists:
Maria Brea - Soprano
Hannah Harnest - Piano
Kevin Sherwin - Guitar
Edson Scheid - Violin
Ūla Kinder - Violin
Maria Figueroa - Cello
Speakers:
Rosa Vento - Voice Faculty, NYU Steinhardt
Manuel Laufer - Piano Faculty, NYU Steinhardt