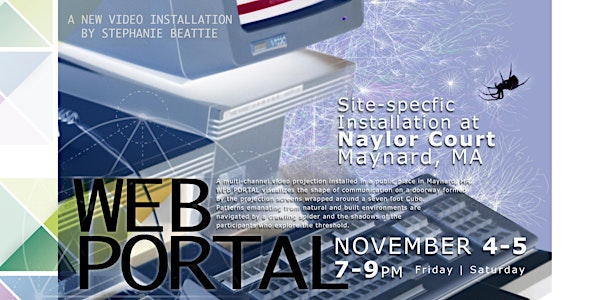 A multi-channel video projection installed at Naylor Court in Maynard, MA
A live site-specific multi-channel video projection installation by NYC artist Stephanie Beattie.
When and where
Location
El Huipil 51 R Main Street Maynard, MA 01754
About this event
ArtSpace & Mass Development present:
"Web Portal" is a live site-specific multi-channel video projection installation by NYC artist Stephanie Beattie.
"Web Portal" visualizes the shape of communication on a doorway formed by the projection screens wrapped around a seven-foot Cube*. Patterns emanating from the natural and built environments are navigated by a crawling spider and the shadows of the participants who explore the threshold.
Some imagery provided by Maynard's Historical Society depicts Digital Equipment Corporations' early circuitry. A reference to place and an echo of the technological past.
Location is in the parking lot across from the restuarant El Huipil, by the new Faces mural. El Huipil is not the location. Please eat there and then come through the Web Portal...
*The Cube; this installation was made possible by a placemaking grant from Mass Development to ArtSpace. Design and construction of The Cube by InSitu Architects, public art management by Zannah Noe. Also, thanks go to the many volunteers from Maynards Historical Society, Maynard's Cultural Council, and Maynard's Brat Pack, who know who they are...
NYC artist Stephanie Beattie. www.LAKESWHOLELAKES.COM
Stephanie Beattie is a designer, editor, and researcher currently based in Brooklyn, New York. She uses interactive media and sound to illuminate the fundamental structures of social interaction and perception. She holds an MFA (Transdisciplinary Design) from Parsons The New School for Design, and a BA (Linguistics) from The University of California, Davis. She has contributed sound design to documentaries and feature films and video content to stage shows at the Brooklyn Academy of Music, on Broadway, and more. Her artwork is in collections such as The Institute for Computer Music and Sound Technology in Zurich, Switzerland. She is co-founder of Calx Vida Studio and editor of The Seers' Catalogue.