On November 21, at 2 p.m., the Essex Piano Trio will perform in the ballroom of Linden Place Mansion.
About this event
On November 21, at 2 p.m., the Essex Piano Trio will perform in the ballroom of Linden Place Mansion. The concert is at 2 p.m. and is handicap accessible. Social distancing will be practiced, and masks are required for those in attendance. Admission is $20, $15 for members and free for Colt Circle members. Reservations are recommended as space is limited.
This "Mostly French Conversation among Friends" will be presented in Essex Piano Trio's characteristic audience-friendly format, which involves interesting music interspersed with casual commentary designed to actively involve audience members in the performance. This lighthearted but elegant program, perfect for a spring afternoon, includes the work of well-known and less recognized works by male and female French composers.
The two short and familiar movements from Camille Saint-Saëns' famous Carnival of the Animals, which open the concert, provide a foil to the complex, rhythmic style of the last work before intermission, the Trio on Popular Irish Melodies by Frank Martin, a Swiss composer of Huegenot ancestry. These pieces are separated by the works of two French women: a sassy little movement by Germaine Tailleferre shows the more modern sound of the early 20th century, while the lovely and serene movement of Cécile Chaminade's trio celebrates the lush writing of the 19th century romantic style. The second half of program begins with the first movement of Gabriel Fauré's only Piano Trio, written in the year before his death, and closes with Claude Debussy's only Piano Trio, written when he was a precocious 18-year-old student still finding his way as a composer.
The members of the trio are from Essex County communities along the North Shore of Massachusetts. Violinist Ashley Offret of Salem, cellist David Cabral of Lynn, and pianist Beverly Soll of Rockport believe that their "Conversation among Friends" approach reflects their relationship to the music and to each other. As David has observed, "Making serious chamber music can be very difficult, and it is a challenge to find partners who mesh well personally and artistically. When people see us perform, they see not only our ability but also our passion for music and our great affection for each other, all of which enhance our performances."
EPT members bring many perspectives from their academic backgrounds and professional lives as educators and performers to their collective as a trio. Pianist Beverly Soll (University of Illinois and University of Maryland) holds a DMA in chamber music/piano. Ashley Offret is a violinist (University of Maine) and music historian (MM, University of Cincinnati College-Conservatory of Music). Cellist David Cabral studied at the Boston Conservatory but works as chief echocardiographer at Boston Medical Center's Department of Pediatric Cardiology. See https://essexpianotrio.com or on Facebook.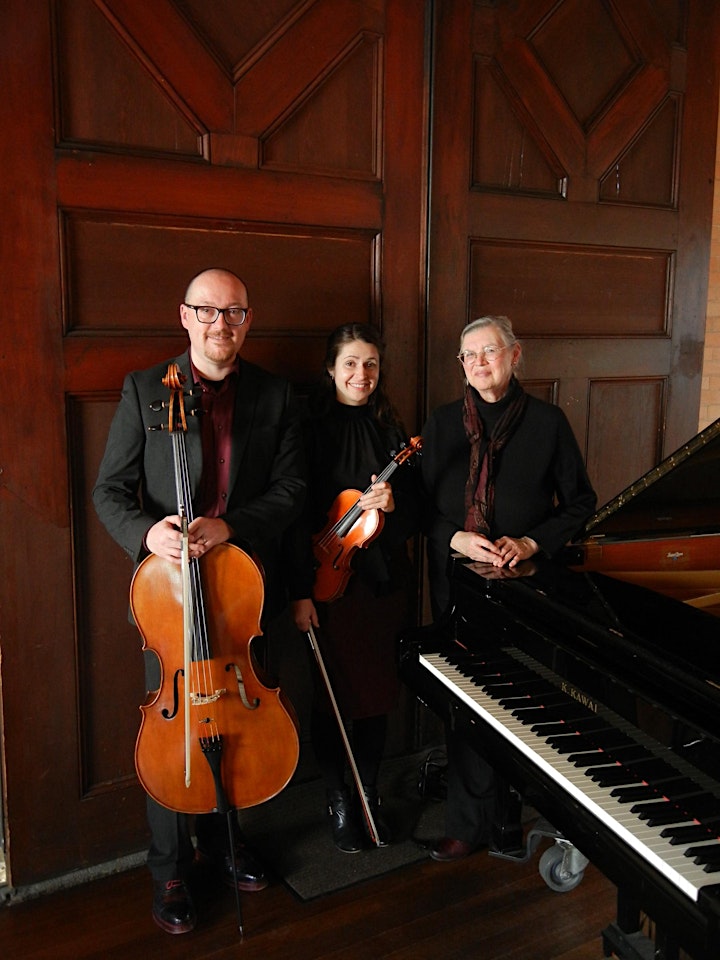 Organizer of A Mostly French Conversation among Friends by the Essex Piano Trio