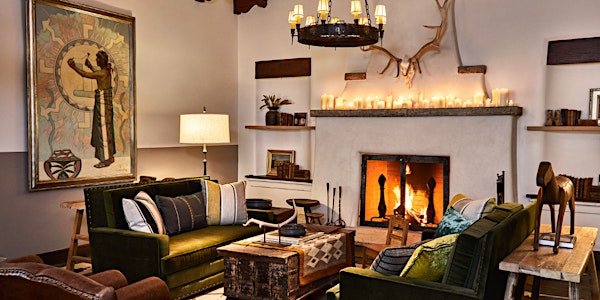 A month of local authors at Bishop's Lodge with Garcia Street Books
Each Saturday during January 2023, Garcia Street Books has curated authors for an intimate reading at Bishop's Lodge
When and where
Location
SkyFire Restaurant 1297 Bishops Lodge Road Santa Fe, NM 87506
About this event
DETAILS
Saturdays in January 2023 | 4-5PM
Open to the public; Signed books will be available for purchase
Complimentary admission, RSVP required via Eventbrite
Complimentary beverages and cookies to enjoy during this thoughtful engagement in our restaurant, SkyFire
AUTHORS
January 7, 2023: Adventures of Kubi | Erik Speyer (child friendly)
Erik Speyer is a watercolor artist who writes and illustrates children's picture books in English and in Spanish. Born in Argentina, raised in Denmark as well as South America, he was a Navy pilot and a museum director. Now residing in Santa Fe, he enjoys the natural beauty of the mountains and arroyos, including painting in plein air.
January 14, 2023: Mortal Highway | Judith Hidden Lanius
Judith Hidden Lanius is an artist and writer with an abiding interest in the Hispanic villages and communities in the cultural landscape of Northern New Mexico. Her photographic vision has been captured in numerous self-published books: Rissani Gateway to the Sahara (2010) focuses on a small town adjacent to the Sahara. Encountering the Journey (2013) is a set of highly personal portraits captured in moments of connection with the people of Northeast India, particularly in the state of Nagaland.
January 21, 2023: Running Out | Lucas Bessire
Lucas Bessire is an American writer, filmmaker and anthropologist. His work focuses on politics, environment and media in the Americas. An avid traveler, Bessire has conducted ethnographic fieldwork across the hemisphere.
January 28, 2023: Flying Lead Change | Kelly Wendorf
Kelly Wendorf is an author, a socially responsible entrepreneur, disruptor and an expert in the art form of taking people through transformative change and on to meaningful levels of success, purpose and profound fulfillment. Her work with her clients has been featured in Forbes, VOGUE, Huffington Post, and The New York Times.