| | |
| --- | --- |
| 'A Mindful South Florida' community event and workshops | |
Event Details

Improved Mental Health Through Mindfulness- Based Programs
EFFECTIVE SOLUTIONS IN ... HEALTH • EDUCATION • JUSTICE • LAW ENFORCEMENT • PUBLIC POLICY • NONPROFITS
RESEARCH demonstrates effectiveness in reducing stress, anxiety, depression, addictions, substance abuse (including opioids), disconnection, suicide and violence.
JOIN US for cutting edge talks illustrating the life cycle of mental health and illness with three national experts, researchers, leaders in mental health, behavior, brain mechanisms, addictions; comprehensive systems, community-based treatment, legal system; education system, teachers and students.
FEATURED PRESENTERS 
| | | | | |
| --- | --- | --- | --- | --- |
|   |   |   |   |   |
| Judson Brewer, M.D., Ph.D., Psychiatrist, Neuroscientist, Researcher Mindfulness in Addictions, Behavior, Mechanisms, Anxiety |   | Hon. Steven Leifman, Judge for 11th Judicial Circuit of Florida, national leader of community-based mental health programs and criminal justice. |   | Patricia A. Jennings, M.Ed., Ph.D., educator and researcher, Curry School of Education and Human Development, University of Virginia |
---
COMMUNITY EVENT 
REGISTRATION REQUIRED (FREE on EVENTBRITE)
Brewer, Leifman and Jennings
FRIDAY, DECEMBER 6, 2019
BILTMORE: Reception and Talks 5:00 p.m. to 8:00 p.m.
BILTMORE: Book Signing hosted by Books & Books to follow.
The Biltmore Hotel, 1200 Anastasia Avenue, Coral Gables Florida
---
POST-EVENT WORKSHOPS
REGISTRATION REQUIRED (PAID on EVENTBRITE)
Introductory All-Day
Mindfulness-Based Workshops
SATURDAY, DECEMBER 7, 2019
Workshop #1 - MIAMI: Gus Castellanos, M.D., and Valerie York-Zimmerman, at UHealth Fitness and Wellness Center at Miller School of Medicine, 1120 NW 14th Street, Miami. Time: 9:00 a.m.-3:00 p.m.
Workshop #2 - BROWARD: AHAM (Academy of the Heart and Mind). Details TBA. Not on sale yet.
SUNDAY, DECEMBER 8, 2019
Workshop #3 - DELRAY BEACH: Sun. Dec. 8th, Introductory Mindfulness-Based Workshops with Gus Castellanos, M.D., and friends. Held at The Duncan Center,15820 S Military Trail, Delray Beach, FL 33484. Free parking. Time: 9:00 a.m. – 3:00 p.m. Cost: $30. Not on sale yet. 
SATURDAY, DECEMBER 14, 2019
Workshop #4 MIAMI: Mindful Kids Miami, Riviera Presbyterian Church, 90-minute workshop, Details TBA. Not on sale yet.
Trauma-Sensitive Mindfulness Workshop
SUNDAY, DECEMBER 8, 2019
Workshop #5 - MIAMI: Trauma-Sensitive Workshop with Dr. Patricia Jennings, 12:30-4:00 p.m. Location: Barry University Campus. Sponsored by Mindful Kids Miami and Barry University. Details TBA. Cost: $50. Not on sale yet. 
---
LIMIT ONE: 
If you have friends who intend to come with you, then they should register with their own full name, email, organization and job title. We will have a one-badge per person check in procedure at the door. Incomplete or questionable registrations will be voided.
---
SPONSORS & COMMUNITY PARTNERS
We Welcome and Thank our Sponsors and Community Partners.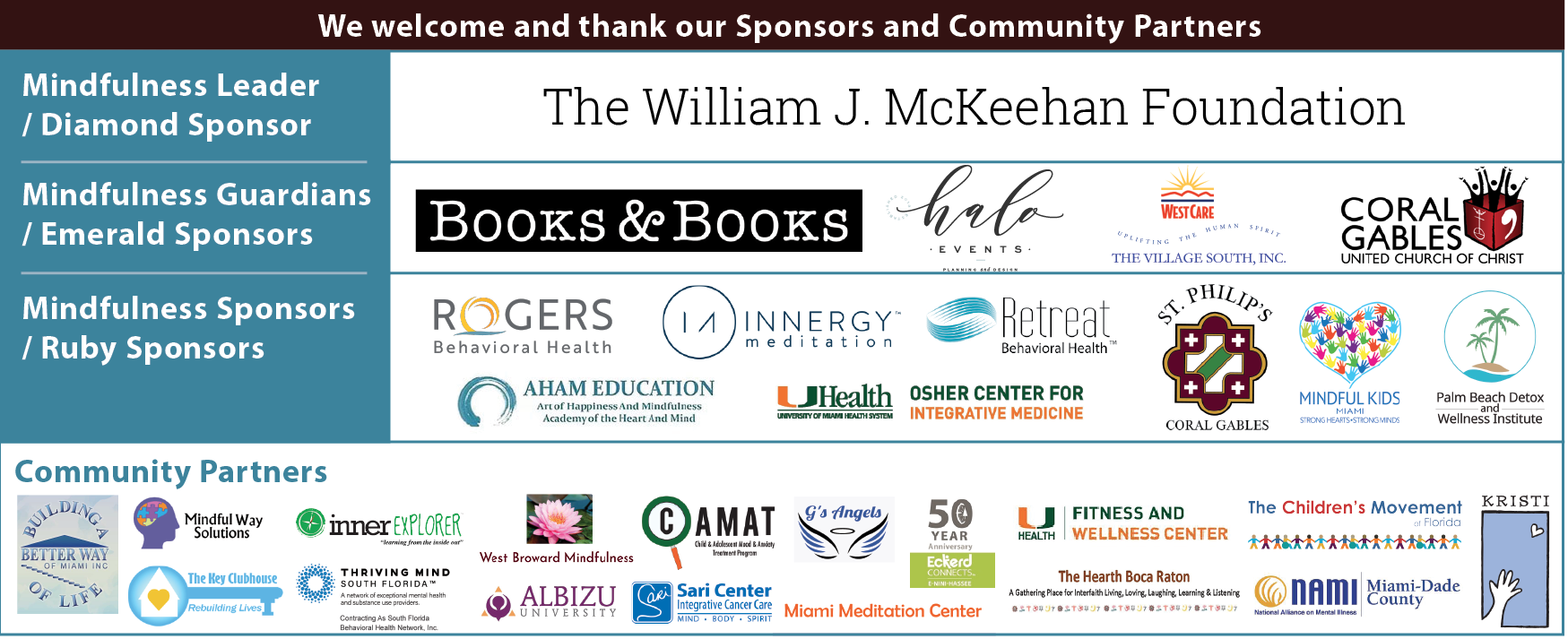 Presented By
Valerie York-Zimmerman
ijourney@att.net

Gus Castellanos, M.D.
gus@18mind.com
We hope you can make it! 
-- Valerie York Zimmerman and Gus Castellanos, M.D.
Save This Event
Where

Biltmore Hotel Miami Coral Gables
1200 Anastasia Avenue
Coral Gables, FL 33134


Organizer
Valerie York-Zimmerman is a Certified Mindfulness-Based Stress Reduction Teacher, teaches the MBSR Practicum in Miami in affiliation with the MBPTI in San Diego, and mentors teachers-in-training to become certified. She is the founder of Miami Mindfulness and has taught adults and children in Miami since 1998 and 2012, respectively.
Gus Castellanos, M.D. attended the University of Miami for undergraduate and Medical School receiving his M.D. degree in 1980. He is an experienced Certified Mindfulness-Based Stress Reduction Teacher (MBSR) and teaches in Palm Beach, Broward, and Miami.