About this Event

The creation of a more mindful, compassionate, sustainable future is within reach - perhaps now more than ever - and it is up to us.
A Mindful Society is a conference and events organizer for professionals, organizations, and the curious interested in applying mindfulness to work and life.
Join us.
About the Conference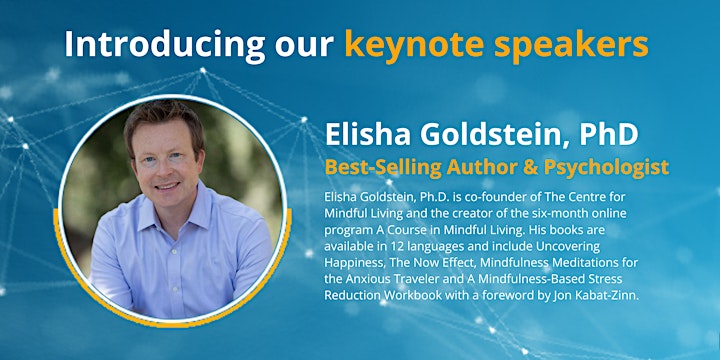 The Online Keynote: On Saturday, May 2nd, Dr. Hanson will speak on 'Courage and Compassion: Living with a Strong Heart in Challenging Times' He will teach us how to develop courage to face hard facts, and keep going when it's stressful or scary using positive neuroplasticity to weave grit, self-worth, and confidence into your nervous system.
On Sunday, May 3rd, Elisha will speak on 'The Science of Tribe: Our Future Depends On It'. Elisha will explore the science of interdependence as the key hidden driver for making mindfulness easier, feeling more empowered and facilitating a sustainable future. 
The Online Pre-conference Workshop: For a deeper dive into Dr. Hanson's ground-breaking work, join us for the full-day Pre-conference Workshop, 'A Neuropsychology of Awakening: Healing and Practicing with the Brain in Mind', on Friday, May 1st.
The Online Post-conference Workshop: In 'Creating a Practice that Lasts', we will learn practices that you can do or teach to others to help create the clarity and energy required for consistent motivation and practice. Elisha's full-day Post-Conference Workshop takes place Monday, May 4th.
Both workshops can be purchased as part of the Four-Day ONLINE FULL ACCESS pass or as individual tickets.
For more information on these workshops specifically, please see our website >>>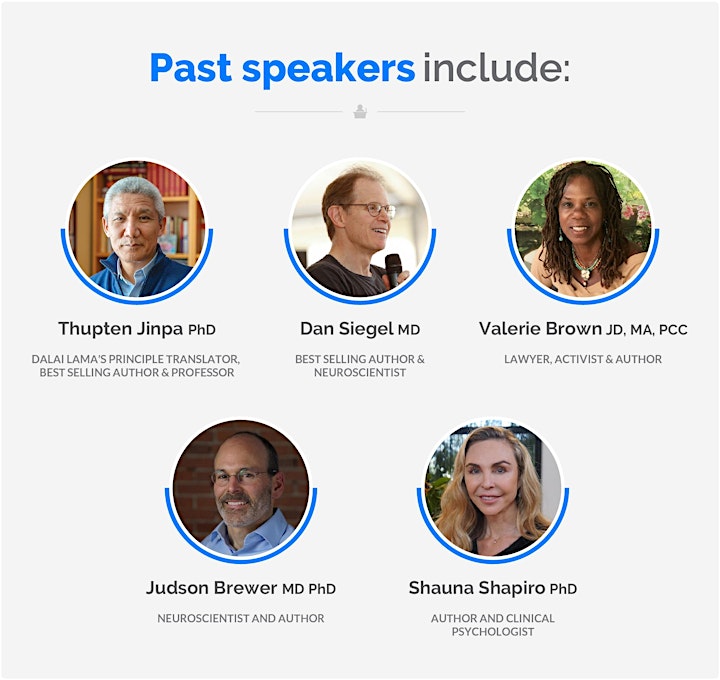 41 presentations, practices and breakout sessions on mindfulness in healthcare, education, the arts, business, parenting and life allow you to design your own personalized conference experience based on your specific professional growth and development needs. (Click here for a detailed conference program)
Examples include:
Mindfulness and Climate Justice
MakerMinds™: an Exploration of Making and Mindfulness in Schools
Mindful Ethics: the challenge of embodying professional values
Pixels and presence for well-being in life and workplaces
Promoting Compassion For Mental Health Professionals
The Death Incubator: Mindful 360 Design in the VR Environment
What others are saying:
Learn more about A Mindful Society 2020: Our Present Future at: www.amindfulsociety.org
Applications for scholarships open in November.
---
Cancellation Policy
Registration ticket cancellations prior to January 31st, 2020 receive a refund less 25% of the registration price. Cancellations between January 31st and February 29th, 2020 receive a refund less 50% of the registration price. After March 1st, 2020, tickets are non-refundable.
One (1) attendee name change is permitted on a registration ticket up to 30-days before the conference start date. To transfer a ticket, please email us directly at info@amindfulsociety.org with all new attendee details and we will update his/her information to the registration. No changes are permitted after that date.
No refunds will be provided after March 1st, 2020 and no compensation will be provided in the unlikely event the conference is cancelled or postponed. Speakers are confirmed. However, sometimes life events may prevent them from attending as expected. Speaker cancellation does not alter the cancellation policy.
Purchase of A Mindful Society registration ticket confirms you have read and agree to comply with the cancellation policy. This policy is subject to change. Ticket holders are to be notified of any changes.
Video and Photo Disclaimer
Please note that video footage will be taken throughout A Mindful Society Online Conference May 1st- May 4th, 2020. These will be used by A Mindful Society for marketing and publicity in our publications, on our website and in social media or in any third party publication. Please contact the event organiser if you have any concerns: info@amindfulsociety.org
Additional Questions?
Urgent questions? Email us at info@amindfulsociety.org.
We look forward to seeing you soon at the A Mindful Society 2020 online conference!
The A Mindful Society Team
www.amindfulsociety.org