This event is to support artists & musicians that donated their talents at a virtual benefit for the International Anti-Poaching Foundation
About this event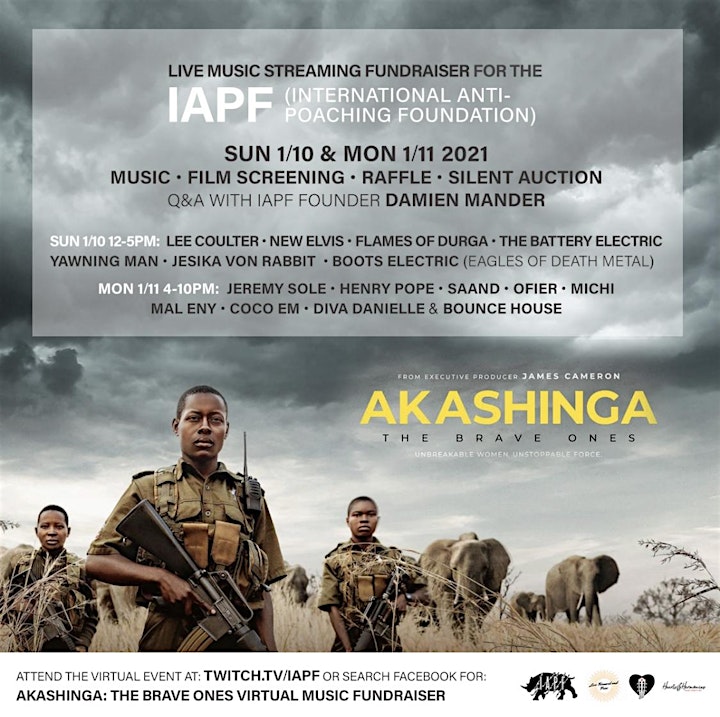 On January 10-11, 2021 there was a live-stream fundraiser featuring DJs and musicians from around the world to raise awareness and money for the International Anti-Poaching Foundation. This organization was founded by Damien Mander with an all-female ranger unit called, Akashinga: The Brave Ones. These ladies were also featured on the James Cameron short film from National Geographic. In over 11 years the charity has 'supported or led 50+ conservation initiatives and helped protect over 9.8 million acres of wilderness saving countless wildlife.'
With the live music industry and events suffering with over a year of cancelled shows, tours and more we are now showcasing available artists and musicians from the IAPF fundraiser with this event and concert benefit.
Hester Van Hooven Ward and Keri Koistra (Acoustic Underground/ Hearts & Harmonies) would like to thank everyone that shared their talents, donated, and watched the virtual fundraiser. We look forward to one last time of highlighting these artists, musicians and the charity.
Please join us on May 1, 2021, from 5pm -11pm at Landers Brew Co. in the High Desert of California to support the artists, musicians, local vendors, and the performing arts venue!
6pm Moxi & Loon
7:30 Jesika von Rabbit
9:00 The Daydreams, featuring Jesse 'Boots Electric' Hughes
As of now only 125 tickets are available!
$10 camping fee is cash only at the venue.
This event is outdoors and will uphold social distance protocols for San Bernardino County.
Portion of proceeds to benefit the International Anti-Poaching Foundation.