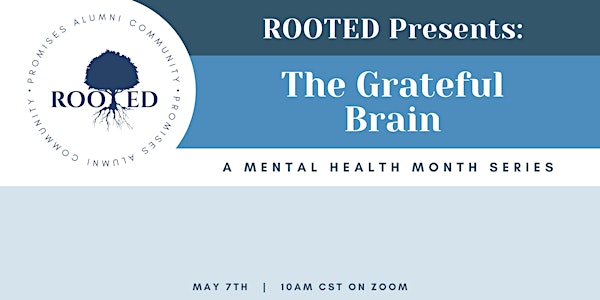 A Mental Health Month Presentation: The Grateful Brain
Take a deeper look into the power of gratitude and the impact it can have on your brain and your life.
About this event
Join us in this limited online series to learn healthy coping skills to manage stress during this time. This presentation will focus on gratitude and offer hands-on skills you can apply to your everyday life. Led by a Promises Behavioral Health Clinical Outreach Manager, Julie Moss, LPC, explore the neuroscience behind gratitude and how it can have a positive impact on your mental health.
All you need is a way to connect to Zoom (phone, tablet, or computer), and we will email the link to join before the event.
In conjunction with Promises Rooted Alumni Program
Rooted is a free service provided to alumni from any of the Promises family of treatment centers to attend for life and is offered weekly at a variety of cities nationwide and online through our virtual meetings on the Zoom platform.
Until further notice, We are welcoming all people in all forms of recovery (including those who did not attend treatment with us) to join us on any of our recently-expanded range of virtual recovery meetings. No matter what you are recovering from or what brought you here, WE ARE SO GLAD TO HAVE YOU JOIN US!
Our full calendar of meetings: https://www.promisesbehavioralhealth.com/addiction-treatment-center-programs/alumni-program/