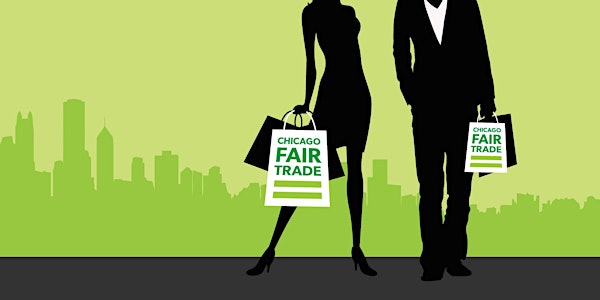 A Magnificent Mile of Fair Trade: Chicago's World Fair Trade Day celebratio...
Location
Fourth Presbyterian Church
126 East Chestnut Street
Chicago, IL 60611
Description
Join us for the biggest World Fair Trade Day celebration in the U.S.! Help us celebrate the power of fair trade in Chicago's most iconic shopping district, while showcasing Chicago's important role in the fair trade movement.

Event highlights include:
Kick-off toast at 10 AM. Fair-trade coffee and hot chocolate toast to Whitney Young High School to celebrate their designation as Chicago's first Fair Trade School. Chris Solt, executive dIrector of the Fair Trade Federation, will serve as toast master.

Evan the Chef's Fair Trade Pop-Up Bake Shop from 10 to 7. Shop the bakery delights of Chicago philanthropist, culinary star, and MasterChef Junior finalist Evan Robinson. Taste delicious fair-trade sugar, spices, chocolate, and more. Proceeds to benefit the Dreamcatcher Foundation and their work to end human trafficking.

Fair Trade Pop-Up Boutique from 10 to 7. Shop from more than two dozen Chicago Fair Trade business members. The range of products, the quality, and the uniqueness will amaze  you — and your spending dollars will support fair-trade principles.

Fair Trade Pop-Up Home from 10 to 8 (plus 10 to 4 Saturday and Sunday!). Walk through the courtyard to the historic 1914 clergy house to experience the beauty and breadth of fair-trade products in three room settings. Be inspired! Bring some of these ideas to your own home. Take a tour led by a fair-trade docent.

Fair-trade tastings! Coffee tasting from 10:30 to 11:30, Farmer's Fridge salad sampling from 12:45 to 1:30, and chocolate tasting from 2 to 3.

WBEZ WorldView live broadcast from 12 to 1.

Educational talks! Hear from Shayna Harris of Farmer's Fridge (she was also instumental in founding CFT) at 1; learn about Fair Trade 101 from Chris Solt of the Fair Trade Federation at 3; and attend a workshop on the the worldwide B Corps movement led by local B Corps leaders at 4.

Fair-trade chocolate giveaways in front of Chicago's historic water tower from 10 AM til the chocolate runs out.
Last but not least, a Fair Trade Social from 5 to 8 in the Pop-Up Home. Join us for complimentary sips and bites.
Drop in for an individual event or spend the whole day!
Community partners include Slow Food Chicago, IL B Corps, Chicago Furniture Bank, Kiva, United Nations Association-Chicago, Whitney Young High School, and more.
Hope to see you there!