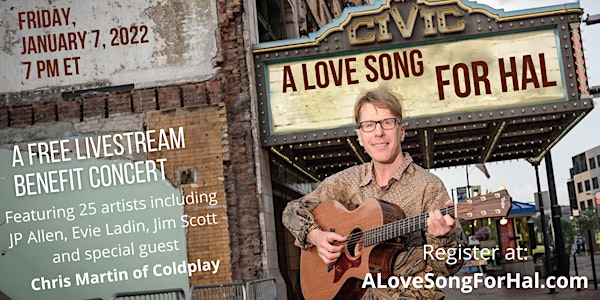 A Love Song for Hal
A livestreaming concert to raise funds for Hal Walker in his battle with ME/CFS, with 25 artists sharing their voices & their songs.
About this event
"A Love Song For Hal"
Friday January 7, 7pm ET
Join more than 25 musicians from around the country including Jim Scott, Algie Powers, Lea Morris and special guest Chris Martin of Coldplay.
This livestreamed benefit concert will raise money to support beloved Ohio musician, Hal Walker, in his ongoing battle with Myalgic Encephalomyelitis / Chronic Fatigue Syndrome (ME/CFS).
ME/CFS is a complex/multi-system disease that has the power to shatter lives. According to the CDC, it is estimated that up to 2.5 million Americans (20 million worldwide) suffer from ME/CFS. Yet, ME/CFS has historically been one of the lowest funded diseases by the United States National Institutes of Health (NIH).
A portion of the funds raised will be donated to the Open Medicine Foundation, an organization doing much needed research for the highly misunderstood, debilitating illness.
Hal has been managing ME/CFS since 1992, but recently experienced a severe downturn and is currently bed-bound much of the time, unable to work, and in need of full-time care.
Learn more about Hal's condition, the illness and the fundraiser here: https://www.gofundme.com/f/hal-walker-needs-our-help
One thing we know for sure is that Hal is connected to many MANY artists who love him. We could have spent days listening to them sing songs in honor of Hal, but we're limiting it to just a couple of hours. These are the artists you'll have the honor of hearing on January 7.
Contributing artists:
Special Guest Chris Martin (Coldplay), Los Angeles, CA
Jen Maurer (Momojo)
Jim Scott, Shrewsberry, MA
Pat Humphries & Sandy O (Emma's Revolution), Oakland, CA
Tracy Grammer, Greenfield, MA
Matt Watroba, East Lansing, MI
Matt Meyer, Boston MA
JP Allen, Austin, TX
Jon Gindick
Joe Crookston, Randolph, OH
Evie Ladin, Oakland, CA
Moira Smiley, Bristol, VT
Jayme Stone, Boulder, CO
Eric Noden, Chicago, IL
Jonny Olson, FL
Rose Baldino and Brian Buchanan (House of Hamill), PA
Hallie Walker, Brooklyn, NY
Ed Caner (Hey Mavis), Kent, OH
Thor Platter, Cleveland, OH
Todd Burge, Parkersburg, WV
Anthony Mitchell (Nem Raps), Los Angeles, CA
Algie Powers, Salt Lake City, UT
Christopher Mark Jones, Pittsburgh, PA
Peter & Mary Alice Amidon, Brattleboro, VT
Charlie Mosbrook, Cleveland, OH
Lea Morris, Germany
Katie Grigg-Miller , Kent, OH
Kenge Kenge Orutu System, Kenya, Africa
Peter Mayer, Stillwater, MN
JahVelle Rhone, Kansas City, KS
We hope you'll join us! It's bound to be a night filled with love, creativity, inspiration and heart.
Thanks for your support.
If you don't know Hal, you can meet him on social media:
Instagram: https://www.instagram.com/halwalkermusic
TikTok: https://www.tiktok.com/@banakula
Facebook: https://www.facebook.com/halwalkermusic
YouTube: https://www.youtube.com/user/banakula
Spotify: https://open.spotify.com/artist/6GD3EDNcRB99xxR6g7Fnrw