A Living-Room Evening with Rwanda's Sister Anna

Wednesday, October 1, 2014 from 7:00 PM to 8:30 PM (CDT)
Event Details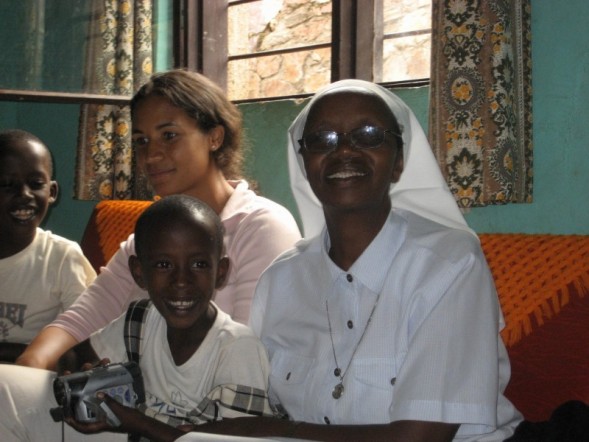 Saya, Sister Anna, and Sister Anna's family

Sister Anna Beata Murekatete, Principal of Rwanda's Our Lady of the Angels School, is coming to Chicago!
Please join us for a living-room evening of learning and discussion as Sister Anna shares her story and the story of a country rebuilding post-genocide.
The evening is brought to you free of cost by Mac & Cheese Productions and the Benebikira Sisters Foundation.
Agenda
Mingling

A short film

Sister Anna's story

Discussion | Q & A

 
Logistics
Doors open at 6:30pm

Program starts at 7pm

You are welcome to bring food and drink for yourself and/or to share – cups available

 
Rwanda Background
Rwanda has a population of eight million people and is comprised of three ethnic groups: Hutu, Tutsi and Twa. It is one of the twenty poorest countries in the world and has a 64.9% literacy rate among people of 15 years of age. Fourteen per cent of its population is HIV positive and 3% of people aged 15-49 has HIV. 
In April of 1994, the Hutu-dominated Rwandan government and military began an organized campaign to kill Tutsis and moderate Hutus. Before Tutsi-led rebels were able to stop the mass killings, the Genocide of 1994 devastated Rwanda, killing an estimated 1 million people in 3 months and leaving the country stripped of all resources and infrastructure. The effects of the genocide have left many Rwandans with severe post-traumatic stress disorder and other mental health problems. According to a UNICEF National Trauma Survey in 1995, of the total population:
99.9% witnessed violence of some sort

79.6% witnessed death of the family

69.5% witnessed someone being killed or injured

61.5% were threatened with death
Despite the gravity of the suffering from the genocide, Rwanda is a country of great hope. Since 1994, the Rwandan community has been working hard to rebuild peacefully. Rwanda has been recognized recently by the UN, World Bank, and US Government for its good governance and commitment to eliminating corruption.
The Connection to Mac & Cheese Productions
Sister Anna's family including Patience
For the past six years, a group of Cheese-Its -- people in the Mac & Cheese network -- has sponsored the education of Patience, a Rwandan teenager whom Saya Hillman, the founder of Mac & Cheese, met in Rwanda in 2007 during a trip for the Benebikira Sisters Foundation (BSF). The mission of BSF is to support organizations and programs which improve the lives of war-affected individuals in Rwanda. While traveling the country shooting video for BSF, Saya met the family of her host, Sister Anna, and immediately connected with her nephew Patience who was nine at the time.
When Sister Anna approached Saya a year later about sponsoring his education, Saya wanted to say yes but she didn't have the $400. Instead, she banked on what she did have: a very generous network. Saya asked for $10 donations toward Patience's schooling, promising only to collect if they reached their goal, and raised the funds quickly. Ever since, a group of Cheese-Its has sponsored Patience with annual donations that range from $10 to $100, always with the "will only collect if our goal is reached" caveat.
Financial History
2013, 31 people, $1200 ($600 was the goal; $600 will go towards this year's education, $100 will go to gifts to Patience, his sister and his mother, and $500 will go to next year's education)
2012, 29 people, $600
2011, 31 people, $750
2010, 21 people, $400
2009, 19 people, $400
2008, 30 people, $400
If you would like to become one of Patience's benefactors, you can sign up here to pledge in future years.
When & Where

Mac & Cheese Productions [Belmont/Ravenswood; exact address sent upon registration]
3 blks from Paulina el stop
Chicago, IL


Wednesday, October 1, 2014 from 7:00 PM to 8:30 PM (CDT)
Add to my calendar
Organizer
Mac & Cheese Productions℠ is a lifestyle business that utilizes innovation, comfortable fear, and play to address universal stressors and create communities of everyday superheroes. We reframe and reclaim adulthood — instead of "the grind" and "case of the Mondays", think adult summer-camp, for the individual and for the organization.