A LIVE Crowdfunding Affair hosted by FundDat at NOLATech Week
When and where
Location
The Rusty Nail 1100 Constance St New Orleans, LA 70130
Description
Over 100 people have registered to play our LIVE Crowdfunding Game w/ money sponsored by local organizations.
If you have not registered or did not register in the first 100, you can still attend and play our live crowdfunding game by purchasing FundDat Dollars at the event!!!
We look forward to seeing you there!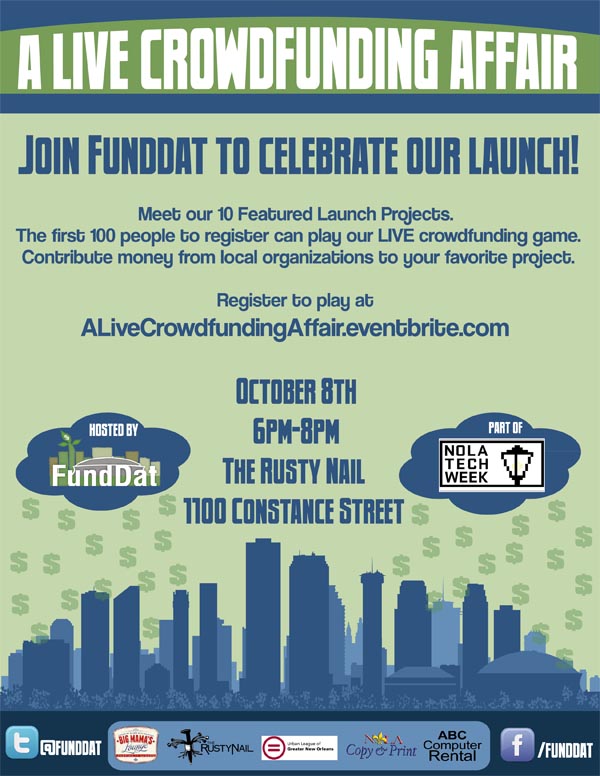 Come to FundDat's Launch Party: A Live Crowdfunding Affair, Tuesday October 8th from 6-8pm at The Rusty Nail, during NOLATech Week! We will be kicking off crowdfunding campaigns for our 10 Featured Launch Projects and playing our LIVE crowdfunding game!
At our launch, all ten projects will pitch their ideas to the crowd and the first 100 people to register will receive FundDat Dollars, sponsored by local companies, to contribute to their favorite projects! Attendees who are unable to register can still attend the launch & contribute to the project of their choice by purchasing FundDat Dollars at the event or by making personal contributions at one of the many computers stationed at The Rusty Nail! After all contributions are totaled, the three projects that receive the most contributions during the event will take home their share of our cash prize!
This event is free and open to the public.
Check out our 10 Featured Launch Projects on our blog.
Register NOW so you can play!
FundDat
FundDat is a reward-based, crowdfunding platform for projects created in or about New Orleans. We hope to become the place where people find and fund cool projects that impact NOLA!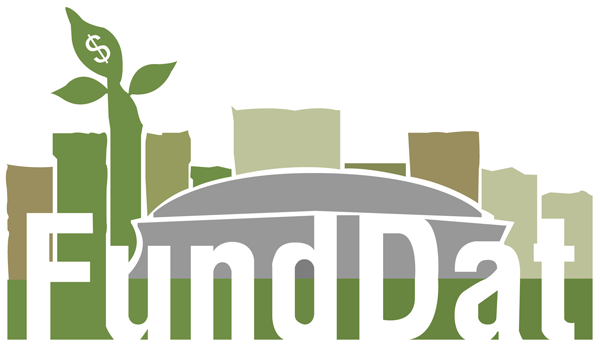 FundDat would like to thank our sponsors